Latest update: Due to disruptions after a recent warehouse move by the UK's largest music distributor, the supply of various labels including Decca, DG, Sony, and Harmonia Mundi are subject to significant delays. Please continue to order products from these labels, as the situation should be back to normal within the next few weeks. This is affecting all UK music retailers at the present time. If you have any questions please do contact us.
Gramophone Awards
The Gramophone Awards - often called the Oscars of the classical music world - are the most significant honours bestowed on the classical record industry.
Now running annually in September you can view details of the most recent winners below, as well as browse through all winners going back to the very first awards in 1977.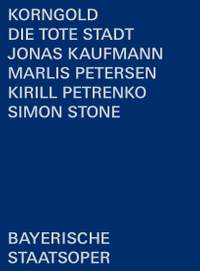 Gramophone Recording of the Year 2022
The Recording of the Year prize was awarded to the Bayerische Staatsoper's performance of Korngold's Die Tote Stadt, featuring Jonas Kaufmann, Marlis Petersen & Jennifer Johnston conducted by Kirill Petrenko and directed by Simon Stone. The magazine stated 'There's a depth and emotional intelligence to this staging that disarmed my initial resistance...on every level, a glorious achievement.'
Available Format: 2 DVD Videos
Gramophone Awards 2022 - Winning Recordings
Browse All Previous Winners:
Gramophone Awards 1977-2021
Browse by Year:
Gramophone Awards 1977-2021
Featured Composers:
Gramophone Awards 1977-2021
More Composers:
Gramophone Awards 1977-2021
Browse by Era:
Gramophone Award Winners