Gramophone Awards
The Gramophone Awards - often called the Oscars of the classical music world - are the most significant honours bestowed on the classical record industry.
Now running annually in September you can view details of the most recent winners below, as well as browse through all winners going back to the very first awards in 1977.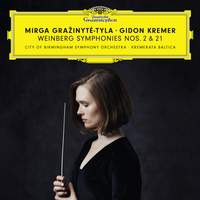 Gramophone Recording of the Year 2020
The Recording of the Year prize has been awarded to Mirga Gražinytė-Tyla, the City of Birmingham Symphony Orchestra, Gidon Kremer and Kremerata Baltica for their accounts of two symphonies by the Polish-born Soviet composer Mieczysław Weinberg - music which the Lithuanian conductor described as 'a huge inspiration in these days of loss which we are living through right now' in her acceptance-speech. Reviewing the recording in June 2019, Gramophone's David Fanning praised the 'extraordinary depth and power of the string sound' and Gražinytė-Tyla's 'terrific feel for the long structural-dynamic line'.
Available Formats: 2 CDs, MP3, FLAC, Hi-Res FLAC
Gramophone Awards 2020 - Winning Recordings
Browse All Previous Winners:
Gramophone Awards 1977-2019
Browse by Year:
Gramophone Awards 1977-2019
Featured Composers:
Gramophone Awards 1977-2019
More Composers:
Gramophone Awards 1977-2019
Browse by Music Type:
Gramophone Award Winners
Browse by Era:
Gramophone Award Winners