BBC Music Magazine Awards
The BBC Music Magazine Awards are an annual celebration of the very best of all the recordings reviewed by the magazine over the previous year. With three nominations to choose from in each of seven main categories, the winners are selected by a public vote. There are also a number of special jury awards each year.
You can view details of the most recent winners below, as well as browse through all the previous winners.
BBC Music Magazine Awards 2021 - winners announced
The winners of this year's BBC Music Magazine Awards have now been announced. You can browse the winning recordings below, or in our article here; plus, until 17th May 2021 we're offering discounts of up to 30% off this year's winners.
You can also find the full shortlist in our article.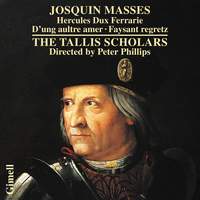 Recording of the Year (and Choral Award-Winner)
The Tallis Scholars, Peter Phillips
'After 34 years of recording the complete choral works of Josquin, The Tallis Scholars' ninth and final volume is their crowning glory.'
Available Formats: CD, MP3, FLAC, Hi-Res FLAC, Hi-Res+ FLAC
BBC Music Magazine Awards 2021: Winning Recordings
Browse all previous winners:
BBC Music Magazine Awards 2007-2020
Browse by Year:
BBC Music Magazine Awards 2007-2020
Featured Composers:
BBC Music Magazine Award Winners
More Composers:
BBC Music Magazine Award Winners
Browse by Era:
BBC Music Magazine Award Winners
Search:
BBC Music Magazine Award Winners