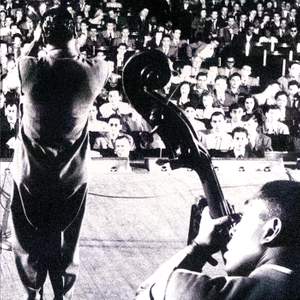 Jazz At The Philharmonic: Best Of The 1940s Concerts
Curly Russell, Coleman Hawkins, Buck Clayton, Arnold Ross (piano), Billy Hadnott (double bass), Lee Young (drums), Lester Young (saxophone), Willie Smith (saxophone), Al Killian (trumpet), Howard McGhee (trumpet), Ella Fitzgerald, Flip Phillips (saxophone), Charlie Parker (saxophone), Tommy Turk (trombone),...
Contents
trad.: Philharmonic Blues
Coleman Hawkins, Illinois Jacquet, Lester Young, Buck Clayton, Kenny Kersey, Curley Russell, J.C. Heard, Al McKibbon
Recorded: 1946
Recording Venue: Carnegie Hall, New York City
Gershwin: Oh, Lady Be Good!
Charlie Parker, Lester Young (saxophone), Al Killian (trumpet), Howard McGhee (trumpet), Willie Smith (saxophone), Arnold Ross (piano), Billy Hadnott (double bass), Lee Young (drums)
Recorded: 1955
Recording Venue: Philharmonic Auditorium, Los Angeles
Sid Robin, Benny Goodman, Lionel Hampton: Flyin' Home
Ella Fitzgerald, Hank Jones (piano), Ray Brown (double bass), Buddy Rich (drums), Roy Eldridge (trumpet), Tommy Turk (trombone), Flip Phillips (saxophone), Lester Young (saxophone), Charlie Parker (saxophone)
Recorded: 1949
Recording Venue: Carnegie Hall, New York City
Billy Meyers, Elmer Schoebel, Jack Pettis: Bugle Call Rag
Nat King Cole (piano), Shorty Sherock (trumpet), Illinois Jacquet (saxophone), Jack McVea (saxophone), Les Paul (guitar), Red Callender (double bass), Johnny Miller (double bass), Lee Young (drums)
Recorded: 1957
Recording Venue: Philharmonic Auditorium, Los Angeles
Gershwin: Embraceable You
Charlie Parker, Roy Eldridge (trumpet), Tommy Turk (trombone), Flip Phillips (saxophone), Lester Young (saxophone), Hank Jones (piano), Ray Brown (double bass), Buddy Rich (drums)
Recorded: 1949
Recording Venue: Carnegie Hall, New York City
The Gene Krupa Trio, Charlie Ventura (saxophone), Teddy Napoleon (piano)
Recorded: 1946
Recording Venue: Philharmonic Auditorium, Los Angeles
Illinois Jacquet, Howard McGhee, Bill Harris, Flip Phillips, Hank Jones, Ray Brown, Jo Jones
Recorded: 1950
Recording Venue: Carnegie Hall, New York City
Lowell Martin: Billie's Blues
Billie Holiday, Howard McGhee (trumpet), Dave Coleman (drums), Charles Mingus (double bass), Dave Barbour (guitar), Milton Raskin (piano), Charlie Ventura (saxophone), Wardell Gray (saxophone), Willie Smith (saxophone), J.C. Heard (drums), Al McKibbon (double bass), Tiny Grimes (guitar), Kenny Kersey (piano), Lester Young (saxophone), Illinois Jacquet (saxophone), Georgie Auld (saxophone), Joe Guy (trumpet)
Recorded: 1946-06-03
Recording Venue: Carnegie Hall, New York City
Morgan Lewis: How High The Moon
Buddy Rich, Coleman Hawkins, Buck Clayton, Trummy Young, Willie Smith, Flip Phillips, Kenny Kersey, Benny Fonville
Recorded: 1955
Recording Venue: Syria Mosque, Pittsburgh