US Airmail Charges: As a knock-on effect of COVID-19 airfreight prices around the world have soared. Reluctantly, we have had to pass on some of this increase in our standard airmail prices. We'll bring them down again as soon as we can!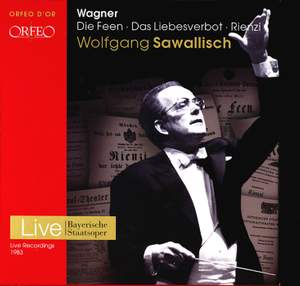 Offer

,

 Wagner: Die Feen, Das Liebesverbot & Rienzi
Linda Esther Gray (Ada), Kari Lövass (Farzana), Krisztina Laki (Zemina), John Alexander (Arindal), June Anderson (Lora), Roland Hermann (Morald), Kurt Moll (Der Feekönig), Jan-Hendrik Rootering (Gernot), Cheryl Studer (Drolla), Roland Bracht (Stimme Gromas), Karl Helm (Harald), Hermann Prey (Friedrich),...
Presto Favourites

Recommended Recording
Contents
Kurt Moll (bass), June Anderson (soprano), Karl Helm (bass), Roland Hermann (baritone), Friedrich Lenz (tenor), Linda Gray (vocals), Roland Bracht (bass), Jan-Hendrick Rootering (bass), Kari Lövaas (vocals), Cheryl Studer (soprano), Krisztina Laki (soprano), John Alexander (vocals), Norbert Orth (tenor)
Chor des Bayerischen Rundfunks, Symphonie-Orchester des Bayerischen Rundfunks
Wolfgang Sawallisch
Recorded: July 1983
Recording Venue: Munich, Germany
Act I: Introduction (Chorus)
1:51
Act I: Recitative (Farzana, Zemina)
3:38
Act I: Recitative (Gunther, Morald, Gernot)
5:01
Act I: Recitative (Gernot, Arindal)
1:19
Act I: Quartet (Arindal, Gunther, Gernot, Morald) - Finale I
8:41
Act I: Recitative (Arindal)
2:40
Act I : Recitative - Duet (Ada, Arindal)
3:50
Act II: Introduction (Lora, Chorus)
5:04
Act II: Aria - Scene (Bote, Lora, Chorus)
5:43
Act II: Trio and Chorus (Lora, Arindal, Morald)
4:47
Act II: Recitative (Gernot, Gunther) - Duet (Drolla, Gernot)
7:46
Act II: Recitative (Ada, Farzana, Zemina)
1:54
Act II: Scene - Aria (Ada)
11:37
Act II: Finale II (Lora, Drolla, Arindal, Gunther, Morald, Gernot, Harald, Zemina, Farzana, Chorus)
22:13
Act III: Introduction (Morald, Lora, Drolla, Gunther, Gernot, Chorus)
8:26
Act III: Scene and Aria (Arindal)
7:26
Act III: Scene (Farzana, Zemina)
5:18
Act III: Trio (Arindal, Farzana, Zemina)
3:04
Act III: Finale III: Scene (Arindal, Farzana, Zemina, Gromas Stimme, Ada, Chorus)
10:39
Act III: Schlussszene (Feenkonig, Arindal, Chorus)
5:45
Wagner: Das Liebesverbot, WWV 38
2:30:58
Raimund Grumbach (baritone), Marianne Seibel (soprano), Hermann Sapell (bass), Hermann Prey (bass-baritone), Wolfgang Fassler (vocals), Robert Schunk (tenor), Friedrich Lenz (tenor), Kieth Engen (bass), Sabine Hass (soprano), Pamela Coburn (soprano), Alfred Kuhn (bass)
Chor der Bayerischen Staatsoper, Bayerisches Staatsorchester
Wolfgang Sawallisch
Act I: Introduction: Ihr Galgenvogel, haltet ein (Luzio, Antonio, Angelo, Pontio Pilato, Danieli, Dorella, Brighella, Chorus)
6:09
Act I: Wen bringt man dort? (Angelo, Luzio, Dorella, Claudio, Antonio, Pontio Pilato, Danieli, Brighella, Chorus)
2:53
Act I: Du kennst jenen stillen Ort (Claudio, Dorella)
4:13
Act I: Duet: Salve Regina coeli - Gottlicher Friede (Mariana, Isabella, Chorus)
11:51
Act I: Duet: Es ist ein Mann (Isabella, Luzio)
8:01
Act I: Wie lang er bleibt? (Brighella, Pontio Pilato, Dorella)
13:26
Act I: Finale: Nun, wird es bald? (Dorella, Antonio, Pontio Pilato, Angelo, Danieli, Brighella, Friedrich, Chorus)
11:04
Act I: Wohlan, so rede! (Friedrich, Isabella)
9:33
Act I: Was ist geschehn, was soll das Schrein? (Isabella, Friedrich)
6:18
Act I: Maria, wie, o Gotterlicht! (Isabella, Friedrich, Chorus)
6:10
Act II: Duet: Wo Isabella bleibt (Claudio, Isabella)
11:34
Act II: Recitative: So sei's! Fur seinen feigen Wankelmut (Isabella)
3:01
Act II: Dorella, sieh (Isabella, Dorella)
0:40
Act II: Trio: Wie glucklich, schone Isabella (Luzio, Isabella, Dorella)
8:24
Act II: Vernimm, mein Freund, um was ich dich jetzt bitte (Isabella, Pontio Pilato, Luzio)
2:17
Act II: Aria: So spat und noch kein Brief von Isabella? (Friedrich)
10:31
Act II: Lebt wohl, Signor Brighella (Dorella, Brighella)
1:56
Act II: Finale: So recht, ihr wackern, jungen Leute! (Antonio, Angelo, Danieli, Luzio, Chorus)
3:19
Act II: Ihr junges Volk, macht euch heran (Luzio, Antonio, Angelo, Danieli, Brighella, Chorus)
1:50
Act II: Halt! Auseinander! Welch ein Larmen! (Brighella, Antonio, Angelo, Danieli, Luzio)
2:22
Act II: Verweile hier, hier muss er kommen! (Isabella, Mariana)
6:07
Act II: Hier soll sie sein - Wo mag sie weilen? (Friedrich, Luzio, Dorella, Isabella, Brighella, Pontio Pilato)
5:50
Act II: Ihr Heil'gen, welche Schandlichkeit! (Isabella, Antonio, Angelo, Danieli, Pontio Pilato, Luzio, Mariana, Friedrich, Chorus)
7:05
Bodo Brinkmann (baritone), Karl Helm (bass), Norbert Orth (tenor), Kieth Engen (bass), Carmen Anhorn (soprano), Raimund Grumbach (baritone), Hans Wilbrink (bass), Friedrich Lenz (tenor), Alfred Kuhn (bass), René Kollo (tenor), Cheryl Studer (soprano), Jan-Hendrick Rootering (bass), John Janssen (baritone)
Chor der Bayerischen Staatsoper, Bayerisches Staatsorchester
Wolfgang Sawallisch
Act I: Hier ist's, hier ist's! (Orsini, Irene, die Orsini, Adriano, Kardinal, Rienzi, Baroncelli, Cecco, Chorus)
10:43
Act I: O Schwester, sprich, was dir geschah (Rienzi, Irene, Adriano)
13:25
Act I: Gegrusst, gegrusst sei, hoher Tag (Chorus)
3:51
Act I: Rienzi! Ha! Rienzi hoch! (Rienzi, Cecco, Adriano, Baroncelli, Kardianl, Chorus)
8:45
Act II: Ihr Roma, hort die Kunde (Chorus)
1:53
Act II: Du Friedensbote, sage an, hast deine Sendung du vollbracht? (Rienzi, Friedensbote, Senatoren, Baroncelli, Cecco, Chorus)
5:41
Act II: Rienzi! nimm des Friedens Gruss! (Colonna, Rienzi)
2:33
Act II: Colonna, hortest du das freche Wort? (Orsini, Colonna, Nobili, Chorus)
7:25
Act II: Erschallt, ihr Feierklange! (Chorus)
2:08
Act II: Seid mir gegrusst, ihr Romer all! (Rienzi, Baroncelli, Cecco, Orsini, Colonna, Adriano, Chorus)
5:55
Act II: Ihr Romer, es beginnt das Fest (Herold)
0:43
Act II: Rienzi! Auf, schtzt den Tribun! (Rienzi, Baroncelli, Colonna, Cecco, Adriano, Irene, Chorus)
11:12
Act II: Den Heil'gen Dank! Er ist allein (Adriano)
12:55
Act III: Vernahmt ihr all' die Kunde schon? (Baroncelli, Cecco, Rienzi, Chorus)
6:20
Act III: Gerechter Gott (Adriano)
8:17
Act III: Der Tag ist da (Rienzi, Priester, Monche, Adriano, Chorus)
4:16
Act III: Auf Romer, auf! Fur Freiheit und Gesetze (Adirnao, Adriano, Irene, Monche, Chorus)
7:18
Act III: Heil, Roma, dir! (Rienzi, Baroncelli, Adriano, Cecco, Irene, Chorus)
11:12
Act IV: Wer war's, der euch hierher beschied? (Baroncelli, Cecco, Adriano, Chorus)
9:12
Act IV: Ihr nicht beim Feste? (Rienzi, Adriano, Monche, Chorus)
3:15
Act IV: Zuruck! Dem Reinen nur erschliesst die Kirche sich! (Kardinal, Priester, Adriano, Irene, Rienzi, Chorus)
5:01
Act V: Allmacht'ger Vater, "Rienzi's Prayer" (Rienzi)
9:30
Act V: Verlasst die Kirche mich (Rienzi, Irene)
6:27
Act V: Du hier, Irene? (Rienzi, Irene, Adriano)
5:08
Act V: Herbei! Herbei! (Rienzi, Baroncelli, Cecco, Adriano, Chorus)
4:59