Latest update: COVID-19 Shipping Delays. Presto is committed to the health and well-being of our staff. Our warehouse team are currently working hard to ensure your order is despatched as quickly as possible. Unfortunately you may experience slight delays as some deliveries are taking longer than usual. Thank you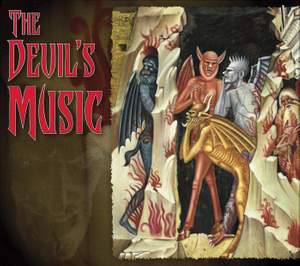 DEVIL'S MUSIC (The)
Oliver de Mones (cello), Artur Pizarro (piano), Bin Huang (violin), Hyun-Sun Kim (piano), Phyllis Bryn-Julson (piano), Richard Moredock (piano), Giuseppe Andaloro (piano), Christopher Gekker (trumpet), Gordon Gottlieb (percussion), Rolf Schulte (violin), Frank Morelli (bassoon), John Feeney (double...
Contents
Bach, J S: Toccata & Fugue in D minor, BWV565
9:00
Bournemouth Symphony Orchestra
José Serebrier
Recorded: 17 April 2008
Recording Venue: The Lighthouse, Poole Arts Centre, UK
Saeverud: Peer Gynt, Op. 28
2:19
Iceland Symphony Orchestra
Bjarte Engeset
Recorded: 18-21 and 24-28 June 2002
Recording Venue: Concert Hall of the ISO, Reykjavic
Peer Gynt Suite, Op. 28: I. Faens Femsteg (The Devil's Five-Hop)
2:19
 Excerpt,  Berlioz: La Damnation de Faust, Op. 24
4:03
Slovak Philharmonic Choir, Orchestre National de Lille
Jean-Claude Casadesus
La damnation de Faust, Op. 24, Part IV Scene 19: Pandemonium: Irimiru Karabrao!
4:03
Meynaud: Faust I - Cello Sonata No. 1
3:59
Oliver de Mones (cello)
Recorded: Autumn 1998
Recording Venue: Inouie, Paris
VIII. Objet trouve avant Luis
3:42
Rodrigo: Cuatro estampas andaluzas
3:55
4 Estampas andaluzas (4 Andalusian Pictures): No. 3. Seguidillas del diablo (The Devil's Seguidillas)
3:55
Tartini: Violin Sonata in G minor 'Devil's Trill'
14:45
Bin Huang (violin), Hyun-Sun Kim (piano)
Wuorinen: The Mission of Virgil (chamber version)
1:58
Phyllis Bryn-Julson (piano), Richard Moredock (piano)
Recorded: 30 March 1996
Recording Venue: American Academy of Arts and Letters, New York, USA
The Mission of Virgil (chamber version): VI. Satan
1:58
 Excerpt,  Vaughan Williams: Job - A Masque for Dancing
3:38
English Northern Philharmonia
David Lloyd-Jones
Job - A Masque for Dancing, Scene II: Satan's Dance of Triumph
3:38
Liszt: Mephisto Waltz No. 1
12:03
Giuseppe Andaloro (piano)
Recorded: 8-9 March 2005
Recording Venue: Potton Hall, Westleton, Suffolk, UK
Stravinsky: L'Histoire du Soldat: Concert Suite
3:30
Christopher Gekker (trumpet), Gordon Gottlieb (percussion), Rolf Schulte (violin), Frank Morelli (bassoon), John Feeney (double bass), William Blount (clarinet), Michael Powell (trombone)
Robert Craft
Recorded: 1995
Recording Venue: SUNY, Purchase, NY, USA
IX. Triumphal March of the Devil
2:11
Malaga Philharmonic Orchestra
Alexander Rahbari
Recorded: 2-4 April 2002
Recording Venue: Teatro Cervantes, Malaga, Spain
Saint-Saëns: Danse macabre, Op. 40
7:08
Slovak Radio Symphony Orchestra
Keith Clark
Recorded: June, 1988
Recording Venue: Concert Hall of Czechoslovak Radio, Bratislava
Prokofiev: Waltz Suite, Op. 110
3:45
National Symphony Orchestra of Ukraine
Theodore Kuchar
Recorded: 16-19 December 1994
Recording Venue: Concert Hall of Ukrainian Radio, Kiev
Waltz Suite for Orchestra, Op. 110: III. Mephisto Waltz
3:45
Schubert: Des Teufels Lustschloss, D84: Overture
9:00
Prague Sinfonia
Christian Benda
Recorded: 10-11 November 2006
Recording Venue: Arco Diva-Domovina Prague
Bax: The Devil That Tempted St Anthony
6:28
Martin Roscoe (piano), Ashley Wass (piano)
Recorded: 20-21 November 2006
Recording Venue: St George's Church, Birstol, UK
 Excerpt,  Alkan: Esquisses (48), Op. 63
2:33
Laurent Martin (piano)
Recorded: December 1990
Recording Venue: Tonstudio van Geest, Heidelberg
48 Esquisses, Op. 63: No. 45. Les diablotins
2:33
Strauss, J, II: Mephisto's Hollenrufe, Waltz, Op. 101
8:16
Slovak State Philharmonic Orchestra, Košice
Alfred Walter
Mephisto's Hollenrufe, Waltz, Op. 101
8:16
Ligeti: Études for piano, book 2 (études 7-14)
6:50
Idil Biret (piano)
Recorded: 17th-18th Feb, 5th-7th May & 14th-15th Jun, 2001
Recording Venue: Clara-Wieck-Auditorium, Sandhausen, Germany
Etudes, Book 2: No. 13. L'escalier du diable
6:50
Schumann: Scenes from Goethe's Faust, WoO 3
8:52
Polish National Radio Symphony Orchestra
Johannes Wildner
Recorded: 24-26 January and 25-26 April, 1992
Recording Venue: Concert Hall of Polish Radio, Katowice
Samuel Ramey (bass)
Munich Radio Orchestra
Julius Rudel
Faust, Act I Scene 2: Le veau d'or est toujours debout
2:23
 Excerpt,  Liszt: A Faust Symphony, S108
16:38
Franz Liszt Academy of Music Orchestra
Andras Ligeti
Eine Faust-Symphonie in drei Charakterbildern, S108 / R425: III. Mephistopheles
16:38