Arnold Edward Trevor Bax
(Composer)
Born: 8th November 1883, London, England
Died: 3rd October 1953, Cork, Ireland
Nationality: English
Sir Arnold Edward Trevor Bax was an English composer, poet, and author. His prolific output includes songs, choral music, chamber pieces, and solo piano works, but he is best known for his orchestral music. In addition to a series of symphonic poems he wrote seven symphonies and was for a time widely regarded as the leading British symphonist.
Bax was born in the London suburb of Streatham to a prosperous family. He was encouraged by his parents to pursue a career in music, and his private income enabled him to follow his own path as a composer without regard for fashion or orthodoxy.
Read more at https://en.wikipedia.org/wiki/Arnold_Bax
Further Reading:
Bax
25th February 2019
The British pianist talks to David about his new album of works by Arnold Bax & Harriet Cohen.
1st September 2014
James listens to the culmination of Chandos's Bax project, including the first ever recording of his Four Orchestral Pieces, conducted by Andrew Davis.
New Releases:
Bax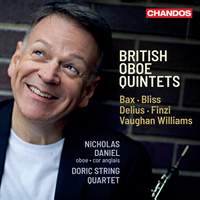 CD:
Original price
($16.00)
Reduced price
$14.50
Download from
Original price
($10.25)
Reduced price
$7.25