Latest update: COVID-19 Shipping Delays. Presto is committed to the health and well-being of our staff. Our warehouse team are currently working hard to ensure your order is despatched as quickly as possible. Unfortunately you may experience slight delays as some deliveries are taking longer than usual. Thank you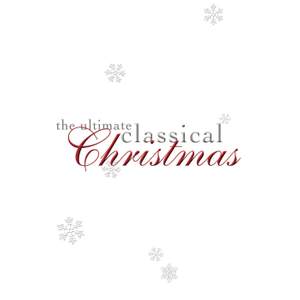 The Ultimate Classical Christmas
Charlotte Church, José Carreras, Placido Domingo, Frederica von Stade, Yo-Yo Ma, Bobby McFerrin, Joshua Bell, Ying Huang, John Williams, Kathleen Battle, Luciano Pavarotti, Michael Bolton, Marilyn Horne
Tanglewood Festival Chorus, The Boston Pops Orchestra, The Philadelphia Orchestra, Wynton...
Contents
trad.: Ding dong! merrily on high
2:18
Wade, J F: O come, all ye faithful
2:38
Plácido Domingo (tenor), José Carreras (tenor), Elisabeth Ziegler (chorus master), Gumpoldskirchner Kinderchor
Gumpoldskirchner Spatzen Children's Choir, Wiener Symphoniker
Vjekoslav Sutej
Praetorius, M: Es ist ein Ros' entsprungen
4:03
Frederica von Stade (mezzo-soprano)
The American Boychoir, The Christmas Concert Choir
André Previn
Handel: Joy to the World!
2:38
The Wynton Marsalis Septet
Wynton Marsalis
Yo-Yo Ma (cello), Bobby McFerrin (vocal)
Schubert: Ave Maria, D839
4:39
Joshua Bell (violin), Orchestra Of St. Luke's
Michael Stern
Ying Huang (soprano)
Wiener Symphoniker
Steven Mercurio
Bach, J S: Jesu, bleibet meine Freude (from Cantata BWV147 'Herz und Mund und Tat und Leben')
2:41
Yo-Yo Ma (cello)
Amsterdam Baroque Orchestra
Ton Koopman
Barrios Mangoré: Villancico de Navidad
3:06
Bernard, F: Winter Wonderland
2:46
The Wynton Marsalis Septet
Orchestra Of St. Luke's
Wynton Marsalis
Hugh Martin, Mel Tormé, Ralph Blane, Robert Wells: Medley: The Christmas Song and Have Yourself a Merry Little Christmas
4:44
Frederica von Stade (mezzo-soprano), André Previn (piano), Kathleen Battle (soprano), Tony Falanga (bass), James Saporito (drums)
Luciano Pavarotti (tenor), Plácido Domingo (tenor), Wiener Symphoniker
Gumpoldskirchner Spatzen
Steven Mercurio
trad.: O Sanctissima (O du fröhliche)
3:27
Philadelphia Orchestra
Eugene Ormandy
Plácido Domingo: Children of Christmas
3:53
Michael Bolton (tenor), Plácido Domingo (tenor), Elizabeth Ziegler (chorus master), Gumpoldskirchner Spatzen
Gumpoldskirchner Spatzen Children's Choir, Wiener Symphoniker
Steven Mercurio
Reger: Mariä Wiegenlied, Op. 76 No. 52
2:03
Kathleen Battle (soprano), Frederica von Stade (mezzo-soprano)
Orchestra Of St. Luke's
André Previn
Marilyn Horne (mezzo-soprano)
Mormon Tabernacle Choir, Columbia Symphony Orchestra
Jerold Ottley, Jerold D. Ottley
Mozart: Exsultate, jubilate, K165 - Alleluia
2:32
Kathleen Battle (soprano)
Orchestra Of St. Luke's
André Previn
trad.: We wish you a merry Christmas
1:54
Boston Pops Orchestra, John Oliver (director)
Tanglewood Festival Chorus
John Williams