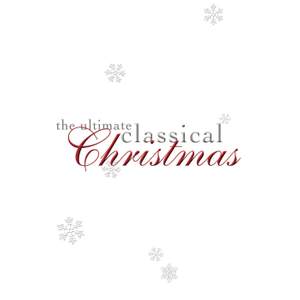 The Ultimate Classical Christmas
Charlotte Church, José Carreras, Placido Domingo, Frederica von Stade, Yo-Yo Ma, Bobby McFerrin, Joshua Bell, Ying Huang, John Williams, Kathleen Battle, Luciano Pavarotti, Michael Bolton, Marilyn Horne
Tanglewood Festival Chorus, The Boston Pops Orchestra, The Philadelphia Orchestra, Wynton...
Contents
trad.: Ding dong! merrily on high
Wade, J F: O come, all ye faithful
José Carreras (tenor), Plácido Domingo (tenor), Elisabeth Ziegler (chorus master), Gumpoldskirchner Kinderchor
Wiener Symphoniker, Gumpoldskirchner Spatzen Children's Choir
Vjekoslav Sutej
Praetorius, M: Es ist ein Ros' entsprungen
Frederica von Stade (mezzo-soprano)
The American Boychoir, The Christmas Concert Choir
André Previn
Handel: Joy to the World!
The Wynton Marsalis Septet
Wynton Marsalis
Yo-Yo Ma (cello), Bobby McFerrin (vocal)
Schubert: Ave Maria, D839
Joshua Bell (violin), Orchestra Of St. Luke's
Michael Stern
Ying Huang (soprano)
Wiener Symphoniker
Steven Mercurio
Bach, J S: Jesu, bleibet meine Freude (from Cantata BWV147 'Herz und Mund und Tat und Leben')
Yo-Yo Ma (cello)
Amsterdam Baroque Orchestra
Ton Koopman
Barrios Mangoré: Villancico de Navidad
Bernard, F: Winter Wonderland
The Wynton Marsalis Septet
Orchestra Of St. Luke's
Wynton Marsalis
Hugh Martin, Mel Tormé, Ralph Blane, Robert Wells: Medley: The Christmas Song and Have Yourself a Merry Little Christmas
Kathleen Battle (soprano), Frederica von Stade (mezzo-soprano), André Previn (piano), James Saporito (drums), Tony Falanga (bass)
Plácido Domingo (tenor), Luciano Pavarotti (tenor), Wiener Symphoniker
Gumpoldskirchner Spatzen
Steven Mercurio
trad.: O Sanctissima (O du fröhliche)
Philadelphia Orchestra
Eugene Ormandy
Plácido Domingo: Children of Christmas
Plácido Domingo (tenor), Michael Bolton (tenor), Elizabeth Ziegler (chorus master), Gumpoldskirchner Spatzen
Wiener Symphoniker, Gumpoldskirchner Spatzen Children's Choir
Steven Mercurio
Reger: Mariä Wiegenlied, Op. 76 No. 52
Kathleen Battle (soprano), Frederica von Stade (mezzo-soprano)
Orchestra Of St. Luke's
André Previn
Marilyn Horne (mezzo-soprano)
Mormon Tabernacle Choir, Columbia Symphony Orchestra
Jerold D. Ottley, Jerold Ottley
Mozart: Exsultate, jubilate, K165 - Alleluia
Kathleen Battle (soprano)
Orchestra Of St. Luke's
André Previn
trad.: We wish you a merry Christmas
Boston Pops Orchestra, John Oliver (director)
Tanglewood Festival Chorus
John Williams