UPDATE: Royal Mail have now resumed shipments on ALL International services but delays should be expected, please choose FEDEX if your order is urgent.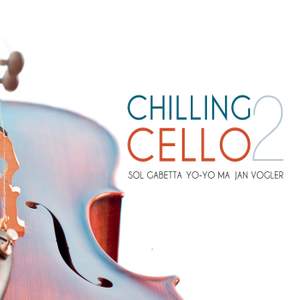 Chilling Cello Vol. 2
Itzhak Perlman (violin), Yo-Yo Ma (cello), Sol Gabetta (violoncello), Wolfgang Emanuel Schmidt (cello), Gerald Fauth (piano), Michael Dussek (piano), Ofra Harnoy (cello), Maximilian Hornung (violoncello), Milana Chernyavska (piano), Jan Vogler (violoncello), Dresdner Kapellsolisten, Jens Peter Maintz...
Contents
Dvořák: Humoresque in G flat major, Op. 101 No. 7
Yo-Yo Ma (cello), Itzhak Perlman (violin)
Boston Symphony Orchestra
Seiji Ozawa
Tchaikovsky: None but the lonely heart, Op. 6 No. 6
Sol Gabetta (violoncello), City of Prague Philharmonic Orchestra
Charles Olivieri-Munroe
Debussy: Suite bergamasque: Clair de lune
Wolfgang Emanuel Schmidt (cello), Gerald Fauth (piano)
Morricone, E: Lady Caliph: Dinner
Yo-Yo Ma (cello)
Roma Sinfonietta
Ennio Morricone
Granados: Orientale, Op. 37, No. 2
Ofra Harnoy (cello), Michael Dussek (piano)
Bloch, E: Prayer (From Jewish Life)
Maximilian Hornung (violoncello), Milana Chernyavska (piano)
Mendelssohn: Auf Flügeln des Gesanges, Op. 34 No. 2
Jan Vogler (violoncello), Dresdner Kapellsolisten
Helmut Branny
Karl J. Davidov: Sunday Morning, Op. 20, No. 1
Jens Peter Maintz (cello), Lithuanian Chamber Orchestra Vilnius
David Geringas
Yo-Yo Ma (cello), David Cossin (percussion)
Shanghai Symphony Orchestra, Shanghai National Orchestra
Tan Dun, Chen Xie Yang
Fauré: Après un rêve, Op. 7 No. 1
Ofra Harnoy (cello), Michael Dussek (piano)
Tchaikovsky: Sweet Reverie, Op. 39, No. 21 (Arr. for Cello and Piano)
David Geringas (violoncello), Tatjana Schatz (piano)
Maximilian Hornung (violoncello), Milana Chernyavska (piano)
Beethoven: Trio for Clarinet, Cello & Piano in B flat major, Op. 11, "Gassenhauer", (for Violin): Adagio
Rimsky Korsakov: Serenade, Op. 37
David Geringas (violoncello), Radio Symphony Orchestra Berlin
Lawrence Foster
Monteverdi: L'incoronazione di Poppea, SV 308: Pur ti miro
Sonia Wieder-Atherton (bass), Sonia Wieder-Atherton (cello), Natalia Shakhovskaia (cello)
Schubert: Ave Maria, D839
Jan Vogler (violoncello), Dresdner Kapellsolisten
Helmut Branny
Monteverdi: Ohimè dove il mio ben, SV 140 (Part 1)
Sonia Wieder-Atherton (bass), Sonia Wieder-Atherton (cello), Natalia Shakhovskaia (cello)
Fauré: Chanson du pêcheur Op. 4 No. 1
Wolfgang Emanuel Schmidt (cello), Gerald Fauth (piano)
Mahler: Lieder eines fahrenden Gesellen, Arr. for Cello and Piano: II. Ging heut Morgen übers Feld
Maximilian Hornung (violoncello), Milana Chernyavska (piano)
Dvořák: Waldesruhe (Silent woods) for cello and orchestra, Op. 68 No. 5
Sol Gabetta (violoncello)
Danish National Symphony Orchestra
Mario Venzago
Vivaldi: Concerto for Viola d'amore, Lute and Orchestra, RV 540: II. Largo
Amsterdam Baroque Orchestra, Yo-Yo Ma (cello), Ton Koopman (organ)
Ton Koopman
Fauré: Sérénade for Piano and Cello, Op. 98
Steven Isserlis (cello), Pascal Devoyon (piano)
Strauss, J, II: Romanze Nr. 1 d-moll op. 243
Franz Bartolomey, Madoka Inui
Schubert: Sonata in A minor 'Arpeggione', D821: Adagio
Friedrich-Jürgen Sellheim (cello), Eckart Sellheim (piano)
Saint-Saëns: Romance, Op. 36
David Geringas (violoncello), Berlin Radio Symphony Orchestra
Lawrence Foster
Saint-Saëns: Sonata for Cello and Piano No. 2 in F Major, Op. 123: III. Romanza - poco adagio
Steven Isserlis (cello), Pascal Devoyon (piano)
Chopin: Etude op. 25 No. 7 E minor (cello version)
Prokofiev: 10 Pieces from Cinderella, Op. 97, No. 10: Adagio (Arr. for Cello and Piano)
David Geringas (violoncello), Tatjana Schatz (piano)