UPDATE: Royal Mail have now resumed shipments on their TRACKED, TRACKED & SIGNED and SIGNED services but delays should be expected, please choose these services if available to you or FEDEX if your order is urgent.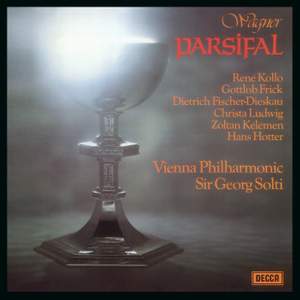 Wagner: Parsifal
René Kollo (Parsifal), Christa Ludwig (Kundry), Zoltan Kelemen (Klingsor), Gottlob Frick (Gurnemanz), Dietrich Fischer-Dieskau (Amfortas), Hans Hotter (Titurel), Lucia Popp (soprano), Kiri Te Kanawa (Flower-Maidens), Wiener Philharmoniker, Sir Georg Solti
Contents
Dietrich Fischer-Dieskau (baritone), Hans Hotter (bass), Zoltan Kelemen (bass), Lucia Popp (soprano), Gottlob Frick (bass), Marga Schiml (contralto), Margarita Lilowa (mezzo-soprano), Herbert Lackner (bass), Christa Ludwig (mezzo-soprano), Ewald Aichberger (baritone), Robert Tear (tenor), Heinz Zednik (tenor), René Kollo (tenor), Gillian Knight (mezzo-soprano), Rotraud Hansmann (soprano), Anne Howells (soprano), Alison Hargan (soprano), Kiri Te Kanawa (soprano)
Wiener Philharmoniker, Wiener Staatsoper, Wiener Sängerknaben
Sir Georg Solti
Recorded: 1971-12
Recording Venue: Sofiensaal, Vienna
"Seht dort, die wilde Reiterin"
"Recht so! Habt Dank! Ein wenig Rast!...Gawan! - Herr! Gawan weilte nicht!"
"He, du da! Was liegst du dort wie ein wildes Tier?"
"Das ist ein andres... O wunden-wundervollen heiliger"
"Titurel, der fromme Held"
"Vor allem nun: die Speer kehr' uns zurück"
"Weh! - Hoho! - Auf! - Wer ist der Frevler?"
"Du konntest morden, hier, im heil'gen Walde"
"Den Vaterlosen gebar die Mutter"
"So recht! So nach des Grales Gnade"
"Vom Bade kehrt der König heim"
"Nun achte wohl und laß mich seh'n...Zum letzten Liebesmahle"
"Mein Sohn Amfortas, bist du am Amt?"
"Nein! Lasst ihn unenthüllt"
"Was stehest du noch da?"
"Jetzt schon erklimmt er die Burg"
"Ich sah das Kind an seiner Mutter Brust"
"Wehe! Was tat ich? Wo war ich?...Bekenntnis wird Schuld in Reue enden"
"Grausamer! Fühlst du im Herzen...Ich sah ihn...Nun such' ich ihn von Welt zu Welt"
"Auf Ewigkeit wärst du verdammt"
"Vergeh, unseliges Weib!"
"Halt da! Dich bann' ich mit der rechten Wehr!"
"Von dorther kam das Stöhnen"
"Du tolles Weib! Hast du kein Wort für mich?"
"In düstrem Waffenschmucke?"
"Heil mir, daß ich dich wiederfinde!"
"O Gnade! Höchstes Heil!"
"Nicht so! Die heil'ge Quelle selbst"
"Du wuchsest mir die Füsse"
"Wie dünkt mich doch die Aue heut so schön" - Karfreitagszauber
"Mittag. Die Stund' ist da" - Verwandlungsmusik
"Geleiten wir im bergenden Schrein"
"Ja, Wehe! Weh' über mich!"