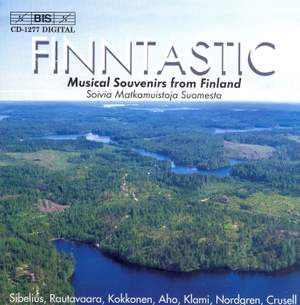 Offer

,

 Finntastic
Musical Souvenirs from Finland
Soile Isokoski (soprano), Monica Groop (mezzo-soprano), Walton Grönroos (baritone), Osmo Vänskä (clarinet), Pekka Kauppinen (violin), Anu Airas (viola), Ilkka Pälli (cello), Torleif Thedéen (cello), Folke Gräsbeck (piano)
Savonlinna Opera Festival Choir, Jubilate Choir, YL Choir, brass partout,...
CD
Original price
($16.25)
Reduced price
$12.25
Contents
Sibelius: Finlandia Hymn (Text: V.A. Koskenniemi)
Jubilate Choir
Astrid Riska
Nordgren, P: The Whole World Will Lament, Op. 26b
Ostrobothnian Chamber Orchestra
Juha Kangas
Kokkonen: The Hades of the Birds, song cycle (Text: P. Mustapää)
Monica Groop (mezzo-soprano)
Lahti Symphony Orchestra
Ulf Söderblom
1. Taydellisyyden Massas (In the World of Perfection)
Sibelius: Songs (9), Op. 23
Jubilate Choir
Astrid Riska
Soi kunniaksi Luojan (May the Hymn of Honour Now Resound), Op. 23, No. 6a
Sibelius: Andantino and Menuet
Brass Partout
Hermann Bäumer
Andantino for brass ensemble
Klami: Sarja pienelle orkesterille (Suite for Small Orchestra, Op. 37: III. Marche Militaire.
Tapiola Sinfonietta
Jean-Jacques Kantorow
Sibelius: Song to Lemminkäinen Op. 31 No. 1
Helsinki University Chorus, Lahti Symphony Orchestra
Osmo Vänskä
Rautavaara: Pelimannit, Op. 1
Tapiola Sinfonietta
Jean-Jacques Kantorow
I. Narbolaisten braa speli
III. Klockar Samuel Dikstrom
Aho: Symphony No. 7 'Hyönteissinfonia' ('Insect Symphony')
Lahti Symphony Orchestra
Osmo Vänskä
II. Perhoset (Perhosten foxtrot ja tango) (The Butterflies (The Foxtrot and Tango of the Butterflies))
 Excerpt,  Sibelius: Four Pieces, Op. 78
Torleif Thedéen (cello), Folke Gräsbeck (piano)
Crusell: Clarinet Quartet No. 1 in E flat major, Op. 2: II: Romanze
Pekka Kauppinen (violin), Anu Airas (viola), Ilkka Palli (cello), Osmo Vänskä (clarinet)
Sibelius: Andante in E flat major, JS 74
Andante in E flat major, JS 74
Menuetto in A minor, JS 5
Tempo di valse in A major, JS 2
Soile Isokoski (soprano), Walton Gronroos (baritone)
Savonlinna Opera Festival Choir, The, Lahti Symphony Orchestra
Ulf Söderblom
 Excerpt,  Sibelius: Symphony No. 6 in D minor, Op. 104
Lahti Symphony Orchestra
Osmo Vänskä
Klami: Suomenlinna, Op. 30
Lahti Symphony Orchestra
Osmo Vänskä