23rd November 2019
 Obituary

,

  Sir Stephen Cleobury (1948-2019)
The English organist and conductor Stephen Cleobury, who spent nearly four decades as Director of Music at King's College Cambridge, died last night aged 70.
Born in Bromley in 1948, Cleobury was educated at St John's College Cambridge (where he was organ scholar) and held positions at Westminster Abbey and Westminster Cathedral before taking up his role at King's in 1982. Over the next 37 years he made a huge number of recordings with the choir, including Bach's St John and St Matthew Passions, Handel's Coronation Anthems and Messiah, the Fauré, Brahms, Mozart and Duruflé Requiems, and several best-selling recordings based on the choir's iconic Nine Lessons and Carols service.
One of Cleobury's innovations during his time as Director of Music was the introduction of newly-commissioned carols for the service, with participating composers including Judith Weir, Nicholas Maw, John Tavener, John Rutter and Jonathan Dove, and his own descants for many traditional carols also gained a foothold beyond King's and Cambridge. He also remained active as an organist throughout his career, and recorded a solo recital on the College's newly-restored Harrison & Harrison organ two years ago, which featured music by Bach, Mendelssohn and Franck and was described as 'magnificent' by The Sunday Times. In addition to his work at King's he conducted the Cambridge University Music Society Chorus from 1983 until 2009, and was named as their first-ever Conductor Emeritus in 2016.
Cleobury announced his intention to retire from King's in early 2018, and was succeeded by Daniel Hyde last month. He was knighted for services to choral music in the 2019 Birthday Honours List, and was also an Honorary Fellow of the Royal School of Church Music.
Cleobury died at his home in York on 22nd November following a long illness, and is survived by his wife Emma (a former chaplain at King's) and his brother Nicholas, also a conductor. The College opened an online book of condolence this morning.
Sir Stephen Cleobury - a selected discography
The Choir of King's College, Cambridge, Stephen Cleobury
Available Formats: SACD, MP3, FLAC, Hi-Res FLAC
The Choir of King's College Cambridge, Stephen Cleobury
Available Formats: 2 CDs, MP3, FLAC, Hi-Res FLAC
The Choir of King's College Cambridge, Stephen Cleobury
Available Formats: CD, MP3, FLAC, Hi-Res FLAC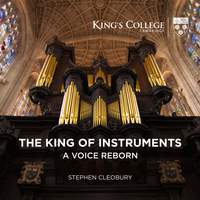 Bach - Mendelssohn - Franck - Preston
Stephen Cleobury (Harrison & Harrison organ)
Available Formats: SACD, MP3, FLAC, Hi-Res FLAC
Stephen Cleobury (organ)
Available Formats: SACD, MP3, FLAC, Hi-Res FLAC
Susan Gritton (soprano), Robin Blaze (countertenor), Michael George (bass)
The Choir of King's College, Cambridge, Academy of Ancient Music, Stephen Cleobury
Available Formats: CD, MP3, FLAC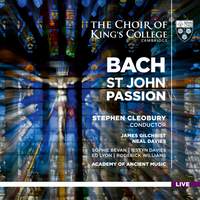 James Gilchrist (Evangelist), Neal Davies (Christus), Sophie Bevan (soprano/Ancilla), Iestyn Davies (alto), Ed Lyon (tenor arias), Toby Ward (Servus), Benedict Kearns (Petrus), Roderick Williams (bass arias/Pilatus)
Academy of Ancient Music & King's College Choir Cambridge, Stephen Cleobury
Available Formats: 2 SACDs, MP3, FLAC, Hi-Res FLAC
and Handel's Messiah as bonus DVD
Rogers Covey-Crump (Evangelist), Michael George (Jesus), Emma Kirkby (soprano), Michael Chance (alto), Martyn Hill (tenor) & David Thomas (bass), Lynne Dawson (soprano), Hilary Summers (contralto), John Mark Ainsley (tenor), Alastair Miles (bass)
Brandenburg Consort, The Choir of King's College, Cambridge, Stephen Cleobury
Available Format: 3 CDs
Andrew Kennedy (tenor), Britten Sinfonia, Sawston Village College Choir & Cambridge University Musical Society, Stephen Cleobury
Available Formats: CD, MP3, FLAC, Hi-Res FLAC
Guy Johnston (cello), Stephen Cleobury (organ)
Britten Sinfonia, The Choir of King's College, King's Voices, Christopher Seaman
Available Formats: 2 SACDs, MP3, FLAC, Hi-Res FLAC