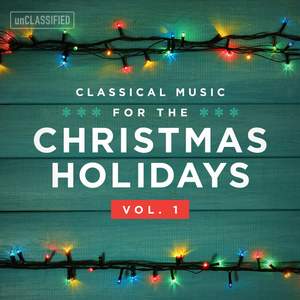 Classical Music for the Christmas Holiday, Vol. 1
Robert Quinney (organ), Michala Petri (recorder), Karita Mattila (soprano), Keith Reas (organ), Ross Hauck (tenor), Amanda Forsythe (soprano), Malene Nordtorp (soprano), Stephen Gadd (baritone), Ieva Ezeriete (soprano), Agate Burkina (soprano), James Sherlock (organ), Kerenza Peacock (violin), Eteri...
Contents
Worcester Cathedral Choir
Donald Hunt
trad.: In the Bleak Midwinter
Robert Quinney
The Sixteen Choir
Harry Christophers
Becker, A: Machet die Tore weit
Münchener Bach-Chor
Hansjörg Albrecht
The Sixteen Choir
Harry Christophers
Tewkesbury Abbey Schola Cantorum
Benjamin Nicholas
The Sixteen Choir
Harry Christophers
Michala Petri
Danish Radio Sinfonietta
Henrik Vagn Christensen
Ralph Blane: Have Yourself a Merry Little Christmas
Karita Mattila
Chorus Cathedralis Aboensis, Turku Philharmonic Orchestra
Pertti Pekkanen
Michala Petri
DR VokalEnsemblet
Michael Bojesen
Evett: Propers for the First Mass of Christmas
Keith Reas
Musikanten
Kerry Krebill
Handel: Messiah, HWV 56, Pt. 1
Amanda Forsythe, Ross Hauck
Apollo's Singers, Apollo's Fire
Jeannette Sorrell
Every Valley Shall Be Exalted
Glory to God in the Highest
Rejoice Greatly, O Daughter of Zion
Tchaikovsky: The Nutcracker, Op. 71, TH 14: No. 14, Danse de la Fée Dragée
Slovak Philharmonic Orchestra
Michael Halász
Gloria Shayne: Do You Hear What I Hear?
United States Air Force Symphony Orchestra
Victoria: O magnum mysterium
Stella Chamber Choir
Solvieg Ågren
The Sixteen Choir
Harry Christophers
Mozart, L: Die musikalische Schlittenfahrt (Arr. P. Lane)
BBC Concert Orchestra
Barry Wordsworth
Excerpt, Corelli: Concerto grosso Op. 6 No. 8 in G minor 'fatto per la notte di Natale'
Les Violons du Roy
Bernard Labadie
III. Adagio - Allegro - Adagio
V. Allegro - VI. Pastorale ad Libitum
Vaughan Williams: Folksongs of the 4 Seasons, Winter: I. Children's Christmas Song
City of London Choir, Bournemouth Symphony Orchestra
Hilary Davan Wetton
trad.: Det är en ros utsprungen
Stella Chamber Choir
Solvieg Ågren
trad.: Ding dong! merrily on high
Malene Nordtorp, Michala Petri
DR VokalEnsemblet
Michael Bojesen
Vaughan Williams: Fantasia on Christmas Carols
Stephen Gadd
Guildford Choral Society, Royal Philharmonic Orchestra
Hilary Davan Wetton
Schubert: Ave Maria, Op. 52 No. 6, D. 839 "Hymne an die Jungfrau" (Arr. Y. Hjelt for Soprano & Orchestra)
Karita Mattila
Turku Philharmonic Orchestra
Pertti Pekkanen
Sylvestrov: 2 Christmas Lullabies
Ieva Ezeriete, Agate Burkina
Latvian Radio Choir
Sigvards Klava
Charpentier, M-A: Messe de Minuit pour Noel, H. 9: Gloria
Aradia Ensemble
Kevin Mallon
James Beckel Jr.: A Christmas Fanfare
United States Coast Guard Band
Kenneth W. Megan
trad.: I wonder as I wander
James Sherlock
Tenebrae
Nigel Short
Handel: Messiah, HWV 56, Pt. 1: For unto Us a Child Is Born
The Sixteen Choir
Harry Christophers
The Sixteen Choir
Harry Christophers
Vivaldi: The Four Seasons: Winter, RV297
Kerenza Peacock
Trafalgar Sifonia
Ivor Setterfield
Gounod: Ave Maria (Arr. for Recorder & Orchestra)
Michala Petri
Danish Radio Sinfonietta
Henrik Vagn Christensen
trad.: We wish you a merry Christmas
Karita Mattila
Chorus Cathedralis Aboensis, Turku Philharmonic Orchestra
Pertti Pekkanen
Convery: Christmas Daybreak
Liszt: Weihnachtsbaum, S. 186: IV. Adeste Fideles
Reed, A: Russian Christmas Music
United States Air Force Tactical Air Command Band
Lowell Graham
anon.: Angelus ad virginem
Michala Petri
DR VokalEnsemblet
Michael Bojesen
Bach, J S: Christmas Oratorio, BWV248: Sinfonia 'Hirtenmusik'
Bach-Collegium Stuttgart
Helmuth Rilling
Tewkesbury Abbey Choir
Andrew Sackett
Holst: Christmas Day, H109
Julia Doyle, Lydia Challen, Julian Davies, Simon Oberst
City of London Choir, Bournemouth Symphony Orchestra
Hilary Davan Wetton
Saint-Saëns: Oratorio de Noël, Op. 12: Domine, Ego Credidi
Friedreich Melzer
Bachchor Mainz, Bachorchester Mainz
Diethard Hellmann
Harder: Der Weihnachtsbaum in seinem Schmuck
Michala Petri
Danish Radio Sinfonietta
Henrik Vagn Christensen
United States Coast Guard Band
Kenneth W. Megan
Anderson, Leroy: Sleigh Ride