After thirty years of world-wide performance and recording, The Sixteen is recognised as one of the world's greatest vocal ensembles. Its special reputation for performing early English polyphony, masterpieces of the Renaissance and a diversity of 20th century music is drawn from the passions of conductor and founder, Harry Christophers. Over ninety recordings reflect The Sixteen's quality in a range of work spanning the music of five hundred years, winning many awards including Grand Prix du Disque for Handel's Messiah, numerous Schallplattenkritik, the coveted Gramophone Award for Early Music, and most recently the prestigious Classical Brit Award 2005 for 'Renaissance'.
Further Reading:
The Sixteen
6th April 2017
As a follow-up to our earlier interview with Harry Christophers, the Scottish composer talks to David about his new work.
4th February 2015
David talks to Harry Christophers about his new disc of polyphonic gems from the Spanish Renaissance with The Sixteen.
Recent Best Sellers:
The Sixteen
New Releases:
The Sixteen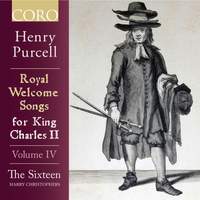 CD:
Original price
($16.25)
Reduced price
$13.00
Download from
Original price
($10.00)
Reduced price
$7.00