4th February 2015
 Interview

,

  Flight of Angels
The Sixteen are surely one of the foremost vocal ensembles in the classical world today. Their discography is impressive in its scope, ranging from the fifteenth-century English polyphonists of the Eton Choirbook to contemporary composers, and from Poland to Portugal and beyond.
Their latest album, Flight of Angels, explores more of the less well-known composers of the "Siglo de Oro", the golden age of imperial Spain under Philip II. Bringing to light composers who have tended to languish in the shadow of Tomas de Victoria, it showcases motets and mass movements by Francisco Guerrero and Alonso Lobo, which often utilise the "parody" technique of basing the sacred polyphony on another musical source (either a secular "hit" song of the time or an existing motet).
I asked conductor Harry Christophers about his approach to this music, and what sets it apart from other Renaissance schools of composition.
Guerrero's Duo Seraphim is set for three choirs, and was presumably written for performance in the huge cathedral in Seville where he was maestro di capilla. Certain moments seem very reminiscent of the polychoral style of Gabrieli; is there any evidence of a tradition of widely-spaced choirs in Seville or Spain generally, to give a similarly "3D" spatial experience as might have been heard at San Marco during Gabrieli's time?
Interestingly enough, it appears that this is Guerrero's only work for three choirs – and it's without doubt one of his finest. It's ideally suited to the vastness of Seville Cathedral – I've only been inside that cathedral once, and I seem to remember a large choir gallery which would have been filled with singers and instrumentalists – and his Duo Seraphim would have sounded duly impressive.
The concept of widely-spaced choirs has actually got rather out of hand in recent years. If you go to St Mark's in Venice the galleries are not very far away at all, so the spatial separation is actually minimal – and although the large choir area in Seville is big, the effect of separation would have been very similar to the separation of choir stalls in the quires of most English cathedrals. Polychoral simply means 'multi-choir', and in our recording I have adopted two solo voice choirs for the top two choirs, with the other ten voices supplying a richer sonority for the third choir.
What particularly drew you to the Spanish school of Renaissance music for this album? Do you think there's a definite Spanish (or perhaps Iberian) style that these works typify?
I have always adored the music of Victoria and I was eager to explore the music of his contemporaries. Of course Victoria spent most of his life in Italy, whereas Guerrero and Lobo stayed principally in their native Spain. There is no doubt their music has a distinct Iberian feel – there is a sensuality and exoticism about their vocal lines which I sometimes don't find in their Italian contemporaries. There is also a lavishness of sonority which identifies much of their music, and perhaps this might be a reflection of the country as a whole which, in the sixteenth century, was of course the most powerful country in Europe.
Why did you decide to include segments from various masses, rather than drawing all the mass movements from a single composition – and how did you decide which mass would contribute which movement? Would you say these are each the highlight of their respective parent works?
This album is very much an overview of their work, and it was conceived to go alongside our 2015 Choral Pilgrimage tour, which will go to thirty cities in the UK and others in Europe.
Very few people will have heard of these composers, so it is essential to programme as much variety as possible. What is amazing about the masses by both Guerrero and Lobo is that there is incredible variety. Lobo was a master of musical form, and his Mass "Maria Magdalene" abounds in creative subtlety – it's never purely academic. There are so many masses by Guerrero to choose from, so I have had to be pretty radical. The Gloria from "Surge propera" is simply glorious – it allows the singers to relish in lots of word stress and dynamic variation – whilst the Credo from "La Batalla" is a work of pure genius. Based on Janequin's chanson "La Guerre", Guerrero uses many of the chanson's motifs in different permutations, and gives us a vibrant mass movement which has been a total joy for me to interpret. It's brilliant in its conception and fun in its execution. Then we can contrast that with the flowing repose of the Agnus Dei movements from "Congratulamini mihi". Every line is a joy to sing. Robert Stevenson once wrote of Guerrero that the moods he captured included ecstasy, gaiety, melancholy, longing, submission and repose. By utilising so many masses I think we can depict just that.
Now that you've teased us with selections from these masses, do you have any plans to record them in their entirety?
Perhaps! We recorded Guerrero's Missa de la batalla escoutez in full a few years ago – it's available on COR16067. At present we have embarked on a Palestrina cycle – Volume 6 will be released this year, but we have a very long way to go on this since he wrote over 100 masses! However, I do adore the music of both Guerrero and Lobo, so there is always a distinct possibility of more recordings devoted to their music. I must mention Martyn Imrie, without whose scholarly editions and infectious enthusiasm I would not have been introduced to this wealth of music – thank you Martyn.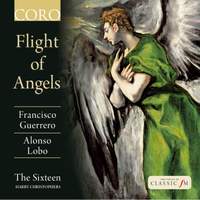 Flight of Angels was released on Monday on Coro.
Available Formats: CD, MP3, FLAC
Other recent recordings from Harry Christophers and The Sixteen
More delights from the Spanish Golden Age, including the whole of Guerrero's Missa de la batalla escoutez: "[A] dazzling display of expansion and development. Harry Christophers gives magnificently sure-footed direction throughout" – BBC Music Magazine.
Available Formats: CD, MP3, FLAC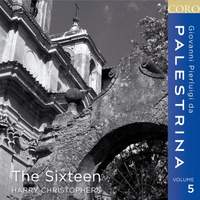 The latest volume in The Sixteen's Palestrina cycle, featuring music for Pentecost and motets on texts from the Song of Songs; Early Music Today notes the "balance of voices [...] and ebb and flow of phrases".
Available Formats: CD, MP3, FLAC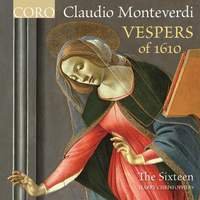 Christophers and his singers turn their attention to Monteverdi's masterwork, the mighty Vespro della beata Vergine of 1610, in a recording praised by BBC Music Magazine for its sensitivity to the words and tempi.
Available Formats: 2 CDs, MP3, FLAC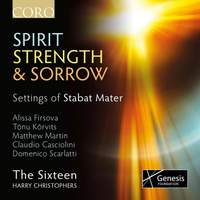 The ancient Latin hymn Stabat Mater has been an inspiration to composers throughout the history of Western Christianity. On this album, the settings of Casciolini and Domenico Scarlatti are set alongside three new musical responses to the text by emerging composers Alissa Firsova, Tõnu Kõrvits and Matthew Martin.
Available Formats: CD, MP3, FLAC