US deliveries: Unfortunately we are receiving reports that some US orders are taking longer than usual to arrive. Find out more >>
Latest update: Changes to international postage charges. Find out more
6th April 2017
 Interview

,

  Harry Christophers on James MacMillan's new Stabat Mater
Almost a year ago I wrote about an exciting new piece by James MacMillan that picked up where the traditional Passion story leaves off - Since it was the Day of Preparation.... Now the Scottish composer has produced another new work, on a much larger scale, setting the traditional hymn or poem of the Stabat Mater - an inspiration to centuries of composers. MacMillan has a long and fruitful relationship with Harry Christophers and The Sixteen, who (together with the strings of the Britten Sinfonia) recorded the world-premiere recording.
I spoke to Harry about this fascinating new work, and what he feels sets James apart from other contemporary composers.
To have a new work of this scale commissioned for you to perform must be very exciting – even for the most seasoned conductor. How closely did you collaborate with James in the process of composition?
I've collaborated with James for many years now - I think it was in 2001 when we commissioned our first work from him, which was O bone Jesu. He knows us so well, and one thing he's fascinated by is the four tenors, so in this Stabat Mater there's quite an extended passage that really gets them working!
The project all stemmed from a phone call from John Studzinski who rang us up one day – he'd heard a performance of Rossini's Stabat Mater in Salzburg and not really got very much out of it! He contacted me and said we had to do something to redress the balance, and asked me to do some research and see when the Stabat Mater had last been set to music. And it was amazing - the two large-scale ones by Szymanowski and Poulenc were written a good number of years ago. So there was no doubt that we had to have something fantastic.
James sent me through the first movement when he'd finished it, and the second and third followed pretty quickly. So in that sense, in terms of actually collaborating while the piece was being written - no. I wouldn't even begin to give James ideas: he's got all the ideas he needs himself! He knows our singers very well, and there are moments in the piece where you know he has one singer in mind – a soprano solo, for example, where he had Julie [Cooper] in mind, just as I had.
You mention in your notes that there was also a workshop with three contemporary composers (Alissa Firsova, Tõnu Kõrvits and Matthew Martin) as part of this project – almost, it seems, with the intention of jolting the dormant genre of the Stabat Mater back into life. Do you think any of the ideas from this fed into the eventual form of James's work?
This whole project originated with John Studzinski, and he finds the poem very powerful and related to things happening in the modern-day world. The idea of commissioning James came first - that's what we were building up to - but part of John's thinking with the Genesis Foundation is to promote young talent in the arts, and specifically commissioning works for the church (although not specifically the Catholic Church) and for use in concert. So it came out of that - we called it the Mini Maters! - and James and I selected the three composers we wanted to do this project with. John then met them to talk through his thinking and get a sense of how they would approach it.
It was very much a separate project, taking three composers from three different cultures. Alissa Firsova now lives in London, but her parents were Russians who emigrated a number of years ago, and there's still that influence of the Russian Orthodox Church there. Tõnu, being Estonian, has a very different background – he's a great lover of Pärt's music, but his music is also very folk-based. For his Stabat Mater, in fact, he took a scale from Southern Estonia, which was quite bizarre. And this was the lovely thing about doing these in workshops in conjunction with the singers from our training programme, 'Genesis Sixteen' - having James and me there giving ideas. Luckily all three composers were game to have their pieces analysed and taken apart to see what worked and what didn't; but what was really fascinating was that Tõnu's piece was making no sense at all to the singers until he arrived and played that scale on the piano to us, and suddenly we got into that harmonic world. It's a very dark piece.
With James, we felt (and a lot of the critics also felt) that he's gone further with the Stabat Mater and got right underneath the surface of the poem; many other composers write a Stabat Mater and you just get the sorrows of Mary and that's all it is. With James, at times he puts us there on the day among the people who were there shouting for Christ's death and witnessing the weather, the climate, the leaves fluttering... it seems wrong to say it, but in many ways it's like a film score. Obviously it's much deeper than that, though, because what James does is get inside the text to make us think about it. And at times it's quite savage writing.
You've singled out James, Tomás Luis de Victoria and Francis Poulenc as your three 'top' composers of sacred music. I'm sure some people would be surprised at the absence of any Germanic composers (particularly Bach!) from your podium – what sets these three apart in your eyes, and do you think they share any salient qualities?
I'm thinking really of unaccompanied music - in the Renaissance, it's very interesting. There are of course these great composers - Palestrina, Lassus, Byrd, Tallis and so on - but there's something about Victoria where, for me, you can really interpret it. More so with his motets than with, say, Palestrina, because there is a real undercurrent of Catholic fervour there. Those three all happen to be Catholic and have an amazing understanding of the Scriptural words they're writing about, and I feel with all three you get the feeling of 'this is what I see in these words, and that's what I'm going to portray'.
That doesn't necessarily happen with other sacred composers. Many write to form - of course with the Renaissance music that's part of the liturgy it's different, because the music had to be subservient - but it's interesting to note that Victoria didn't write a single secular work (to my knowledge). He was devoted to the Church the whole time. And James has the same passion, and likewise Poulenc: when you read his own writings about the Lenten Motets, he felt he'd really done something very special. He'd got his Catholicism back, and it's very personal writing - and I think that to the performers that shines through.
The plainsong setting that precedes the MacMillan offers a great contrast in style – why did you decide to include this in the recording, and do you feel it informs the main work to any extent?
No, it was a real practical reason! James's Stabat Mater starts so softly that we needed something at the beginning of the disc to set the listener's ears going, so to speak. So that when it finishes, the ear is attuned and you hear that first chord. Otherwise, say if you're listening in the car, you might wonder if the CD is working! And James has always loved the plainsong; he was brought up with it, as he was with the poem.
As someone who's been working with James for fifteen years now, how do you think his compositional style has changed in that time?
It's always identifiable - the Celtic origins and Celtic snaps are always there, and he always digs deep into the words, but I've noticed that particularly since the Strathclyde Motets and in particular the Miserere which he wrote for us about four years ago. And this Stabat Mater I think has done the same. It's got under the surface of the words more than the Seven Last Words did, and it's certainly more daring, not just in its string writing but in the effects. When I was listening to the edits I was hearing things I hadn't heard in the performance, even though I've got the luxury of being right at the front and theoretically hearing everything. I remember people saying - performers as well as concert-goers - that they were hearing sounds that it seemed unbelievable to be hearing from those instruments and those singers. He does look back on his past (for example his days in a folk band as a student), but it's now really coming together. He's at the top of his game as a composer and it's so exciting.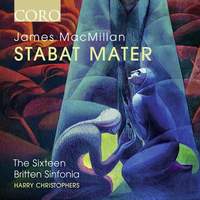 Harry Christophers' world-premiere recording of MacMillan's Stabat Mater, with The Sixteen and the Britten Sinfonia, was released in March on Coro.
Available Formats: CD, MP3, FLAC, Hi-Res FLAC
Other recent releases from The Sixteen...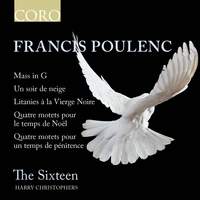 Available Formats: CD, MP3, FLAC, Hi-Res FLAC
Available Formats: CD, MP3, FLAC, Hi-Res FLAC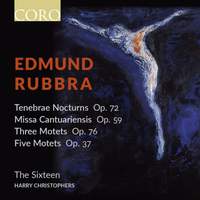 Available Formats: CD, MP3, FLAC, Hi-Res FLAC