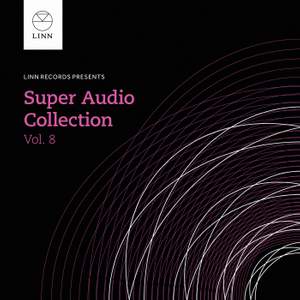 Offer

,

 The Super Audio Collection Volume 8
Joe Stilgoe (vocals), Gottlieb Wallisch (piano), Ingrid Fliter (piano), Ann Murray (mezzo-soprano), Malcolm Martineau (piano), John Butt (harpsichord), Claire Martin (vocals)
BBC National Orchestra of Wales, Scottish Ensemble, Magnificat, Scottish Chamber Orchestra, Phantasm, Big Screen, Thomas...
Contents
Joe Stilgoe (vocals)
Recorded: 14 October and September 2014
Recording Venue: Quiet Money Studios, Hastings and Angel Studios, London, England, United Kingdom
 Excerpt,  Haydn: Piano Sonata No. 60 in C major, Hob.XVI:50
2:24
Gottlieb Wallisch (piano)
Recorded: 10-11 September 2013
Recording Venue: Historischer Reitstadel zu Neumarkt in der Oberpfalz, Germany
 Excerpt,  Sibelius: Symphony No. 2 in D major, Op. 43
9:24
BBC National Orchestra of Wales
Thomas Søndergård
Recorded: 26-28 March 2014
Recording Venue: BBC Hoddinott Hall, Cardiff, United Kingdom
 Excerpt,  Chopin: Mazurkas (4), Op. 17
2:05
Ingrid Fliter (piano)
Recorded: 9-12 June 2014
Recording Venue: Potton Hall, Suffolk, United Kingdom
Schumann: Gedichte der Königin Maria Stuart, Op. 135
1:37
Ann Murray (mezzo-soprano), Malcolm Martineau (piano)
Recorded: 18-21 February and 8-11 October 2013
Recording Venue: Crear, Kilberry, Argyll, Scotland, United Kingdom
No. 1, Abschied von Frankreich
1:37
 Excerpt,  Tchaikovsky: Serenade for strings in C major, Op. 48
3:48
Scottish Ensemble
Jonathan Morton
Recorded: 1-3 December 2013
Recording Venue: Caird Hall, Dundee, Scotland, United Kingdom
II. Walzer. Moderato - Tempo di valse
3:48
 Excerpt,  Bach, J S: The Well-Tempered Clavier, Book 1
1:21
John Butt (harpsichord)
Recorded: 15–18 July 2013
Recording Venue: St Martin's, East Woodhay, Hampshire, United Kingdom
Prelude No. 19 in A Major, BWV 864
1:21
Taverner: Psalm 41 "Quemadmodum desiderat cervus"
6:28
 Excerpt,  Mozart: Divertimento in B flat, K270
4:06
Scottish Chamber Orchestra
Recorded: 5-7 April 2014
Recording Venue: Stevenson Hall, Royal Conservatoire of Scotland, Glasgow, United Kingdom
Ward, J: Fantasia a 4 No. 4, VdGS 24
3:09
Phantasm
Recorded: 6-9 May 2013
Recording Venue: Chapel of Magdalen College, Oxford, United Kingdom
 Excerpt,  Schumann: Symphony No. 2 in C major, Op. 61
8:39
Scottish Chamber Orchestra
Robin Ticciati
Recorded: 25-26, 30 November and 1-3 December 2013
Recording Venue: Perth Concert Hall, Perth, United Kingdom
Rodgers, R: Hello young lovers (from The King and I)
5:13
Big Screen
Recorded: 4 and 5 November 2013 and 25 March 2014
Recording Venue: David Long's House, Eastbourne, United Kingdom
Bennett, R R: Goodbye for now
3:31
Claire Martin (vocals)
Recorded: 6-7 December 2013 and 20 January 2014
Recording Venue: British Grove Studios, London, United Kingdom