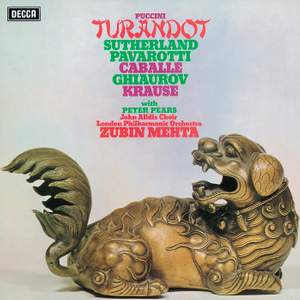 Puccini: Turandot
Joan Sutherland (Turandot), Luciano Pavarotti (Calaf), Montserrat Caballé (Liù), Nicolai Ghiaurov (Timur), Tom Krause (Ping), Pier Francesco Poli (Pang), Piero De Palma (Pong), Peter Pears (L'imperatore Altoum), Sabin Markov (Un mandarino)
London Philharmonic Orchestra, John Alldis Choir, Zubin...
Sutherland gives an intensely appealing interpretation, while Pavarotti gives a performance equally imaginative. Mehta directs a gloriously rich and dramatic performance. Still the best-sounding...

— More…
Contents
Tom Krause (baritone), Peter Pears (tenor), Dame Joan Sutherland (soprano), Sabin Markov (baritone), Luciano Pavarotti (tenor), Montserrat Caballé (soprano), Nicolai Ghiaurov (bass), Pier Francesco Poli (tenor), Piero de Palma (tenor)
London Philharmonic Orchestra, John Alldis Choir, Wandsworth School Boys' Choir
Zubin Mehta
Recorded: 1972-08-10
Recording Venue: Kingsway Hall, London
"O giovinetto! Grazia, grazia!"
"Fermo! Che fai? T'arresta"
"Gravi, enormi ed impotenti"
"Un giuramento atroce mi costringe"
"Gloria, gloria, o vincitore"
"Tre enigmi m'hai proposto"
Introduzione - "Così comanda Turandot"
"Tu che di gel sei cinta"
"Liù! Liù! Sorgi! Sorgi!"
"Del primo pianto...Più grande vittoria non voler"
"Diecimile anni al nostro Imperatore...Padre augusto"