US Airmail Charges: As a knock-on effect of COVID-19 airfreight prices around the world have soared. Reluctantly, we have had to pass on some of this increase in our standard airmail prices. We'll bring them down again as soon as we can!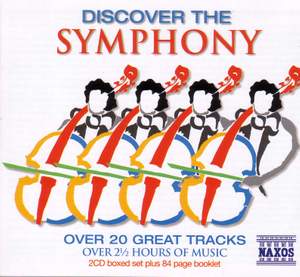 DISCOVER THE SYMPHONY (1998 edition)
Christopher Hooker (oboe), Helen McQueen (oboe), Joanna Graham (bassoon), Ruxandra Donose (mezzo-soprano), Hasmik Papian (soprano), Manfred Fink (tenor), Claudio Otelli (bass-baritone), Imrich Szabo (organ)
City of London Sinfonia, Salzburg Chamber Philharmonic Orchestra, New Zealand Chamber...
Contents
 Excerpt,  Vivaldi: Concerto (Sinfonia) in D major, RV 122
2:06
Christopher Hooker (oboe), Helen McQueen (oboe), Joanna Graham (bassoon)
City of London Sinfonia
Nicholas Kraemer
Concerto (Sinfonia) in D major, RV 122: I. Allegro
2:06
Bach, C P E: Sinfonia in D major, Wq. 183 / 1, H. 663: I. Allegro di molto
6:02
Salzburg Chamber Philharmonic Orchestra
Yoon K. Lee
Mozart, L: Sinfonia da caccia for 4 horns, shotgun & string orchestra in G major 'Jagd-Sinfonie'
5:08
New Zealand Chamber Orchestra
Donald Armstrong
Sinfonia da caccia in G major: I. Allegro
5:08
 Excerpt,  Haydn: Symphony No. 88 in G major
4:14
Cappella Istropolitana
Barry Wordsworth
Symphony No. 88 in G major, Hob.I:88: III. Menuetto: Allegretto
4:14
 Excerpt,  Mozart: Symphony No. 40 in G minor, K550
7:31
Cappella Istropolitana
Barry Wordsworth
Symphony No. 40 in G minor, K. 550: I. Molto allegro
7:31
 Excerpt,  Beethoven: Symphony No. 9 in D minor, Op. 125 'Choral'
13:42
Ruxandra Donose (mezzo-soprano), Hasmik Papian (soprano), Manfred Fink (tenor), Claudio Otelli (bass-baritone)
Nicolaus Esterhazy Chorus, Nicolaus Esterhazy Sinfonia
Béla Drahos
Symphony No. 9 in D minor, Op. 125, "Choral": IV. Finale: Presto - Allegro assai (excerpt)
13:42
 Excerpt,  Schubert: Symphony No. 3 in D major, D200
4:22
Failoni Orchestra, Budapest
Michael Halász
Symphony No. 3 in D major, D. 200: II. Allegretto
4:22
 Excerpt,  Mendelssohn: Symphony No. 4 in A major, Op. 90 'Italian'
5:39
RTÉ National Symphony Orchestra
Reinhard Seifried
Symphony No. 4 in A major, Op. 90, "Italian": IV. Saltarello: Presto
5:39
Brahms: Symphony No. 3 in F major, Op. 68
5:55
Belgian Radio and Television Philharmonic Orchestra
Alexander Rahbari
Symphony No. 3 in F major, Op. 90: III. Poco allegretto
5:55
 Excerpt,  Berlioz: Symphonie fantastique, Op. 14
4:58
Slovak Radio Symphony Orchestra
Pinchas Steinberg
Symphonie fantastique, Op. 14: IV. Marche au supplice (March to the Scaffold)
4:58
 Excerpt,  Bruckner: Symphony No. 4 in Eb Major 'Romantic'
10:43
Royal Flanders Philharmonic Orchestra
Günter Neuhold
Symphony No. 4 in E flat major, WAB 104, "Romantic": III. Scherzo: Bewegt
10:43
 Excerpt,  Tchaikovsky: Symphony No. 6 in B minor, Op. 74 'Pathétique'
8:37
Polish National Radio Symphony Orchestra
Antoni Wit
Symphony No. 6 in B minor, Op. 74, "Pathetique": II. Allegro con grazia
8:37
 Excerpt,  Dvořák: Symphony No. 8 in G major, Op. 88
5:47
Slovak Philharmonic Orchestra
Stephen Gunzenhauser
Symphony No. 8 in G major, Op. 88: III. Allegretto grazioso - Molto vivace
5:47
 Excerpt,  Saint-Saëns: Symphony No. 3 in C minor, Op. 78 'Organ Symphony'
7:49
Imrich Szabo (organ)
Slovak Radio Symphony Orchestra
Stephen Gunzenhauser
Symphony No. 3 in C minor, Op. 78, "Organ": II. Allegro moderato - Presto - Maestoso (excerpt)
7:49
 Excerpt,  Mahler: Symphony No. 1 in D major 'Titan'
7:33
Polish National Radio Symphony Orchestra
Michael Halász
Symphony No. 1 in D major, "Titan": II. Kraftig bewegt, doch nicht zu schnell
7:33
 Excerpt,  Elgar: Symphony No. 1 in A flat major, Op. 55
7:39
BBC Philharmonic
George Hurst
Symphony No. 1 in A flat major, Op. 55: II. Allegro molto
7:39
 Excerpt,  Vaughan Williams: Symphony No. 2 'A London Symphony'
4:46
Bournemouth Symphony Orchestra
Kees Bakels
Symphony No. 2, "A London Symphony": Epilogue
4:46
 Excerpt,  Sibelius: Symphony No. 1 in E minor, Op. 39
5:13
Slovak Radio Symphony Orchestra
Adrian Leaper
Symphony No. 1 in E minor, Op. 39: III. Scherzo: Allegro
5:13
 Excerpt,  Rachmaninov: Symphony No. 2 in E minor, Op. 27
12:41
Slovak Radio Symphony Orchestra
Stephen Gunzenhauser
Symphony No. 2 in E minor, Op. 27: III. Adagio
12:41
 Excerpt,  Nielsen: Symphony No. 2, Op. 16 (FS29) 'The Four temperaments'
7:06
RTÉ National Symphony Orchestra
Adrian Leaper
Symphony No. 2, Op. 16, FS 29, "The 4 Temperaments": IV. Allegro sanguinoso
7:06
 Excerpt,  Prokofiev: Symphony No. 1 in D major, Op. 25 'Classical'
4:22
Slovak Philharmonic Orchestra
Stephen Gunzenhauser
Symphony No. 1 in D major, Op. 25, "Classical": IV. Molto vivace
4:22
 Excerpt,  Stravinsky: Symphony in C
5:08
New Zealand Symphony Orchestra
En Shao
Symphony in C: III. Allegretto
5:08
 Excerpt,  Shostakovich: Symphony No. 9 in E flat major, Op. 70
5:15
Slovak Philharmonic Orchestra
Ladislav Slovak
Symphony in E flat major, Op. 70: Allegro
5:15