US Airmail Charges: As a knock-on effect of COVID-19 airfreight prices around the world have soared. Reluctantly, we have had to pass on some of this increase in our standard airmail prices. We'll bring them down again as soon as we can!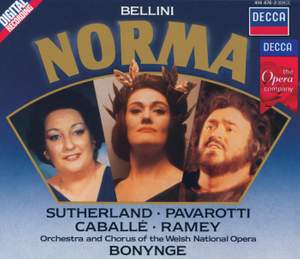 Bellini: Norma
Joan Sutherland (Norma), Luciano Pavarotti (Pollione), Montserrat Caballé (Adalgisa), Samuel Ramey (Oroveso)
Orchestra & Chorus of Welsh National Opera, Richard Bonynge
Though Dame Joan Sutherland was 58 when her second Norma recording was made, her singing is still impressive, but Pavarotti is in some ways the set's greatest strength, easily expressive as Pollione

— More…
Contents
Samuel Ramey (bass), Luciano Pavarotti (tenor), Dame Joan Sutherland (soprano), Montserrat Caballé (soprano), Kim Begley (tenor), Diana Montague (mezzo-soprano)
Orchestra of the Welsh National Opera, Chorus of the Welsh National Opera
Richard Bonynge
Recorded: 1984-11-19
Recording Venue: Walthamstow Assembly Hall, London
Introduzione: Ite sul colle, o Druidi
6:50
"Meco all'altar di Venere"
4:17
"Me protegge, me difende"
2:39
Sediziose voci, voci di guerra
3:45
Eccola! va, mi lascia, ragion non odo
1:24
Va, crudele, al Dio spietato
8:50
Vanne, e li cela entrambi
3:55
Ah! si, fa core, abbracciami
3:00
Ma di', l'amato quale fra noi si noma?
1:27
Oh! di qual sei tu vittima
1:19
Oh! qual traspare orribile
1:12
Norma! de'tuoi rimproveri
2:52
Vanne, si: mi lascia, indegno
2:38
Deh! con te, con te li prendi
3:48
Squilla il bronzo del Dio!
1:40
Nè compi il rito, o Norma?
3:34
Già mi pasco ne'tuoi sguardi
2:15
Qual cor tradisti, qual cor perdesti
4:30
Norma! deh! Norma, scolpati
2:13