US deliveries: Unfortunately we are receiving reports that some US orders are taking longer than usual to arrive. Find out more >>
Latest update: Changes to international postage charges. Find out more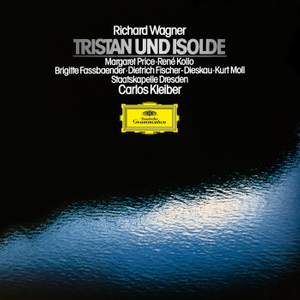 Wagner: Tristan und Isolde
Margaret Price (Isolde), René Kollo (Tristan), Brigitte Fassbaender (Brangaene), Kurt Moll (König Marke), Dietrich Fischer-Dieskau (Kurwenal), Werner Götz (Melot), Anton Dermota (Hirt)
Rundfunkchor Leipzig & Staatskapelle Dresden, Carlos Kleiber
Kleiber directs a compellingly impulsive reading, crowned by the glorious Isolde of Margaret Price, the most purely beautiful of any complete interpretation on record

—
Contents
Wagner: Tristan und Isolde
3:53:14
Dame Margaret Price (soprano), Werner Götz (tenor), Anton Dermota (tenor), Dietrich Fischer-Dieskau (baritone), Eberhard Büchner (tenor), Kurt Moll (bass), Brigitte Fassbaender (contralto), René Kollo (tenor), Wolfgang Hellmich (baritone), Gerhard Richter (chorus master)
Staatskapelle Dresden, Leipzig Radio Choir
Carlos Kleiber
Recorded: 1981-02-05
Recording Venue: Lukaskirche, Dresden
"Westwärts schweift der Blick"
5:26
"Frisch weht der Wind der Heimat zu"
9:27
"Weh, ach wehe! Dies zu dulden"
17:51
"Herr Tristan trete nah!" - "Begehrt, Herrin, was Ihr wünscht"
20:02
"Tristan! - Isolde! Treuloser Holder!"
6:49
"Isolde! Geliebte! - Tristan! Geliebter!"
17:28
"O sink hernieder, Nacht der Liebe"
5:17
"Einsam wachend in der Nacht"
2:44
"Doch unsre Liebe, heißt sie nicht Tristan und - Isolde?"
2:32
"O König, das kann ich dir nicht sagen"
8:50
(Man hört einen Hirtenreigen / The Sound Of A Shepherd's Pipe Is Heard / On entend une mélodie de berger)
3:01
"Noch losch das Licht nicht aus"
5:09
"Noch ist kein Schiff zu sehn!"
11:49
Bist du nun tot? ...O Wonne! Freude!
9:02
"Mild und leise wie er lächelt" (Isoldes Liebestod)
7:26