2nd July 2021
 Recording of the Week

,

  Sibelius from Edward Gardner, the Bergen Philharmonic, and Lise Davidsen
Since enjoying Edward Gardner and the Bergen Philharmonic's bewitching all-Sibelius album In the Stream of Life during a chilly New Year in Northern Scotland back in 2017, I've been hoping that the Norwegian orchestra and their principal conductor might explore more of the Finnish composer's music, and today my wish is granted with a new recording featuring Tapiola, Rakastava, Pelléas & Mélisande, and Spring Song.
I suspect that for a fair few potential listeners, though, the main attraction here will be the 1913 tone-poem Luonnotar, featuring Norwegian soprano Lise Davidsen and recorded shortly before she signed to Decca in 2018. Setting text from the Kalevala (a nineteenth-century Finnish epic poem on the creation of the earth), the piece is notorious for its formidable vocal demands: written for the Finnish diva Aino Ackté (a famous Salome and Elsa), it requires a two-octave range which is exploited to the full, from a sonorous low-lying opening that would tax many a contralto to pianissimo high C flats and near-Wagnerian outbursts over full orchestra later on.
Davidsen has it all, and it's wonderful to hear her in Nordic repertoire at last, her first two Decca albums having been devoted to German and Italian fare. The Finnish language seems to unlock colours in her voice that I didn't know she possessed until now, and she responds to the orchestration with such immediacy that at times she seems to become an honorary member of the woodwind section, particularly in the anguished cries at the top of her range. I can't be the only person crossing my fingers for an entire disc of Grieg and/or Sibelius songs from her in the near future.
Gardner, too, has the full measure of the piece's drama, having conducted it in staged performances during his time at English National Opera, and the Bergen players conjure Sibelius's mystical seascape with the same vividness that made their Peter Grimes last year such a triumph. Some hugely evocative contributions from the woodwind (particularly the bass clarinet) notwithstanding, what really struck me about this recording was the brilliantly shape-shifting string sound, glassy and other-worldly in the early stretches, and positively granite-like at the piece's climax.
The strings' incredible palette of colours continues to be a thing to marvel at throughout the rest of the programme, from the austere, almost period-instrument sound they summon for the grave opening of Pelléas & Mélisande to the glossy fullness on show in the final work, Spring Song. Tapiola, too, really showcases what Gardner described as 'the depth with which the strings play a lot of lines' – something which he mentioned as an especial source of pride last summer when we discussed his recording of Schoenberg's Pelleas und Melisande. (Maeterlinck's play is becoming something of a leitmotif with these forces, it seems, and I'd love to hear what they might do with Debussy's opera…). And in Tapiola especially, there's a rather magical contrast between passages where the section blends like a huge string quartet and those where individual voices emerge, almost as if the composer were zooming in on a particular tree in the vast Finnish forest.
As ever from this source, superb engineering captures all of this detail in dazzling clarity, and although obstacles presented by the pandemic necessitated a change in sound-team for some of the programme there's never a sense of the album being a game of two halves. Luonnotar, Pelléas & Mélisande and Spring Song were recorded in 2018 by the Chandos team, whilst Tapiola and Rakastava date from this February and were overseen by sound-engineers from the Oslo-based LAWO label: as Gardner mentioned to me when we spoke this time last year, lockdown restrictions in Norway have been considerably less stringent and shorter-lived than those in other European countries owing partly to its lower population-density, and the use of local boys for this part of the project makes a real virtue of necessity.
All in all, this is a glorious recording which speaks of a real synergy between conductor, orchestra and repertoire, with Davidsen's contribution the icing on the cake. Is there time for Gardner to record a cycle of Sibelius symphonies in Bergen before his contract expires in 2024? I do hope so.
Lise Davidsen (soprano), Bergen Philharmonic Orchestra, Edward Gardner
Available Formats: SACD, MP3, FLAC, Hi-Res FLAC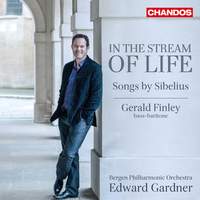 Gerald Finley (bass-baritone), Bergen Philharmonic Orchestra, Edward Gardner
Available Formats: SACD, MP3, FLAC, Hi-Res FLAC