9th June 2020
 Interview

,

  Edward Gardner on Schoenberg
Schoenberg has become something of a calling-card for the Bergen Philharmonic Orchestra and their Principal Conductor Edward Gardner over the past few years: their Chandos recording of Gurrelieder back in 2015 was praised in the The Times for its 'luminous atmosphere and edge-of-the-seat excitement', and last month saw the release of equally evocative accounts of Erwartung and Pelleas und Melisande on the same label. Ed and I spoke recently about the connections between the two works on the new album, his early encounters with Schoenberg's music, and how he and the Bergen players are continuing to make music in lockdown…
Where are you based at the moment, and how much music are you able to make right now?
I've been living in Oslo since the UK finally recognised what was going on and shut the country down: I travelled over eight weeks ago, just before everything changed, and I've been here ever since. Norway is a very different country in terms of space and population-density, so over here we're able to have small groups coming together for performances; we're not allowed audiences in halls yet, but we can broadcast concerts with a little bit of distancing on stage, and it's such a luxury and a privilege to be able to do that. We've done such a wide range of things already: we started off with a Copland programme with a lot of our principals as soloists, and then this Thursday we're doing Britten's Les Illuminations and the Schoenberg Chamber Symphony No. 1. There's a real sense of being fortunate and everyone's so happy to be making music again, as the UK orchestras are going to be when they come back too.
Schoenberg is becoming quite a speciality in Bergen these days, but was it relatively new territory for them when you arrived?
There was other repertoire that was perhaps newer territory, but I adore so much of Schoenberg's music, and that whole period of very late Romanticism and the beginning of atonality was perhaps an area which the orchestra hadn't explored all that much. Once we'd had such fun performing and recording Gurrelieder together in 2015 (and what an extraordinary piece that is, almost like a late Romantic opera), it just seemed like the right journey to go on. There are of course connections between Pelleas and Erwartung, but they're very different sides of Schoenberg, and I love that contrast between the two worlds.
What was your own first epiphany with Schoenberg's music?
My first Schoenberg performance was singing tenor in Friede auf Erden, and my abiding memory of that is not being able to get anywhere near the top B at the end! But I think I mainly discovered his music through listening rather than performing it; looking back to the time when I was an assistant conductor, it seems it wasn't done quite so much then as it is now. When I was a kid I used to go to a lot of the CBSO concerts in Birmingham, where Simon [Rattle] programmed a lot of Second Viennese School stuff and demystified it in the most beautiful way. Erwartung came first for me, definitely: as with a lot of composers (Tchaikovsky included), it's through the operas that I feel I come to a better understanding of the symphonic music and other non-stage works. Pelleas is special, because you're instantly struck by the sheer weight and ambition of it – the first time I heard it I found it totally remarkable, and I still do. Fingers crossed, I'm planning to do a performance in London when the Festival Hall reopens, with the London Philharmonic Orchestra.
I hear so much Wagner and Zemlinsky in the score of Pelleas - which echoes of other composers did you detect when you were working on it?
I actually hear more Wagner in Gurrelieder, which is full of quotations from The Ring, but of course that's very much in Schoenberg's hinterland; Tristan's there in the background of most of these early pieces too, but that's true of pretty much everything from this period! This might sound a bit strange, but with Pelleas I find myself thinking of the high drama of Weber, who was king of that kind of heightened romanticism - it's a very different musical language, but there's definitely something which connects Schoenberg all the way back to that. On another level it feels very Viennese and of its time, and with both Gurrelieder and Pelleas I'm reminded of how Schoenberg spent a lot of time making his money, orchestrating Léhar's operettas alongside his own composing work: there's a sort of lushness to the orchestral style that's so intoxicating. It almost makes you hallucinate when you're standing in front of it all as a conductor – it's a wonderful world to inhabit.
Pelleas is incredibly well dramatically honed as a piece in terms of how the narrative is given, and of course for any music-lover the story itself is pretty well known anyway because of Debussy's opera. The biggest problem with the piece is that the orchestra is so huge that it's incredibly expensive to put on, or even to fit on many stages! It takes some coaxing and there are lots of decisions to be made about how you pace and balance it, so that takes up a lot of my brain - but I think it's a masterpiece, I really do.
Are the acoustics at the Grieghallen especially conducive to balancing a piece like Pelleas?
It's a very particular acoustic, certainly. Like many halls it doesn't favour the strings in this sort of repertoire, and something I'm proud of in this recording is the depth with which the strings play a lot of lines: it's about this feeling of eternal melody and not letting melodies go. There's a lot of space around the sound, so it can take big music – but of course the Chandos guys also do something very specific in the hall when they come on board. I think they very much like recording in Bergen because it's a blank canvas in a way: it's a big acoustic, and having that sense of space gives them the freedom to really find the sound they want.
You touched on the connections between Pelleas and Erwartung earlier...how much common ground do you feel there is between these two ostensibly very different pieces?
That's what excited me about having them on one disc, actually: your first impression would be that they're complete polar opposites, but Erwartung has such lushness in it and Pelleas has such dramatic leanness. They were recorded at different times, so I wasn't feeling like one piece should be inflected by the other in performance, but I'm fascinated by listening to Pelleas as a modern piece and listening to Erwartung as the result of an earlier late Romantic mind. That border between late Romantic style and atonality is a tightrope in these early Schoenberg works: neither side is very far from the other in many respects, and I love that idea. When we were rehearsing Erwartung we talked about the drama and phrasing and simply how to put it all together, but I also spent a lot of time encouraging the players to make the most beautiful sound possible: in those moments when the Woman's expressing such desperate yearning and elated sexualised angst you're basically playing the end of the Ring Cycle!
Especially with works like Pelleas and Erwartung, which have such powerful associations with literature and psychoanalysis, how much do you like to engage with non-musical sources whilst you're preparing a piece?
I used to be quite dogmatic that pieces should exist on their own terms, but increasingly I find that delving into the background of a work - through letters, literary sources, whatever I can get my hands on - dramatically enhances my own enjoyment of the music. It's not something that's born out of necessity for me: I just relish getting as close as I can to these guys whose music I fret over, love and hate at the same time when I'm trying to put the thing together!
Have you ever conducted a staged performance of Erwartung?
I haven't, and with everything that's going on at the moment one wonders how many people are going to take the risk of doing it in the near future. I did see it at Covent Garden a few years ago, when they did that double-bill with Bluebeard's Castle: those two pieces are often done together, but I see it as quite a strange combination and I don't think it's a coupling I'd go for myself. But I'd love to do it with something else, and I'd love to do it with Sara Jakubiak as well – she's a pretty remarkable artist. Our connection started at English National Opera, when we got her in to sing Marie in Wozzeck; we've since recorded and performed Janáček together, and I enjoy working with her enormously.
Do you find that the Bergen orchestra has a different overall sound to the UK orchestras you work with?
It's a question I find increasingly difficult to answer! I think so - there's a lushness in the Bergen string sound that's wonderful, especially for this repertoire - but the real difference is the time and space we have around our music-making. We've worked together on and off for the last eight years, and I find that the journey that we go on from a Monday morning to a Thursday evening is massive, not only because we have time to rehearse in real detail but also because there's breathing-space around those rehearsals. It's a beautiful process. Of course in the UK orchestras are different beasts: you have to be making damned good musical points and damned good changes in order to justify going through something for a second time, because they're pretty athletic already! But ultimately comparisons are insidious, because I'm so lucky to be working with top orchestras; finding the rhythm of the rehearsal-to-performance process for each one is a fascinating thing, and I love all the different approaches equally.
How much time do you get to spend in the countryside around Bergen, and do the neighbouring forests feel particularly evocative of the atmosphere of these two pieces?
I don't get so much opportunity to explore them, sadly! But I do feel that Schoenberg's forests are much more rooted in Central Europe, in as much as they're rooted in the real world at all: when I think of Erwartung it's those CD covers with Klimt paintings that always come to mind, where you have something that's half-real, half-imagined, and incredibly beautiful and scary at the same time. But there is a musicality about nature, and the connection between this particular landscape and Grieg is extraordinary - for me you hear that as vividly as you hear Sibelius in Finland. It's a very focused thing, these great composers who can bring their own natural surroundings to life.
What's coming up next in terms of recordings?
We're in the middle of the CBSO Schubert cycle from Birmingham Town Hall which has been incredibly good fun, so we're planning to finish that off, and with Bergen we're thinking about more Scandinavian repertoire – maybe another disc of Grieg with Chandos, and perhaps some Nielsen. We also have a Peter Grimes in the can, which is mid-edit right now, with the same cast that came to London with Bergen at the end of last year: Stuart Skelton as Grimes, Erin Wall as Ellen, and Roderick Williams as Balstrode. It's eleven years since I first did Grimes with Stuart, but I'm not sure I could tell you who's pulled who in what direction over that time! When these pieces exist in your subconscious it's a wonderful thing, because it's constantly developing there: I remember Simon Rattle telling me 'Start conducting Schubert 9 as soon as you can, because it'll be a mess to start with and you'll get better over the next forty years!'. All music is like that to a certain extent: you want to get it not just into the forefront of your mind, but right into the back of your head and your soul and just let it cook there for a couple of decades!
On Monday 15th June (at both 18.00 and 20.30 CEST) Gardner and the Bergen Philharmonic will live-stream an all-Grieg concert to celebrate both the composer's birthday and the lifting of the majority of lockdown restrictions in Norway; the programme includes the Piano Concerto with Leif Ove Andsnes.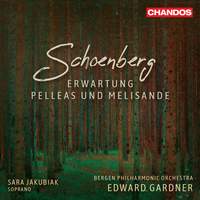 Sara Jakubiak (soprano), Bergen Philharmonic Orchestra, Edward Gardner
Available Formats: SACD, MP3, FLAC, Hi-Res FLAC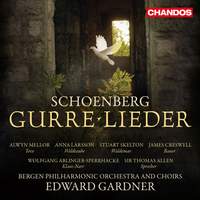 Alwyn Mellor (soprano), Anna Larsson (contralto), Stuart Skelton (tenor), Wolfgang Ablinger-Sperrhacke (tenor), James Creswell (bass) & Sir Thomas Allen (speaker)
Bergen Philharmonic Orchestra & Choir, Edward Gardner
Available Formats: 2 SACDs, MP3, FLAC, Hi-Res FLAC