18th February 2021
 Interview

,

  Jake Heggie and friends on Intonations
Last Friday's Recording of the Week centred on the world premiere of Jake Heggie and Gene Scheer's powerful new song-cycle Intonations, telling the stories of some of the violins which were previously owned by refugees and survivors of the Holocaust and restored by Israeli luthiers Moshe and Amnon Weinstein; scored for solo violin, mezzo and string quartet, the work was written for Sasha Cooke (who takes on the voice of the violins themselves in Scheer's emotive poems) and Daniel Hope (who plays an instrument previously owned by a member of the Auschwitz-Birkenau Men's Camp Orchestra on the recording).
In the run-up to the release, Jake, Daniel and Sasha reunited over Zoom to talk to me about the piece's genesis, how they went about bringing the stories of the instruments and their former owners to life, and the indefatigable work of the Weinstein Family and the Violins of Hope Foundation ...
Daniel, can you tell me a little about the stories behind some of the violins involved on this recording?
DH: The Weinsteins are a fascinating family: the way they've dedicated their lives to taking care of these instruments and telling their stories is incredible. There are numerous films and interviews out there about how it all got started and the tours on which they'd been, and I learned an enormous amount about the project in the weeks and months before we recorded. Our concert was part of a major project on the West Coast, and they brought all these instruments across to the Bay Area from Tel Aviv: I remember going into Civic Hall where they had them all lined up and just trying them all out without knowing which story was behind which instrument. Each of them had some special quality, but there was one violin in particular that for some reason I took to straight away - it seemed to reach out to me in some way, and we connected immediately.
After we'd gone through them all I asked the custodian to explain a little about each of their stories, and every single instrument had an amazing history; one had belonged to a musician who'd survived Auschwitz and managed to get to Palestine and then Israel after the liberation, but ended up living on the streets and had to sell the violin in order to eat. It was extremely moving just to hold the instruments in your hands, but then to play Jake's piece with all of its connotations and connections to the past was really very overwhelming, I think for all of us. The rehearsals themselves were intense, but the performance was even more emotional, especially as we had survivors in the audience – at the end of the piece the audience sat there in absolute silence, but then emotion overcame them.
Jake, how did you go about getting to know the instruments you'd be writing for before you started composing the piece?
JH: Here I have to acknowledge the brilliant work of Gene Scheer, who did a lot of research reading various historical material; we both got in touch with the Weinsteins and with other performers who'd encountered the violins, and like Daniel I definitely felt that particular instruments somehow called to me on a musical and dramatic level. Initially the piece was going to be purely instrumental, but eventually I realised that we really needed a story-teller and started thinking about what sort of narrative voice would be most effective. We decided that the solo violinist would become the voice of each of the different violinists who'd experienced these stories, whilst the singer would be the voice of the instrument itself, literally calling to its owner.
I knew that Daniel had played many violins over the years and truly understands how an instrument becomes a part of you – you worry about it, you keep it safe, you carry it very carefully, and that was the same for instrumentalists throughout that very dark period in history. The instrument gave them hope, it gave them life, it gave them possibilities, so I found the idea of exploring that relationship with those actual instruments deeply inspiring. It was also very challenging to write, because these aren't traditional songs focusing on a particular emotional transformative experience: the narrative element means they're almost like ballads, but there's a chamber or even symphonic architecture to it all as well as a dramatic throughline. So it was a difficult process but also an enormously gratifying one, especially knowing I was composing for these two amazing artists.
Did Gene have access to any letters or diaries from the instruments' previous owners, or were his sources predominantly oral?
JH: In terms of primary sources, there are no real texts to go from: Gene basically went from scratch and listened to the stories that the Weinsteins heard from the people who gave these instruments to be restored, because when those families brought them in they would ask them how they came to have the violin and what its history was. Drawing on James A. Grymes's wonderful book Violins of Hope and various other sources he was able to put together these beautiful, powerful, poetic, dramatic texts that took us on this incredible emotional arc.
Sasha, can you tell me a little about your working relationship with Jake over the course of this project?
SC: It was pretty perfect. I think a lot of people don't perhaps realise just how much Jake stands out in the vocal repertoire, and I've been pondering this a lot lately because I've been working with a group of composers about the notion of what makes a good vocal composer. Jake's written hundreds of songs, and they're immensely satisfying to sing because he knows singers so well and genuinely cares about them: I don't know if that's something that can ever be taught, because what I like to call the 'flesh instrument' is just so hard to explain. I can try to diagram it for composers and map out where my register-breaks are and that kind of thing - but then there are people who somehow intuit what it's like to make sound from your body, and Jake is one of those.
I thought the score was amazing the first time I read through it, but as Daniel said earlier there was this other revelation that happened only in the presence of people, which is part of the magic of great music. These stories have such power so many years after their occurrences, but music brings them to life in a uniquely powerful way: we can tell or read stories, sure, but to experience them on a level that affects the heart and where sound-waves are going into your being is a wholly different experience.
JH: Sasha did ask for a couple of little changes, and I'm always happy to do that for the great artists that I'm working with because they are the ambassadors for the piece and its story. I'm so grateful to her and Daniel for devoting so much time and heart to the project: they may not think they were directly collaborating with me, but the fact that I knew their sounds and personalities really helped to shape the piece into what it is.
Sasha, did you see any parallels between Intonations and other song-cycles on similar themes?
SC: Perhaps the Shostakovich Songs from Jewish Folk Poetry, and some of Szymanowski's works, but actually it was Jake's own music that provided the most illuminating context for me: Intonations is similar to some of his other works in terms of its expansive emotional quality. Going to different Holocaust museums and absorbing the stories gave me more insight into the piece than listening to other musical works on similar themes.
Jake and Daniel, did any of your previous projects feed into your work on Intonations?
JH: I've written several Holocaust pieces previous to this for an organisation called Music of Remembrance in Seattle, and they included one about the persecution of gays during the Holocaust called For a Look or a Touch: it was based on a documentary film called Paragraph 175, which was the code that prohibited homosexuality. Gene and I also wrote an opera [Out of Darkness] about the Polish dissident and survivor Krystyna Zywulska, who wrote a book called I Survived Auschwitz the year after the War ended because she wanted to make sure it wasn't forgotten.
DH: I have a strong personal interest in this subject-matter, partly because there are connections with my own family, but partly just from natural curiosity and inquisitiveness. I spent about twenty years researching Theresienstadt – I made a film about musicians and survivors, and that was what really got me invested in the music that came out of these horrors. From there I got into the Hollywood exile composers and the other side of the coin. One of the many wonderful things about Jake's piece is that it encapsulates the horror of these individual experiences and this period in history, but also the light that shone through that. As difficult as the subject matter is, it's a piece that ultimately sends a positive message, and I think we can all do with that right now.
JH: As Daniel says, it was important for me that there be something redemptive and uplifting at the end, which is why we included a young violinist to join for the very last song, Liberation. I can't tell you how emotional it was to sit in that audience having experienced all of the sorrow and tragedy and transformation that happens in the course of the piece, and then seeing this boy walk in playing one of these instruments.
Do you have any plans for future performances of the work?
JH: Until we all get back into the concert-hall it's going to be difficult: there was a lot of interest in the piece, but all of the plans we had for it got side-lined due to the pandemic. (I actually orchestrated it for the Cabrillo Festival of Contemporary Music last year, which had to be postponed but they're looking at a way of possibly doing it virtually this summer).
I'm so happy that the recording is going out because I think it's a magnificent representation of what happened in the hall that night. The string quartet who play the Schubert and Mendelssohn works are all members of the San Francisco Opera orchestra, and some of the instruments they were playing were actually depicted in the stories we were telling. It was a wonderful and transformative experience on every level. I feel like it's a timely release, too: with everything that's unfolding in the world and in this country right now, it's more important than ever to keep these stories alive. We are seeing first-hand what can happen when lies and deceit are allowed to get the upper hand at the expense of personal connection and truth, and music is a transformative power that can bring us through that together like nothing else.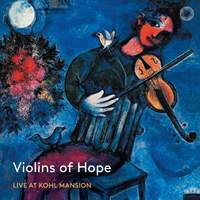 Heggie: Intonations and works by Mendelssohn and Schubert
Sasha Cooke (mezzo), Daniel Hope (violin), Sean Mori (violin), Kay Stern (violin), Dawn Harms (violin), Patricia Heller (viola), Emil Miland (cello)
Available Formats: CD, MP3, FLAC, Hi-Res FLAC
Related recordings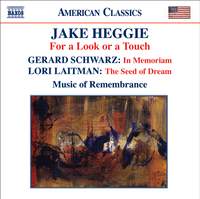 and works by Gerard Schwarz and Lori Laitman
Morgan Smith (baritone), Julian Patrick (actor), Julian Schwarz (cello), Erich Parce (baritone) & Mina Miller (Artistic Director and piano)
Music of Remembrance
Available Formats: CD, MP3, FLAC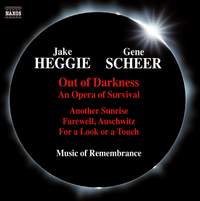 Caitlin Lynch (soprano), Sarah Larsen (mezzo), Morgan Smith (baritone)
Music of Remembrance, Mina Miller
Available Formats: CD, MP3, FLAC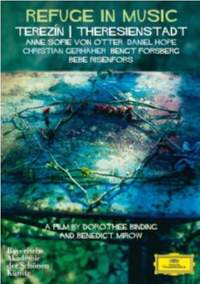 Concert Live Recording from the Bayerische Akademie der Schönen Künste [20 March 2012]
Anne Sofie von Otter (mezzo-soprano), Daniel Hope (violin), Bengt Forsberg (piano) & Bebe Risenfors (accordion, double bass, guitar)
Available Format: DVD Video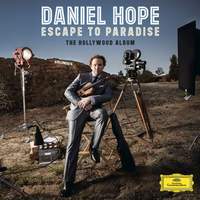 Daniel Hope (violin), with Maria Todtenhaupt, Jacques Ammon and Sting
Royal Stockholm Philharmonic Orchestra, Quintet of the Deutsches Kammerorchester Berlin, Alexander Shelley
Available Formats: CD, MP3, FLAC, Hi-Res FLAC