Latest update: COVID-19 Shipping Delays. Presto is committed to the health and well-being of our staff. Our warehouse team are currently working hard to ensure your order is despatched as quickly as possible. Unfortunately you may experience slight delays as some deliveries are taking longer than usual. Thank you
21st December 2020
 Favourites

,

  Shelf Discovery: Tasmin Little
P.T. Barnum's famous observation that you should 'always leave them wanting more' is a fine motto for any performing artist, so it was with a mixture of emotions that I heard that 2020 would mark the English violinist Tasmin Little's final year as a live performer and recording artist. Whilst I will greatly miss her vivacious personality and playing in the concert hall, I could at least console myself with the fact that Little has been fortunate to impart those attributes forever on record thanks to her Indian Summer in the recording studio - a wonderful series on Chandos that started in 2010 with her account of perhaps Edward Elgar's most personal and emotional work, his 1910 Violin Concerto.
Most famously with his Enigma Variations Elgar was a composer fond of riddles, and the enigmatic dedication of his Violin Concerto 'Herein is enshrined the soul of …' almost seems purposely designed to prompt subsequent generations of sleuths to take out their musicological magnifying glasses. Thanks in part to the work of Elgar biographer Michael Kennedy it's now thought to be (at least in part) Alice Stuart Wortley, a close friend of Elgar's (and daughter of the pre-Raphaelite painter John Everett Millais) known to him as 'windflower' after she reminded him of the delicate flora in his garden. Notably given the work's dedication, Tasmin Little is, I believe the first (and to date only) Englishwoman to record the complete concerto, although in a nice tribute to Marie Hall (the only prior Englishwoman to record even an abridged version) the album contains an alternative cadenza composed by Elgar for her 1916 recording to alleviate the acoustic problems raised by the primitive recording technology available at the time.
Despite the work's extraordinary technical challenges (not least its length) I've always been of the view that successful recordings must strike a balance between the works virtuosity and its soulfulness. To my ears Little's broader conception than we often hear nowadays does just that, and has a delicacy and tenderness that truly reflects the work's dedication – most crucially in the famous cadenza, correctly interpreted here as a character portrait, not a virtuoso show-piece. In many ways it reminds me of Yehudi Menuhin's performance in his famous recording with Elgar himself conducting (which is perhaps not a surprise as Tasmin Little did study at the Yehudi Menuhin school), and it's perhaps telling that while Elgar tended to favour much swifter tempi than we are now generally used to in his orchestral works, his recording of his Violin Concerto is one of the slower renditions on record - clearly he felt the same about the work in 1932 as he did at the time of composition "It's good! awfully emotional! too emotional, but I love it."
Given the success of the recording (it won the Critics' Choice at the 2011 Classical Brits) Tasmin Little & Chandos wisely used it as a template for her subsequent recordings, as virtually all of them were of Romantic music, English music, or in the case of the most interesting recordings, English Romantic music - music in which Tasmin Little can enshrine her own soul.
The three volumes of British Violin Sonatas recorded with pianist Piers Lane unearthed some real gems, and they found the perfect advocate in Tasmin Little. The overtly Romantic sonata by York Bowen (sometimes referred to as the 'English Rachmaninov') is a particular highlight, as are the more Impressionist sonatas by John Ireland (particularly the second, strongly influenced by the Great War). In her penultimate recording of chamber music by Clara Schumann, Ethyl Smyth and Amy Beach she relishes the Brahmsian Romanticism of all three composers, as she did with the man himself.
Orchestrally she paired up again with Sir Andrew Davis to record concertos by fellow Londoner Samuel Coleridge-Taylor and E.J. Moeran, with Little excelling in both the dramatic, Dvořákian writing of the former and the more rural Irish influences of the latter (as she did in the most famous English idyll, Vaughan Williams's The Lark Ascending). No discussion of Tasmin Little on record could possibly pass without mention of the music of Frederick Delius (has anyone done more for the composer since Thomas Beecham?), - music that is sometimes accused of being bland, but never is with Little's characterful playing. While his Violin and Double Concertos are given beautiful renditions, I also particularly enjoyed discovering his lesser-known early rhapsodic 'Legende' and charming Suite for Violin and Orchestra.
2020's concert hiatus has postponed her final live performances, so just before she does hang up her bow let me thank Tasmin Little for forty wonderful years of characterful music-making full of the personality of both yourself and the composers you have championed in concert and on disc. May you have a very happy retirement - while Elgar's Violin Concerto was dedicated to a windflower, you remain an English Rose.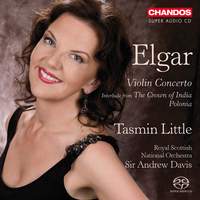 Tasmin Little (violin), Royal Scottish National Orchestra, Sir Andrew Davis
Available Formats: SACD, MP3, FLAC, Hi-Res FLAC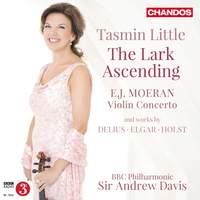 Tasmin Little (violin), BBC Philharmonic, Sir Andrew Davis
Available Formats: CD, MP3, FLAC, Hi-Res FLAC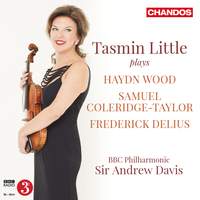 Samuel Coleridge-Taylor, Haydn Wood, and Frederick Delius
Tasmin Little (violin), BBC Philharmonic, Sir Andrew Davis
Available Formats: CD, MP3, FLAC, Hi-Res FLAC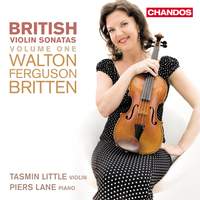 Howard Ferguson, Benjamin Britten, William Walton
Tasmin Little (violin), Piers Lane (piano)
Available Formats: CD, MP3, FLAC, Hi-Res FLAC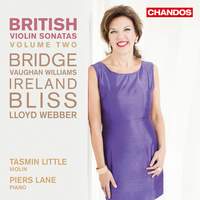 Bridge, Vaughan Williams, Ireland, Bliss, Lloyd Webber
Tasmin Little (violin), Piers Lane (piano)
Available Formats: CD, MP3, FLAC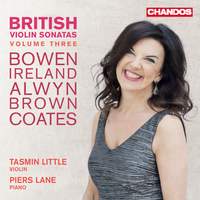 Bowen, Ireland, Alwyn, Brown, Coates
Tasmin Little (violin), Piers Lane (piano)
Available Formats: CD, MP3, FLAC, Hi-Res FLAC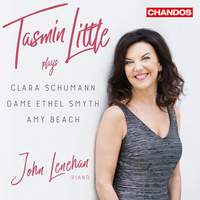 Tasmin Little (violin), John Lenehan (piano)
Available Formats: CD, MP3, FLAC, Hi-Res FLAC