27th November 2020
New Release Round-up

,

New Release Round-Up - 27th November 2020
Today's new releases include Prokofiev and Myaskovsky from Vasily Petrenko and the Oslo Philharmonic, Puccini's Il tabarro from Marek Janowski (with Melody Moore, Brian Jagde and Lester Lynch in the principal roles), Martinů's Violin Concertos from Frank Peter Zimmermann, Jakub Hrůša and the Bamberger Symphoniker, and a compilation celebrating 'Queen of Baroque' Cecilia Bartoli.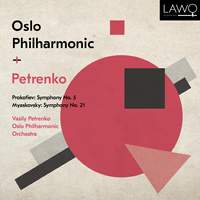 Oslo Philharmonic Orchestra, Vasily Petrenko
This is the first of a pair of recordings from Petrenko and his Norwegian orchestra which will couple symphonies by two composers whom he describes as 'friends and almost direct contemporaries…but with very different approaches'; the Myaskovsky was written in 1940 to celebrate the fiftieth anniversary of the Chicago Symphony Orchestra, whilst the Prokofiev (which the composer viewed as his finest work) dates from four years later.
Available Formats: CD, MP3, FLAC, Hi-Res FLAC, Hi-Res+ FLAC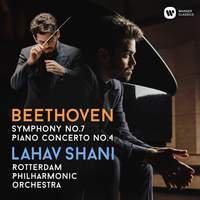 Lahav Shani (piano/conductor), Rotterdam Philharmonic Orchestra
For his first recording with the Rotterdam Philharmonic, the Israeli conductor and pianist (who succeeded Yannick Nézet-Séguin as Chief Conductor in the 2018/19 season) does double-duty as soloist and director; reviewing their live performance of these two works in Baden-Baden last October, BachTrack pronounced that 'if everything in Beethoven's anniversary year sounds as fresh and inspired as the interpretations we heard from Lahav Shani and his orchestra, then there will be no cause for boredom in the world's concert halls'.
Available Formats: CD, MP3, FLAC, Hi-Res FLAC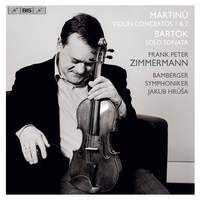 Frank Peter Zimmermann (violin), Bamberger Symphoniker, Jakub Hrůša
Following his BBC Music Magazine Award-winning recording of the Czech composer's Piano Concerto No. 4 with Ivo Kahánek last year, Jakub Hruša teams up with Frank Peter Zimmermann for Martinů's two violin concertos: the neo-Classical No. 1 (composed in Paris in 1933 but not premiered until the 1970s) and the more lyrical and expansive No. 2 from a decade later. Béla Bartók's Sonata for Solo Violin completes the programme.
Available Formats: SACD, MP3, FLAC, Hi-Res FLAC
Renaud Capuçon (violin), Edgar Moreau (cello), Bertrand Chamayou (piano)
Described in The Guardian last week as 'a reminder that there are treasures to be unearthed' in Saint-Saëns's chamber output, this programme comprises the Violin Sonata No. 1 in D minor from 1885, the Cello Sonata No. 1 in C minor from 1872, and the Piano Trio No. 2 in E minor from 1892.
Available Formats: CD, MP3, FLAC, Hi-Res FLAC, Hi-Res+ FLAC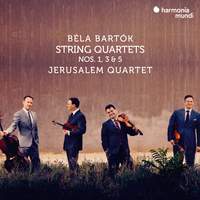 The first volume of the Jerusalem Quartet's Bartók survey (released in 2016) was praised in The Strad as a set of ' fine performances, shot through with beauty' and in Gramophone as 'civilised, outward-looking readings, placing the music firmly in the Classical-Romantic tradition', whilst BBC Music Magazine observed that 'what stands out from the Jerusalem Quartet's interpretations, quite apart from their technical accomplishment, is their warmth'.
Available Formats: CD, MP3, FLAC, Hi-Res FLAC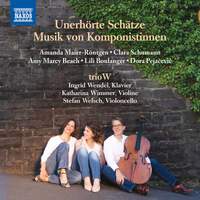 As well as one of Clara Schumann's comparatively well-known Romances Op. 22 and Amy Beach's Romance for violin and piano Op. 23, this collection of chamber-works by women includes Amanda Maier's Violin Sonata in B minor, Lili Boulanger's D'un matin de printemps and Nocturne, and Croatian composer's Dora Pejačević's large-scale Piano Trio in C Op. 29.
Available Formats: CD, MP3, FLAC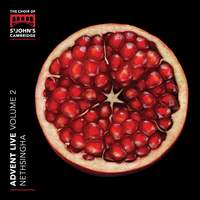 Choir of St John's College, Cambridge, Andrew Nethsingha
Recorded live at the Chapel of St John's, the second instalment of the Cambridge choir's celebration of Advent includes Jonathan Dove's I am the day, Arvo Pärt's Bogoróditse Djévo, Gabriel Jackson's Vox clara ecce intonate, Cecilia McDowall's A Prayer to St John the Baptist, John McCabe's The Last and Greatest Herald, and Judith Bingham's Hark, the glad sound.
Available Formats: CD, MP3, FLAC, Hi-Res FLAC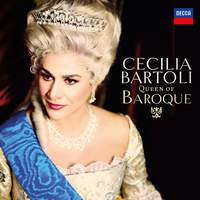 Featuring previously unreleased world premiere recordings of arias from Agostino Steffani's Il trionfi del fato and Leonardo Vinci's Alessandro nelle Indie, this compilation of highlights from the Roman mezzo's three-decade recording career also includes an excerpt from her 1991 account of the Pergolesi Stabat mater with June Anderson and music by Handel, Porpora, Vivaldi, Broschi, Scarlatti and Caldara.
Available Formats: CD, MP3, FLAC, Hi-Res FLAC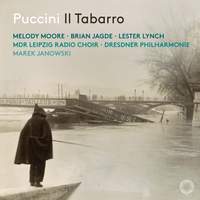 Melody Moore (Giorgetta), Brian Jagde (Luigi), Lester Lynch (Michele); Dresdner Philharmonie, MDR Leipzig Radio Choir, Marek Janowski
Following Janowski's splendid recording of Mascagni's Cavalleria rusticana ('everything that verismo should be: intense, passionate and heart-stopping' - BBC Music Magazine), the same trio of principal singers re-unite for another one-acter about adultery and revenge: the first opera of Il Trittico, set on the banks of the River Seine and premiered at the Metropolitan Opera in 1918.
Available Formats: SACD, MP3, FLAC, Hi-Res FLAC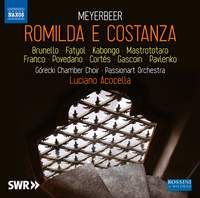 Chiara Brunello (Romilda), Luiza Fatyol (Costanza), Patrick Kabongo (Teobaldo), Emmanuel Franco (Albertone); Passionart Orchestra, Gorecki Chamber Choir, Luciano Acocella
Premiered in Padua in 1817 (shortly after the young composer had arrived in Italy from Germany), Meyerbeer's melodramma semiserio was his first stage-work in Italian, and capitalises on the contemporary vogue for 'rescue operas' – as in Beethoven's Fidelio several years earlier, the plot centres on a woman's attempt to free the man she loves from prison, though here she is aided and abetted by the previous object of his affections.
Available Formats: 3 CDs, MP3, FLAC, Hi-Res FLAC