US deliveries: Unfortunately we are receiving reports that some US orders are taking longer than usual to arrive. Find out more >>
Latest update: Changes to international postage charges. Find out more
31st July 2020
 New Release Round-up

,

  New Release Round-Up - 31st July 2020
Vaughan Williams's Symphony No. 5 and Finzi's Clarinet Concerto from Michael Collins (doing double-duty as soloist and conductor) and the Philharmonia Orchestra, Satie's Vexations from Noriko Ogawa, baroque rarities from Adrian Chandler and La Serenissima, and two new works for baroque orchestra and voices by Grammy and Pulitzer-winning American composer Caroline Shaw.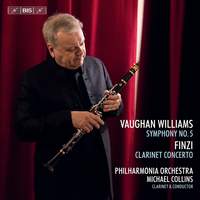 Michael Collins (clarinet/conductor), Philharmonia Orchestra
Though Collins has directed numerous concertos from the clarinet (including the Mozart, Copland, Weber and Crusell works), this is his debut recording as a conductor of purely symphonic repertoire. Reviewing his previous recording of the Finzi concerto (with the BBC Symphony Orchestra), BBC Music Magazine observed that 'the rapt, elegiac intensity of the performance of this work's slow movement, which displays Collins's tone at its most silken, even spectral, is worth the price of the disc itself'.
Available Formats: SACD, MP3, FLAC, Hi-Res FLAC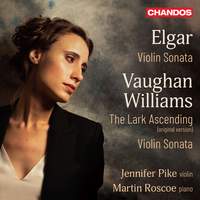 Jennifer Pike (violin), Martin Roscoe (piano)
After celebrating one aspect of her heritage on The Polish Violin last year, Pike presents an all-English programme, including a work which she has performed regularly throughout her career in its various incarnations: Vaughan Williams's The Lark Ascending, given here in its original 1914 version for violin and piano. It's preceded here by Elgar's and Vaughan Williams's Violin Sonatas.
Available Formats: CD, MP3, FLAC, Hi-Res FLAC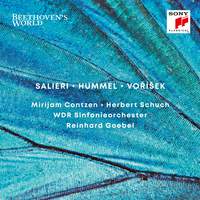 Mirijam Contzen (violin), Herbert Schuch (piano), WDR Sinfonieorchester, Reinhard Goebel
Following two volumes focusing on Clement, Reicha and Romberg, Goebel and his Köln-based orchestra present Hummel's Concerto for Piano and Violin, Salieri's Variazioni sull'aria 'La follia di Spagna', and Jan Václav Voříšek's Symphony in D - composed in 1821 and often likened to Beethoven's first two symphonies.
Available Formats: CD, MP3, FLAC, Hi-Res FLAC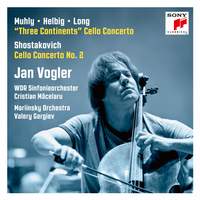 Jan Vogler (cello), WDR Sinfonieorchester, Mariinsky Orchestra, Cristian Macelaru, Valéry Gergiev
This recording features the world premiere recording of the Three Continents Concerto, premiered by Vogler last year and described by Musical America as 'an exciting combination of musical tradition and innovative awakening'. Each movement is the work of a different composer: Nico Muhly's Cello Cycles opens the piece, with Sven Helbig's Aria as the central movement, and Zhou Long's Tipsy Poet bringing things to an ebullient close.
Available Formats: CD, MP3, FLAC, Hi-Res FLAC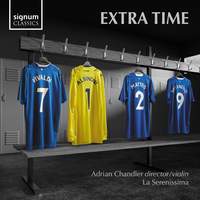 La Serenissima, Adrian Chandler
La Serenissima uncovered such an embarrassment of riches when recording material for The Italian Job and The Four Seasons that not everything made the final cut on those albums, and this follow-up brings together the best of the rest - including concertos by Vivaldi and Brescianello, the sinfonia from Albinoni's La Statira, and dance music from Matteis the Younger's Cajo Marzio Coriolano and Scipione nelle Spagne.
Adrian Chandler answers David's questions about the album on camera here.
Available Formats: CD, MP3, FLAC, Hi-Res FLAC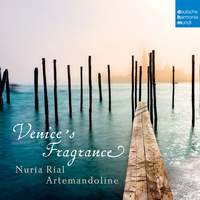 Nuria Rial (soprano), Artemandoline
Also paying homage to 'La Serenissima', this programme from the Spanish soprano and mandolin duo features arias from Traetta's Le feste d'Imeneo, Manna's Achille in Sciro, Galuppi's Jahel, Lotti's Teofane, and Conti's Il trionfo dell'amicizia e dell'amore and L'Astarto - plus two mandolin concertos by Vivaldi, and a sonata for mandolin and violin by Arrigoni.
Available Format: CD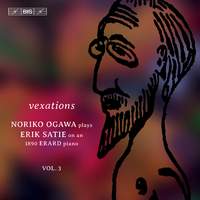 Noriko Ogawa (1890 Erard piano)
In one of the most ambitious live-streams to take place during lockdown, Igor Levit recently performed Satie's minimalist marathon over the course of 18 hours, as at its 1963 premiere; Ogawa takes a rather less extreme approach here, performing the theme a mere 142 times as opposed to the 840 which Satie's ambiguous note on the manuscript is thought to indicate. Previous instalments in her Satie series have been described as 'unfailingly elegant' (Sunday Times) and 'utterly delightful' (BBC Music Magazine).
Available Formats: SACD, MP3, FLAC, Hi-Res FLAC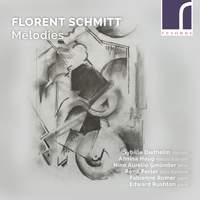 Fabienne Romer, Edward Rushton, Sybille Diethelm, René Perler, Nino Aurelio Gmünder, Annina Haug
Sakari Oramo's terrific recording of Schmitt's Symphony No. 2 and Antoine et Cléopâtre did much to bring this neglected and often controversial French composer (1870-1958) to wider attention, but his songs remain a relative rarity on disc; this collection includes his Quatre poèmes de Ronsard from 1941, and the world premiere recordings of Kérob-Shal (1924) and the original version of the Chansons à quatre voix from 1905.
Available Formats: CD, MP3, FLAC, Hi-Res FLAC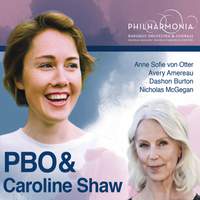 Anne Sofie von Otter (mezzo), Avery Amereau (contralto), Dashon Burton (bass-baritone), Caroline Shaw (tape); Philharmonia Baroque Orchestra, Philharmonia Chorale, Nicholas McGegan
Shaw's Orange for string quartet won two Grammys and was shortlisted for a BBC Music Magazine Award earlier this year, and this new album with her regular collaborators Philharmonia Baroque features two works for voice and baroque ensemble: the song-cycle Is a Rose (sung by its dedicatee Anne Sofie von Otter) and the 2019 oratorio The Listeners, inspired by the NASA Voyager probes of the 1970s.
Available Formats: CD, MP3, FLAC, Hi-Res FLAC, Hi-Res+ FLAC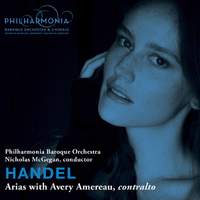 Avery Amereau (contralto), Philharmonia Baroque Orchestra, Nicholas McGegan
The young American contralto (who was due to sing Bradamante in Glyndebourne's Alcina this summer) is particularly acclaimed in Handel, and here she makes her solo recording debut with a programme of arias from Rinaldo, Amadigi di Gaula, Silla, Agrippina, Aci, Galatea e Polifemo, Radamisto, and Giulio Cesare.
Available Formats: CD, MP3, FLAC, Hi-Res FLAC, Hi-Res+ FLAC