US Airmail Charges: As a knock-on effect of COVID-19 airfreight prices around the world have soared. Reluctantly, we have had to pass on some of this increase in our standard airmail prices. We'll bring them down again as soon as we can!
10th March 2020
 BBC Music Magazine Choices

,

  BBC Music Magazine - March 2020 Choices
The late Mariss Jansons's 'exceptional' account of Shostakovich's Tenth Symphony with the Bavarian Radio Symphony Orchestra on BR Klassik takes the palm this month, with Stephen Johnson describing it as 'valid and authoritative…a suitable memorial to a great conductor'. Other featured albums include an infernal Charpentier double-bill from Reinoud Van Mechelen, Vox Luminis and A Nocte Temporis (one of our Recordings of the Week in January), and Ruby Hughes's arresting recording of Rhian Samuel's monodrama Clytemnestra and song-cycles by Mahler and Berg with the BBC National Orchestra of Wales and Jac van Steen; you can read Katherine's recent interview with Ruby about Samuel's 'direct and visceral' depiction of Aeschylus's anti-heroine here.
Recording of the Month
Symphonieorchester der Bayerischen Rundfunks, Mariss Jansons
'If you want a testimony to what it was we lost when Mariss Jansons died, listen to this disc. In big symphonic works Jansons always had a flair for bringing out both the long singing line and the key details, but this is exceptional…What I'm left with is a sense of wonder, and even a kind of joy at the way both Shostakovich and Jansons are able to express and contain such dark, troubling emotions.'
Available Formats: CD, MP3, FLAC, Hi-Res FLAC
Orchestral Choice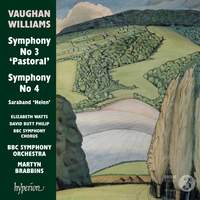 BBC Symphony Orchestra, Martyn Brabbins
'This is a really good performance [of the Pastoral]. On one level Martyn Brabbins is superbly alert to the intricacies of the musical texture. After on hearing I got the score and listened again – so many details I'd hardly noticed before, but there they were. On another level I've rarely, if ever, been so aware of this symphony as a subtle but sustained emotional narrative…Brabbins's Fourth has many of the same virtues, plus an edgy, uncomfortable intensity of its own.'
Available Formats: CD, MP3, FLAC, Hi-Res FLAC
Concerto Choice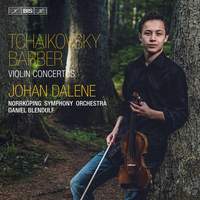 Johan Dalene (violin), Norrköping Symphony Orchestra, Daniel Blendulf
'Dalene's freshness, vitality and interpretative charisma [in the Tchaikovsky] swept me along…If anything, the Barber is finer still, perhaps the closest anyone has yet come (at least on disc) to the gold standard of Isaac Stern and the New York Philharmonic with Leonard Bernstein…Dalene plays throughout with an engaging flair, command and emotional range remarkable from such a young player…This is one of the finest violin debuts of the last decade.'
Available Formats: SACD, MP3, FLAC, Hi-Res FLAC
Chamber Choice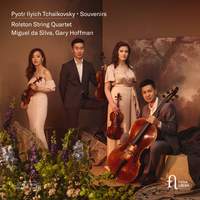 'The Rolston String Quartet has been making waves for some time throughout North America. This beautifully recorded debut release confirms not only their superb technical accomplishment and their impeccably blended sound, but also a maturity of interpretative approach that can only be achieved after long and patient engagement with the music.'
Available Formats: CD, MP3, FLAC, Hi-Res FLAC
Instrumental Choice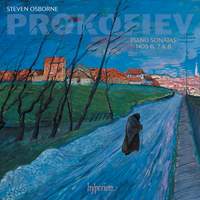 'From first electrifying note-punch to last, with so much poetry and poignancy in between, this is a tour de force of pianism highlighting what seems more than ever like the great sonata sequence of the 20th century. There are so many towering performances of these harrowing works…but I believe Steven Osborne caps them all…This is legendary stuff.'
Available Formats: CD, MP3, FLAC, Hi-Res FLAC, Hi-Res+ FLAC
Opera Choice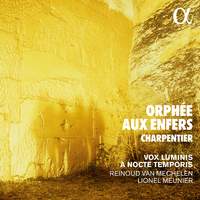 Reinoud Van Mechelen (tenor), Vox Luminis, A Nocte Temporis, Lionel Meunier
'Van Mechelen is a seductive Orpheus – small wonder that his limpid, pliant, expressive voice and eloquent diction enchants both his nymph-bride Eurydice (brought to life here by the dewy-voiced Déborah Cachet) and the god Pluto (stylishly sung by Geoffroy Buffière)…The sensitive interplay of voices and instruments has all the intimacy of chamber music…Alpha Classics's recording is luminous and detailed.'
Available Formats: CD, MP3, FLAC, Hi-Res FLAC
Choral & Song Choice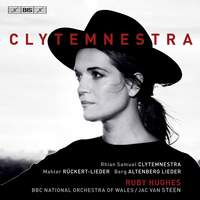 Ruby Hughes (soprano), BBC National Orchestra of Wales, Jac van Steen
'Samuel's musical response is something of a tour de force - at once fiercely dramatic and always coherent…Hughes rises to the challenge with bombproof technical strength and control, plenty of firepower when needed, and a thrilling instinct for capturing the persona of his fearsome anti-heroine. She gets impressive support from Jac van Steen and the orchestra, who have evidently rehearsed their demanding contribution up to the hilt.'
Available Formats: SACD, MP3, FLAC, Hi-Res FLAC
Jazz Choice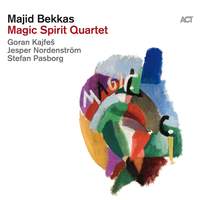 Majid Bekkas (gimbri, voice), Goran Kajfeš (trumpet), Jesper Nordenstrom (piano), Stefan Pasborg (drums)
'This quartet blends elegant, bleakly beautiful Nordic airiness with rich textural and rhythmic elements from the Mahgreb (Arabic North-West Africa) and draws in Mali via the Desert Blues elements that emerge on some tracks…The interweaving of lines is complex but never confused, maintaining a pristine freshness and elegant lucidity. The sound quality is excellent too.'
Available Format: CD