UPDATE: Royal Mail have now resumed shipments on ALL International services but delays should be expected, please choose FEDEX if your order is urgent.
17th January 2020
 Recording of the Week

,

  Charpentier from Vox Luminis, A Nocte Temporis and Reinoud Van Mechelen
Two powerhouse early music ensembles from Belgium join forces for a pair of riveting journeys to the underworld by Marc-Antoine Charpentier this week, with Lionel Meunier's award-winning Vox Luminis coming together with relative newcomers A Nocte Temporis (the brainchild of tenor Reinoud Van Mechelen, who shares directorial duties with Meunier as well as taking centre-stage as soloist in both works).
The most substantial piece on the album is the hour-long La descente d'Orphée, an unfinished chamber opera from 1686/7 which begins with Euridice's wedding celebrations and breaks off after two acts as the hero is finally granted permission to rescue his beloved from death (terms and conditions notwithstanding). It's received several fine recordings from the likes of Les Arts Florissants and Ensemble Correspondances, but the companion-piece here is a real rarity – a distinctly Italianate chamber cantata from three years earlier, Orphée descendant aux enfers is scored for just three voices and small ensemble, and depicts the hero's encounter with two tormented souls (Ixion and Tantalus) with startling emotional depth and nuance.
Stylistically and chronologically, both works fall midway between two of the best-known settings of the Orpheus myth, with roughly eighty years separating them from Monteverdi's Orfeo (1607) and Gluck's Orfeo ed Euridice (1762); Charpentier spent time in Italy in the 1660s, and there are whispers of Monteverdi's 'Possente spirto' in Orphée's great encounter with Pluto in La descente, whilst the ravishing writing for two flutes in each work looks forward to Gluck's Dance of the Blessed Spirits. The prelude to the cantata, though, occupies a weird and rather wonderful harmonic landscape that's all its own: this particular road to hell is certainly paved with good suspensions.
Vox Luminis is very much a collective of soloists, and both works offer plenty of opportunity for individual singers to step into the spotlight. Following Charpentier's lead (the composer modestly allotted himself the small part of Ixion rather than the title-role in La descente), Meunier makes several characterful cameos, including a lugubrious Tantalus in Orphée descendant and an eloquent Apollo in La descente. There's also wonderful work in the latter piece from Déborah Cachet's vernal Euridice and Geoffroy Buffière's authoritative, sonorous Pluto, whose baleful pronouncements are set against a suitably sepulchral organ continuo and whose intransigency is ultimately no match for Stefanie True's unexpectedly sensual Proserpine.
Most of the vocal heavy lifting falls, unsurprisingly, to Van Mechelen, whose singing of both title-roles is so beguiling and emotionally engaging that it's entirely understandable that the denizens of the underworld are heartbroken at his departure. His high-lying, incisive tenor is a remarkable voice indeed, and it's no small wonder that his career to date has centred on the haute-contre roles of the French baroque: he's completely comfortable sitting around the top of the stave (as he's required to do for extended periods here), and the sound is so evenly produced that there's never any sense of shifting gears into the upper register. And there's plenty of colour and punch to the voice when required: his repertoire also includes standard lyric tenor roles like Tamino and Nadir in The Pearl Fishers, and when he turns on the vocal heroics during his remonstrations with Pluto the effect is quite thrilling. (He's already sung Monteverdi's Orfeo, and on the evidence here it would be fascinating to hear him in the 1774 Paris reworking of Gluck's opera).
Singers and instrumentalists alike summon a whole kaleidoscope of colours throughout, with vibrato being used as an expressive device to great effect – the underworld is conjured in all its macabre glory with ponticello strings and a bleached choral sound which gradually warms into life as Orphée's music-making works its magic. Indeed, it's the relationship between the musician and the souls in torment (a distinctly more sympathetic bunch than Gluck's Furies) which lies at the heart of both works, and the humanity with which this is conveyed here makes this a recording to treasure.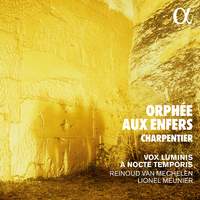 Reinoud Van Mechelen (tenor), Vox Luminis, A Nocte Temporis, Lionel Meunier
Available Formats: CD, MP3, FLAC, Hi-Res FLAC