31st January 2020
 New Release Round-up

,

  New Release Round-Up - 31st January 2020
Today's new releases include valedictory Strauss from Diana Damrau, Helmut Deutsch and the late Mariss Jansons, the first instalment of a Beethoven trilogy from Kristian Bezuidenhout and Pablo Heras-Casado, Prokofiev's War Sonatas from Steven Osborne, and a mixture of French favourites and rarities from John Wilson and Sinfonia of London.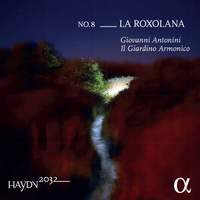 Il Giardino Armonico, Giovanni Antonini
Volume Eight of Antonini's mammoth Haydn project takes its title from Symphony No. 63 (named after the wife of Suleiman the Magnificent), and also includes Nos. 43 (the Mercury) and 28, plus the anonymous Sonata Jucunda and – to point up the Hungarian folk influences in these works – Bartók's Romanian Dances from 1917.
Available Formats: CD, MP3, FLAC, Hi-Res FLAC, Hi-Res+ FLAC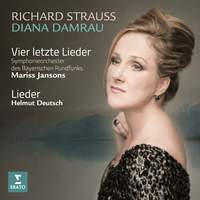 Diana Damrau (soprano), Helmut Deutsch (piano), Symphonieorchester des Bayerischen Rundfunks, Mariss Jansons
Almost a decade on from her highly acclaimed album of Strauss orchestral songs with Christian Thielemann and the Münchner Philharmoniker (which prompted The Telegraph to describe her as 'among the leading lyric Strauss singers of the day'), Damrau turns to the Four Last Songs with Mariss Jansons on what would be one of the Latvian conductor's final recordings. Her regular collaborator Helmut Deutsch joins her for songs including Morgen!, Befreit, and Strauss's final song Malven.
Available Formats: CD, MP3, FLAC, Hi-Res FLAC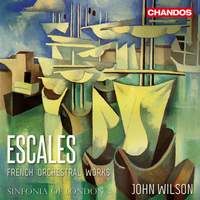 Sinfonia of London, John Wilson
Hot on the heels of their outstanding debut album of Korngold (one of our 2019 Recordings of the Year), Wilson and the newly-resurrected Sinfonia of London turn to French orchestral music of the late nineteenth and early twentieth centuries; the programme includes favourites such as the Méditation from Massenet's Thaïs and Chabrier's España, and relative rarities like Saint-Saëns's Le Rouet d'Omphale. You can read James's interview with John Wilson about the recording.
Available Formats: SACD, MP3, FLAC, Hi-Res FLAC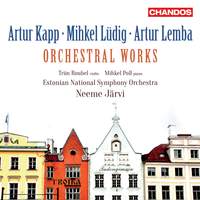 Estonian National Symphony Orchestra, Neeme Järvi
The veteran Estonian conductor explores music by three of his compatriots, dating from the very early twentieth century: Mihkel Lüdig's two Overture-Fantasies and the 'symphonic scene' Midsummer Night, Artur Lemba's Piano Concerto No. 1 (premiered with 1908, with Prokofiev as percussionist), and Arthur Kapp's Symphony No. 4 and The Last Confession, originally scored for violin and organ but presented here in Charles Coleman's orchestration for violin and strings.
Available Formats: CD, MP3, FLAC, Hi-Res FLAC
Kristian Bezuidenhout (fortepiano), Freiburger Barockorchester, Pablo Heras-Casado
The first instalment of a projected trilogy of the Beethoven concertos on period instruments, this recording uses a copy of a Conrad Graf instrument dating from the mid-1820s; last week's Sunday Times described the Dutch fortepianist's interpretation of the Emperor as 'scintillatingly dramatic, heroic, deftly articulated and, above all, fresh' and also praised the Freiburgers' 'brilliantly coloured playing'.
Available Formats: CD, MP3, FLAC, Hi-Res FLAC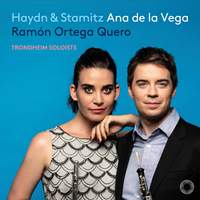 Ana de la Vega (flute), Ramón Ortega Quero (oboe), Trondheim Soloists
Eighteen months on from her Pentatone debut with concertos by Mozart and Mysliveček ('full of fleetness of phrase and appealing purity of tone' - BBC Music Magazine), the flautist presents two concertos which Haydn originally conceived for two lire organizzate, plus Carl Stamitz's double concerto for flute and oboe and his rarely recorded Flute Concerto in D.
Available Formats: CD, MP3, FLAC, Hi-Res FLAC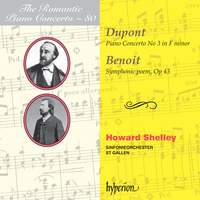 Howard Shelley (piano/conductor), Sinfonieorchester St Gallen
This eightieth instalment of Hyperion's pioneering series presents two works by Belgian pianist-composers: Auguste Dupont's Piano Concerto No. 3 (dating from the 1870s and performed by the composer Eugen d'Albert) and Peter Benoit's Symphonic poem for piano and orchestra from a decade earlier, which draws on Flemish folk-tales and legends and prompted one critic to liken the composer to Walter Scott.
Available Formats: CD, MP3, FLAC, Hi-Res FLAC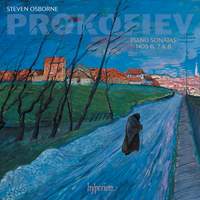 Following his Gramophone Award-winning accounts of the composer's Sarcasms and Visions fugitives in 2013, Osborne turns to the three War Sonatas, written between 1940 and 1944, works which have figured prominently in his concert repertoire over the past year or so – reviewing a live performance at Kings Place last February, Classical Source observed that the pianist was 'on stupendous form in these near-impossible displays of technique and bludgeoning emotional honesty'.
Available Formats: CD, MP3, FLAC, Hi-Res FLAC, Hi-Res+ FLAC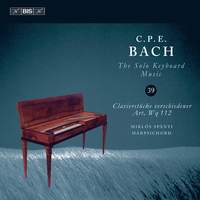 Miklós Spányi (harpsichord)
As his acclaimed series of CPE Bach's complete keyboard works nears the finishing-line, Spányi presents the Clavierstücke verschiedener Art ('Keyboard Pieces of Various Kinds') on a double-manual harpsichord built to specifications by the Antwerp instrument-maker Joannes Daniel Dulcken and fitted with an additional swell device to enable quick dynamic changes.
Available Formats: CD, MP3, FLAC, Hi-Res FLAC
For his debut album on Harmonia Mundi, the Belgian pianist performs JS Bach's French Suite No. 5 and Partita No. 2 with Bartók's Out of Doors and Piano Suite Op. 14; Libeer's previous recordings include a complete cycle of the Beethoven sonatas with violinist Lorenzo Gatto (the first instalment of which won a Diapason d'Or in 2016), and an ECHO Klassik-winning recital of French music with cellist Camille Thomas.
Available Formats: CD, MP3, FLAC, Hi-Res FLAC
To mark the centenary of the American dramatic soprano's birth this February, Columbia present a 16-CD box including a complete recording of Berg's Wozzeck, songs by Debussy, Poulenc, Schubert, Schumann, Harold Arlen and Cole Porter, and excerpts from Fidelio, Götterdämmerung, Alceste, Turandot, Aida, and La forza del destino.
Available Format: 16 CDs
Wiener Philharmoniker, Konzertvereinigung Wiener Staatsopernchor, Claudio Abbado
A 58-CD box including complete recordings of the Beethoven symphonies, Lohengrin, L'Italiana in Algeri, Khovanshchina, Pelléas et Mélisande and Wozzeck, symphonies by Schubert, Brahms, Mahler and Bruckner, and works by Schoenberg, Webern, Boulez, Ligeti, Rihm and Nono.
Available Format: 58 CDs