30th January 2020
 Interview

,

  John Wilson on the Sinfonia of London
By unanimous consensus here at the Presto office, one of 2019's most outstanding albums was the Sinfonia of London's debut recording of the Symphony in F sharp by Erich Wolfgang Korngold, which easily made its way into our Top Ten Recordings of the Year.
The ensemble has existed before in various incarnations, but was resurrected by conductor John Wilson specifically for that recording project. I spoke to John at a recent recording session about how the orchestra came into being, his thoughts on previous interpretations of Korngold's symphony, and the reasons behind his choice of pieces for their second album Escales, a selection of French orchestral works released tomorrow on Chandos.
The Sinfonia of London has existed in previous incarnations, and with its impressive list of soundtracks is a familiar name to film music fans; could you explain what the name means to you and why you felt it was important to procure it for your newly-formed ensemble?
Well it wasn't familiar to me initially through movies at all but through Barbirolli's famous record of English music for strings, which was the first record I ever bought on LP. I know every groove of that record; it may be my single Desert Island Disc. I'd always wondered about this orchestra, because I could tell that the playing on that record was special. I revere Barbirolli, he's my hero, but I knew that something else was at play there, and then I remembered talking to Ray Keenlyside, Simon Keenlyside's dad, who may even have been playing on that record. He told me how it was the absolute cream of the crop of British players at the time. It was hard to find anything out about it other than that it was established in 1955 by Gordon Walker: they did about ten years' worth of movies, then it fizzled out. Then the next connection I had with it was as a student when I was Howard Blake's assistant: Howard together with Peter Willison had re-formed the orchestra because they needed a named orchestra for the end credits of The Snowman, and then for a while Peter ran that as a session orchestra along the same lines as the original one.
Chandos makes a lot of composer-led series, so our main focus has been on those, but there were other things that we wanted to get together at fairly short notice, and the obvious answer was, if you're in London, to put together the orchestra yourself! I needed to find a name for it, and this name kept coming and going - it had pedigree but it wasn't burdened by its heritage, and it just seemed to me the ideal choice. I thought very carefully about what the make-up of the orchestra would be: I put together a group of principal players that I've got long-standing professional connections with and that I really admired, and then the principals and I put together the rest of the orchestra; it was a collaboration.
For your first release you chose the Symphony in F sharp by Korngold: aside from your own long association with performing his music, what was it about this piece that you felt made it the perfect showcase for the debut of your new ensemble?
I wonder if that's the cart before the horse, in as much as I didn't really think that I was going to form a new orchestra and then asked 'what shall I record?', it was more 'I'm going to record this piece: we need to find a name for this orchestra!' So it was always considered really as a kind of one-off; it was the piece that I wanted to do. Why? Because a lot of the recordings are a couple of decades old, and we're now at a much clearer understanding of Korngold's style than we were at the end of the 90s. He was misunderstood to a certain extent, and in the past couple of decades we've had access to new editions, historic recordings and things like that, and I've had a lot of contact with the playing style that Korngold himself was accustomed to. I found that a leaner, much less syrupy, much more focused, forward, and swifter approach is the essence of what he wanted; great ardour and commitment but very disciplined, and it doesn't need any extra chocolate sauce. Over the years I've got to know and love this piece and I found that my view of how it went differed to almost everybody else. Then I heard Korngold play it on the piano, and I have to say I felt justified because he matched all of that, which was reassuring!
In terms of the difference between the Korngold and this new disc of French orchestral music, could you tell me about the kind of work you do with the players on exploring the sounds appropriate for each composer?
I would say that with an orchestra like this where everybody is brilliant and very open-minded, it shouldn't have 'a sound', it should have a set of sounds. It should have a sound for Mozart, a sound for Brahms, and I know you could say that of many orchestras, but I wanted to explore that by making something completely different [to the Korngold]. We had three days left at the end of the week, and so I just thought 'Let's do something which is full of different kinds of sounds: pieces that you will know, that show off an orchestra, but also things that have completely fallen through the net', and again this goes back to my childhood listening to records: one of my first records was Karajan and the Philharmonia doing 'Philharmonia Pops', and on that record was Chabrier's España. Karajan said 'Light music is my medicine'; I loved what he did with those pieces and I wanted to work from there outward. A lot of the pieces on that record are ones which I've privately championed myself for years, so I wanted other people to hear a record of those pieces which I used to do with the Hallé or wherever.
On that point of popular pieces against rarities, for people like me who only really know Duruflé from his Requiem, his Trois Danses Op. 6 will be an especially thrilling discovery. Could you tell me how you came across that piece?
Well, there's a story to this: because the album was seven minutes short, I was looking around for a rarity and I rang up my friend John Leonard, principal bassoon of the orchestra in Dublin where I used to be and who knows every piece ever written; I said 'What's French, a little out of the way and could do with a shot in the arm?', and he said the second movement of the Duruflé. We recorded it, and then I realised that there were two other movements, so we did the others very recently and they were a real find - meticulously crafted, and a gift for any orchestra. They all loved playing it.
Aside from Debussy's Prélude à l'après-midi d'un faune, perhaps the best-known piece on the disc is the Méditation from Massenet's Thaïs. You conducted another opera of his, Cendrillon, at Glyndebourne last year: how has that informed your approach to his music?
Why did we do the Thaïs? Honestly, we had the music in the case, I've got Andrew Haveron [Leader of the Sinfonia of London] who's one of my oldest friends and my closest musical colleague for all my professional life, and if you've got Andrew sitting there, and you've got Méditation on the stand, you have to do it! That's why we did that, but as I discovered in the summer the challenge with Massenet is to do everything he asks. It's littered with detail, as is all this French music, but Massenet to an even greater extent. I relished the challenges of that at Glyndebourne and I found it a completely satisfying experience. I've got the recording of the complete opera with Renée Fleming, and her singing on that one is absolutely astonishing: it's a hell of a role, it really is.
The Debussy is a piece I've done many times; my interpretation obviously keeps evolving, and I've conducted it so many times often that I thought 'Right, now I have to do this piece with the new Bärenreiter edition', which is full of revelations. It's worth making the point that I've always been interested in scholarship and I produce my own editions for lots of things that are in the public domain, and doing what the composer writes is very high up on my list of priorities.
What comes across so clearly in the way that you have structured the album is not only the influence of Spanish music on French composers of this period, but also the way in which the composers seem to have influenced each other. For instance, putting the Ibert next to the Debussy really pointed up some similarities such as the low flute at the opening of each piece...
Nobody escaped Debussy's influence; it changed the way we all think about music. L'après-midi, written in 1894, is way ahead: think of what Sullivan was writing at the same time, or Saint-Saëns! It's different, the way he handles the orchestra. He must have seemed like a lunatic at the time, but we owe Debussy a greater debt than just about any other composer. To answer your question, I thought endlessly about the running order - I go through dozens of drafts until I feel I've got the sequence right. I really do think of it in terms of a whole album.
Finally, all of us at Presto are very big fans of the John Wilson Orchestra: might we hope to see some more performances in the near future?
Our next gig is in August this year, a Gershwin concert, which is in Grafenegg, Austria. After that, I'm not allowed to say!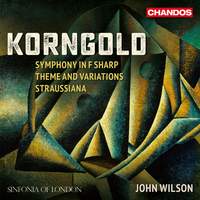 Sinfonia of London, John Wilson
Available Formats: SACD, MP3, FLAC, Hi-Res FLAC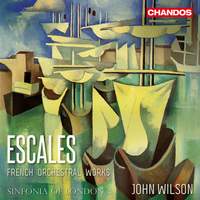 Music by Chabrier, Duruflé, Saint-Saëns, Debussy, Ibert, Massenet, and Ravel
Sinfonia of London, John Wilson
Available Formats: SACD, MP3, FLAC, Hi-Res FLAC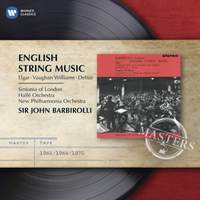 Sinfonia of London & New Philharmonia Orchestra, with the Allegri String Quartet, Sir John Barbirolli
Available Formats: MP3, FLAC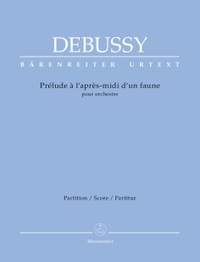 The full score of Bärenreiter's edition, as mentioned by John Wilson, incorporating readings from a printed copy of the score from 1908, which shows corrections and emendations by Debussy relating to metronome markings, different pitches and additional notes, as well as added tempo and articulation markings.
Available Format: Sheet Music