11th June 2014
 Interview

,

  Marie Fel - Rameau's Muse
Carolyn Sampson is one of the foremost baroque sopranos of her generation, and here she explores music written for a singer who inspired some of the most eminent French composers of the eighteenth century over the course of her lengthy and illustrious career.
The project is the brainchild of Carolyn's long-standing friend and colleague Jeffrey Skidmore, who nurtured her passion for music of this period when she was a student singer with his group Ex Cathedra - we caught up with Carolyn this week to talk about her return to the fold as 'French Baroque Diva'!
How much has the French baroque figured in your career to date, and have/will you sing any of these roles on stage? > My first experiences of French baroque music came during my time as a music student at Birmingham University. One of the post-graduate students loved Couperin's Trois Leçons de Ténèbres and used to drag two of us into a practice room on a regular basis to sing through it for fun. (Actually, we didn't need much dragging.)
>Whilst at Birmingham, I began singing with Ex Cathedra, and had my first chances to perform French baroque music. So, for me, Ex Cathedra, the French Baroque and Jeffrey Skidmore have always been inextricably linked. I was 19 years old and fell in love with the style straight away. Jeffrey was keen that we should try to be authentic with pronunciation, ornamentation and phrasing, and gradually the choir and orchestra really found a way to relax into the intricacies of this very distinctive musical language. One of the interesting - and wonderful - developments over the last 20 years has been that our way of performing has moved on as new research has come to light. Ideas on pronunciation change, for example, and I think it's fascinating to see how those changes affect the colour of the sound.
What sort of role did Ex Cathedra play in your professional development, and how does it feel to return to the ensemble as a soloist? > Being a member of Ex Cathedra was a fantastic training for singing in professional choirs. We would perform new repertoire every couple of weeks, and it could be anything from polyphony to contemporary music. I will never forget how awestruck (and rather nervous) I was when we sang Monteverdi's Vespers in Symphony Hall. A thrilling experience. >Having then returned to sing with Ex Cathedra as a soloist, I always feel as though I'm being reunited with old friends, and I know that I have a tremendous amount of support from everybody there. These are people who helped to shape me as a musician and a person. Making music in an ensemble is a necessarily intimate experience and dealing with the highs and lows of that is a learning curve that I am very grateful to have had.
Marie Fel clearly captivated composers and audiences alike throughout her lengthy career - what did you discover about her personality and history whilst working on this project? > Two things strike me as particularly interesting about Marie Fel. One is the way in which her career developed. Coming to Paris as a young singer from Bordeaux, she was clearly welcomed into both the sacred and operatic musical scenes, and had eminent friends. Yet she sang almost exclusively the secondary roles during her first 10 years at the opera. This presumably gave her a chance to hone her craft and to observe other singers at work, and must have been great preparation for her future as the 'star'. The fact that La Folie was her first dramatic part is also rather fabulous - what a role to premiere!
>Another notable fact is that several sources cite that she was not a conventional beauty. This shows us that perhaps things were not so different then as now, in that appearance was still commented on. But, more importantly, those same sources wax lyrical about how she captivated the audience and her voice was lovely, seductive, charming... Perhaps she had the 'X Factor'.
Finally, we can't quite decide on a favourite aria (so far it's a toss-up between' Tristes appret's and 'Amour, lances tes traits'!) - did you feel a special affinity with any particular work or composer you'd discovered here? > It's impossible to pick a favourite track. I've grown to love the Salve Regina that the philosopher Rousseau wrote for her, and de Lalande's 'Viderunt omnes termini terrae' is also charming - one can see why it was so popular at the time. But Rameau's 'Tristes apprêts' is such an extraordinary piece that, if pushed, I think I would have to choose it as the track that moves me the most.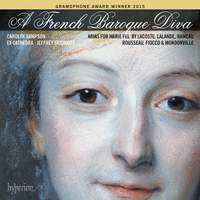 Arias for Marie Fel was released on Hyperion on 2nd June, and features music by Fiocco, Lacoste, Lalande, Mondonville, Rameau and Rousseau.
Available Formats: CD, MP3, FLAC, Hi-Res FLAC
Other French baroque recordings from Carolyn Sampson: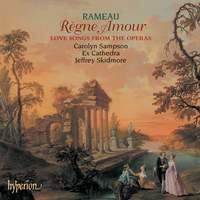 This lovely 2004 release features music from Dardanus, Les Indes galantes, Zoroastre, Platée and more. Once again, Carolyn is partnered by Ex Cathedra under Jeffrey Skidmore: Classic FM Magazine praised her 'musical intelligence, effervescent communication and richness of sound' and International Record Review described her singing as 'radiant, voluptuous and utterly captivating' .
Available Formats: CD, MP3, FLAC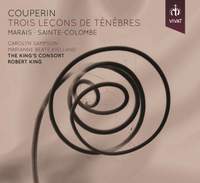 Those early sessions in a Birmingham practice-room come to fruition on this recording, for which Carolyn is joined by Norwegian mezzo Marianne Beate Kielland, on The King's Consort's new label Vivat. The disc won widespread acclaim on its release in March 2013, with Gramophone applauding 'fresh performances that are at once serious, stylish and beautifully judged' and The Telegraph admiring the 'liquid lyricism' of the two singers.
Available Formats: CD, MP3, FLAC, Hi-Res FLAC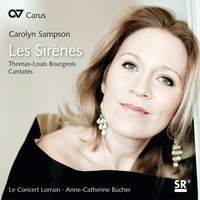 Thomas-Louis Bourgeois (1676-1750) was Walloon by birth, but spent most of his career in Paris and absorbed the French style there during the Régence. This disc features five of his secular cantatas: Les Sirènes, Borée, Zéphire et Flore, Hippomène and Psiché in beautifully idiomatic performances with the Le Concert Lorrain under Anne-Catherine Bucher.
Available Formats: CD, MP3, FLAC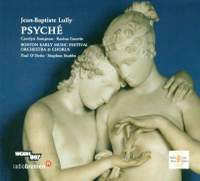 Carolyn sings the title-role on this 2008 recording of Lully's great 'tragédie en musique' from the Boston Early Music Festival, heading a fresh young cast which includes Karina Gauvin, Amanda Forsythe and Aaron Sheehan, with Paul O'Dette and Stephen Stubbs at the helm: the Sunday Times hailed it as 'a magnificent and important recording'.
Available Formats: 3 CDs, MP3, FLAC