5th August 2022
 Recording of the Week

,

  Wolf's Italienisches Liederbuch from Carolyn Sampson, Allan Clayton and Joseph Middleton
Switching from the sublime to the ridiculous in a heartbeat, Hugo Wolf's Italienisches Liederbuch is a work which brings me so much joy. Setting a selection of anonymous Italian love-poems in translations by Paul Heyse, this sequence of 46 miniatures opens with a rapt little hymn to the delights of small things, and certainly makes good on its statement of intent: few of the songs run to more than two minutes, but every one is so packed with charm and character that the cumulative effect is akin to enjoying a meticulously-planned tasting-menu as opposed to a hearty main course.
A new account from Carolyn Sampson, Allan Clayton and Joseph Middleton (released on BIS today) offers quite a different perspective from one of my go-to recordings of the work, reviewed here three years ago. Back in 2018, Erato captured a live performance from Diana Damrau, Jonas Kaufmann and Helmut Deutsch's European tour with the cycle, complete with liberal audience laughter between songs which testified to the trio's willingness to play to the gallery – but this new studio-recording offers something rather more intimate and no less vivid in its way.
Perhaps due to lockdown restrictions, Clayton and Sampson recorded their songs in separate sessions (and with different sound-engineers) almost a year apart, but that scarcely registers: with no linear narrative or clearly-defined characters, the two singers never interact directly anyway, and Middleton's astute hand on the tiller ensures that the momentum between the songs is maintained even without the impetus of live performance to help things along. Sure, fans of the Damrau-Kaufmann-Deutsch set may initially miss the in-the-moment frisson of the handovers between tenor and soprano – but the trade-off is that these new performances never try to sell the songs too hard or over-egg the many comic moments, and both singers here have the freedom to explore a far wider range of vocal colours, unconstrained by the need to project into a large venue with a capacity audience.
Clayton in particular takes full advantage of the in camera setting, digging deeper into the texts than Kaufmann and often making rather bolder interpretative choices. Certainly there's real beauty of tone and elegance of line when the music demands it (Nos. 33 to 35, forming a gorgeous oasis of quasi-religious devotion amid the operetta- and folk-song-inflected hi-jinks elsewhere, represent the quietly beating heart of this recording), but at other times he summons such a range of timbres that you'd be forgiven for thinking there were multiple tenors involved in this project. It's not every singer who can deliver the sort of heroic firepower we hear in his opening sequence of songs as well as the character-tenor-ish bite he assumes for his first comic number ('Hoffärtig seid Ihr, schönes Kind, und geht'), and for the ensuing little monodrama about a lad-about-town who poses as a monk in order to inveigle his way into his beloved's bedroom.
Sampson, too, is totally attuned to the cycle's shifts between the sacred and the profane, her wonderfully fresh soprano betraying no hints of the slight matronliness which crept into Damrau's accounts of the more soubrette-ish songs. And her characterisation is less self-consciously arch than her German counterpart in numbers like 'Du denkst mit einem Fädchen mich zu fangen' and 'Mein Liebster hat zu Tische mich geladen' (a droll little vignette describing dinner with a suitor woefully ill-equipped to host such an occasion, which always reminds me of a university date who resourcefully presented me with pasta cooked in a cafetiere…). I love her breathless, not-entirely-credible recital of her cosmopolitan catalogue of lovers in the final song, delivered with all the flustered bravado of a teenager insisting that her various love-interests all 'go to another school…'.
Sometimes accounting for as much as a quarter of the songs in themselves, Wolf's brilliantly characterful postludes are a gift for collaborative pianists, and Middleton extracts maximum warmth, drama and wit from each one, whether aping the aspiring musician who overestimates his talent in 'Wie lange schon war immer mein Verlangen' or finishing in a blaze of glory in the near-Wagnerian 'Wie soll ich fröhlich sein und lachen gar'. His brief moments in the spotlight would be worth the price of the recording on their own.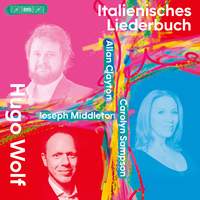 Carolyn Sampson (soprano), Allan Clayton (tenor), Joseph Middleton (piano)
Available Formats: SACD, MP3, FLAC, Hi-Res FLAC