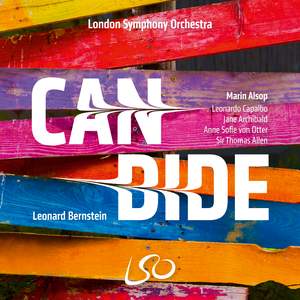 Bernstein: Candide
Leonardo Capalbo (Candide), Jane Archibald (Cunegonde), Anne Sofie von Otter (Old Lady), Thomas Allen (Dr Pangloss/Narrator)
London Symphony Orchestra & Chorus, Marin Alsop
In the title role, Leonardo Capalbo offers charm, delicacy and a touch of melancholy. Jane Archibald makes an amiable Cunegonde, though her showpiece 'Glitter and be gay' doesn't sparkle enough....

— More…
Record Review

9th October 2021

Record of the Week

Presto Recording of the Week

15th October 2021

International Classical Music Awards

2022

Nominated - Opera
Contents
Bernstein: Candide - Overture
Marin Alsop, London Symphony Orchestra
Bernstein: Candide, Act One
Marin Alsop, London Symphony Orchestra, Thomas Allen, Liam Bonthrone (Heresy Agent/Archbishop of Paris/Slave Driver), Leonardo Capalbo (Candide), London Symphony Chorus, Thomas Atkins (First Judge/Señor/Governor/Vanderdendur/Venice Prefect), Jane Archibald (Cunegonde), Anne Sofie von Otter (Old Lady), Marcus Farnsworth (Maximillian/Captain/Second Judge), Guildhall School Young Artists, Frederick Jones (Baron/Grand Inquisitor/Don Isaac/Señor/Manuel/Cacambo/Ragotski), Carmen Artaza (Paquette), Lucy McAulay (Baroness/Second Sheep)
Westphalian Fanfare - "Good evening, ladies and gentlemen"
Life Is Happiness Indeed - Parade
The Best of All Possible Worlds
"Class is dismissed" - Happy Instrumental
"What is he doing to my sister?" - Candide Begins His Travels
It Must Be So (Candide's Meditation)
"The helping hand" - Battle Music - Westphalia Chorale - Battle Scene
"Candide, liberated by the battle"
"Candide and Dr Pangloss board a crowded ship" - Storm Music - Earthquake Music
"Suddenly, Candide rushes in" - You Were Dead, You Know
"Quick, Madame, The Jew!" - Entrance of the Jew - Entrance of the Archbishop - Travel to the Stables
I Am Easily Assimilated (Old Lady's Tango)
"The roués, though captivated!"
Bernstein: Candide, Act Two
Marin Alsop, London Symphony Orchestra, London Symphony Chorus, Thomas Allen, Jane Archibald, Leonardo Capalbo, Anne Sofie von Otter, Thomas Atkins, Katherine McIndoe, Jonathan Eyers, Marcus Farnsworth, Lucy McAuley, Carmen Artaza, Frederick Jones, Guildhall School Young Artists, Liam Bonthrone
My Love (Governor's Serenade)
"Senor, I must take advice"
"Meanwhile, Candide stumbles on through the South American jungle" - Alleluia
Introduction to Eldorado - Sheep Song
"Having arrived in Surinam"
"Of course, the ship sinks"
"Cunegonde!" - You Were Dead, You Know (Reprise)
"Sir, unhand that Odalisque" - Barcarolle (Reprise)
Universal Good (Life is Neither) - "Come, cast aside all vain speculations"
Make Our Garden Grow (Finale)