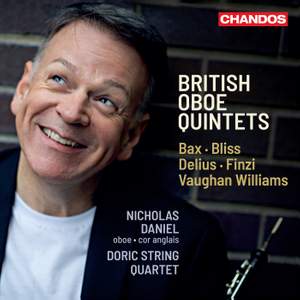 Offer

,

 British Oboe Quintets
Nicholas Daniel (oboe/cor anglais), Doric String Quartet
Daniel's immaculate playing is the main attraction here.

— More…
Presto Editor's Choice

September 2021
CD
Original price
($13.00)
Reduced price
$11.00
Contents
Nicholas Daniel, Doric String Quartet
Finzi: Interlude for oboe and string quartet, Op. 21
Nicholas Daniel, Doric String Quartet
Vaughan Williams: Six Studies in English Folksong
Nicholas Daniel, Doric String Quartet
I. Adagio "Lovely on the Water"
II. Andante "Spurn Point"
III. Larghetto "Van Diemen's Land"
IV. Lento "Shoe Borrowed Some of Her Mother's Gold"
V. Andante "The Lady and the Dragoon"
VI. Allegro "As I Walked over London Bridge"
Bliss: Oboe Quintet, Op. 21
Nicholas Daniel, Doric String Quartet
III. Vivace "Connelly's Jig"
Delius: Two Interludes from Fennimore and Gerda
Nicholas Daniel, Doric String Quartet
Very quietly, not dragging