Gerald Finzi
(Composer)
Born: 14th July 1901, London, England
Died: 27th September 1956, Oxford, England
Nationality: English
Gerald Raphael Finzi was a British composer. Finzi is best known as a choral composer, but also wrote in other genres. Large-scale compositions by Finzi include the cantata Dies natalis for solo voice and string orchestra, and his concertos for cello and clarinet.
Read more at https://en.wikipedia.org/wiki/Gerald_Finzi
Further Reading:
Finzi
31st March 2016
David talks to the saxophonist about her appearance on the Aurora Orchestra's Finzi collection, out now on Decca.
David picks out some top recordings of two great twentieth-century English composers, Gerald Finzi and Herbert Howells.
Recent Best Sellers:
Finzi
New Releases:
Finzi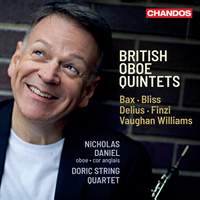 CD:
Original price
($16.00)
Reduced price
$14.50
Download from
Original price
($10.25)
Reduced price
$7.25