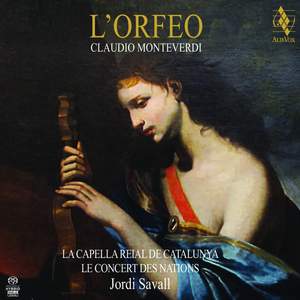 Monteverdi: L'Orfeo
Montserrat Figueras (La Musica), Furio Zanasi (Orfeo), Arianna Savall (Euridice), Sara Mingardo (Messaggiera), Cécile van de Sant (Speranza), Antonio Abete (Caronte), Adriana Fernández (Proserpina), Daniele Carnovich (Plutone), Fulvio Bettini (Apollo), Mercedes Hernández (Ninfa), Marília Vargas (Ninfa),...
The singing and playing is of a very high standard.

— More…
Contents
Francesc Garrigosa, Carlos Mena, Cécile van de Sant, Jordi Savall, Fulvio Bettini, Marília Vargas, Antonio Abete, Montserrat Figueras, Arianna Savall, Iván García, Sara Mingardo, La Capella Reial de Catalunya, Furio Zanasi, Gerd Türk, Daniele Carnovich, Adriana Fernández
Le Concert des Nations
Prologo: Ritornello - Dal mio permesso amato
I. In questo lieto e fortunato giorno
IV. Vieni Imeneo, deh vieni
V. Ritornello - Alcun non sia
I. Sinfonia - Ecco pur ch'à voi ritorno
II. Mira, ch'à se n'alletta
VII. Chi ne consola, ahi lassi?
I. Sinfonia - Scorto da te mio Nume
III. O tu ch'innanzi mort'a queste rive
V. Ritornello - Orfeo son io
II. Sinfonia - Qual honor di te sia degno
IV. Sinfonia a 7 - E la virtute un raggio
III. Saliam cantand'al cielo
IV. Vanne, Orfeo, felice a pieno - Moresca