UPDATE: Royal Mail have now resumed shipments on their TRACKED, TRACKED & SIGNED and SIGNED services but delays should be expected, please choose these services if available to you or FEDEX if your order is urgent.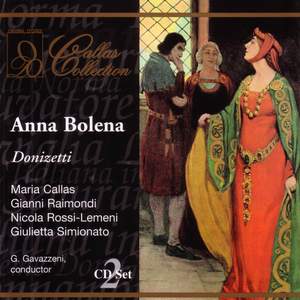 Donizetti: Anna Bolena
Maria Callas (Anna Bolena), Giulietta Simionato (Giovanna), Nicola Rossi-Lemeni (Enrico), Gianni Raimondi (Percy), Plinio Clabassi (Rochefort), Gabriella Carturan (Smeton), Luigi Rumbo (Hervey)
Teatro alla Scala, Gianandrea Gavazzeni
Contents
Maria Callas, Gianni Raimondi, Nicola Rossi-Lemeni, Giulietta Simionato, Gabriella Carturan, Luigi Rumbo, Plinio Clabassi, Teatro alla Scala
Gianandrea Gavazzeni
Ne venne il Re?... Silenzio…
Ella di me, sollecita piu dell' usato...
Deh! Non voler costringere a finta gioia...
Come, innocente giovane...
Oh! Qual parlar fu il suo!
Tremate voi?... Si, tremo
La mia fama e a pie dell' ara
Tu mi lasci?... Il deggio
Chi veggo?... In Inghilterra tu, mio Percy?
Da quel di che, lei perduta...
Desta si tosto, e tolta oggi al riposo?
Io sentii sulla mia mano...
Tutto e deserto... Ai loro uffici intente...
Bada, bada... Tropp'oltre vai...
Meco oblia di sposo ingrato...
Tace ognuno, e ognun tremante!
In separato carcere tutti costor... Giudici!
Oh! Dove mai ne andarano...
Dio, che mi vedi in core, mi volgo a te...
Dal mio cor punita io sono...
Ebben? Dinanzi ai giudici quale dei rei...
Arresta, Enrico: arresta... E m'odi
Saro fra poco innanzi a tribunal piu sacro...
Fin dall'eta piu tenera tu fosti mia, lo sai...
Salira d'Inghilterra sul trono...
Sire... Vieni, Seymour... Tu sei Regina
Per questa fiamma indomita alla virtu...
Ah! Pensate che rivolti Terra e Cielo...
Chi puo vederla a ciglio asciutto, in tanto affanno...
Piangete vio? Donde tal pianto?...
Al dolce guidami castel natio...
Qual mesto suon?... Che vedo?... Hervey!
Cielo, a' miei lunghi spasimi concedi...
Suon festivo? Che fia? Favellate
Coppia iniqua, l'estrema vendetta non impreco...