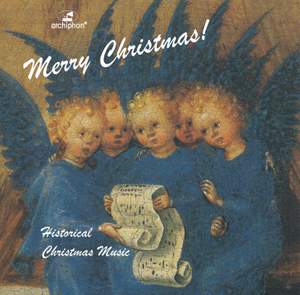 Merry Christmas! (1921-1960)
Ernestine Schumann-Heink (contralto), Lotte Lehmann (soprano), Hermann Prey (bass-baritone), Fritz Wunderlich (tenor), Clara Haskil (piano), Maria Ivogun (soprano), Jascha Heifetz (violin), Elisabeth Schumann (soprano)
Associated Glee Clubs of America, Musica Antiqua, London Symphony Orchestra,...
Contents
Ernestine Schumann-Heink (contralto)
Recorded: 1921
Lotte Lehmann (soprano)
Recorded: 1929
Wade, J F: O come, all ye faithful
2:27
Associated Glee Clubs of America
Recorded: 31 March 1925
Recording Venue: New York Metropolitan Opera, United States
trad.: Vom Himmel hoch, o Englein kommt
2:03
Hermann Prey (bass-baritone), Fritz Wunderlich (tenor)
Recorded: 1960
trad.: Was soll das bedeuten?
1:56
Hermann Prey (bass-baritone), Fritz Wunderlich (tenor)
Recorded: 1960
Mozart: Variations (12) on 'Ah, vous dirai-je, Maman' in C major, K265
7:47
Clara Haskil (piano)
Recorded: 1957
trad.: Auf dem Berge, da wehet der Wind
1:48
Maria Ivogun (soprano)
Recorded: 1943
Hermann Prey (bass-baritone), Fritz Wunderlich (tenor)
Recorded: 1960
Berlin, I: Holiday Inn (arr. J. Heifetz)
3:17
Jascha Heifetz (violin)
Studio orchestra
Studio conductor
Holiday Inn: White Christmas (arr. J. Heifetz)
3:17
Elisabeth Schumann (soprano)
Recorded: 1939
 Excerpt,  Corelli: Concerto grosso Op. 6 No. 8 in G minor 'fatto per la notte di Natale'
15:01
London Symphony Orchestra
Bruno Walter
Recorded: 1939
I. Vivace - Grave - Allegro
3:51
II. Adagio - Allegro - Adagio
3:21
III. Vivace - Allegro - Pastorale ad libitum (Largo)
7:49