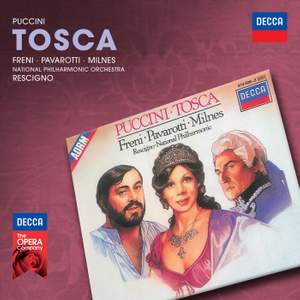 Puccini: Tosca
Mirella Freni (Tosca), Luciano Pavarotti (Cavaradossi), Sherrill Milnes (Scarpia), Italo Tajo (Sagristano), Richard Van Allan (Angelotti), Michel Sénéchal (Spoletta), Paul Hudson (Sciarrone), Walter Baratti (Un pastore), John Tomlinson (Un carceriere)
National Philharmonic Orchestra, Nicola...
The great merit of this new version of Tosca...is that the stage picture is so clear, with the words sharply audible from beginning to end...Pavarotti makes an unusually positive and bright-eyed...

— More…
Contents
Richard van Allan (bass), Walter Barotti (treble), John Tomlinson (bass), Italo Tajo (bass), Michel Sénéchal (tenor), Paul Hudson (bass), Luciano Pavarotti (tenor), Mirella Freni (soprano), Sherrill Milnes (baritone)
National Philharmonic Orchestra, The London Opera Chorus, Wandsworth School Boys' Choir
Nicola Rescigno
Recorded: 1978-05-31
Recording Venue: Kingsway Hall/Henry Wood Hall, London
"E sempre lava!" - "Angelus Domini nuntiavit Mariae" - "Che fai?"
"Dammi i colori!" - "Recondita armonia" (Aria)
"Mario! Mario! Mario!" "Son qui!" - "Mia gelosa!"
"E buona la mia Tosca" - "Siam soli?"
"Sommo giubilo, Eccelenza!"
"Un tal baccano in chiesa! Bel rispetto!"
Or tutto è chiaro ... Mario? Mario?
"Tre sbirri... Una carozza... Presto" (Te Deum)
"Ha più forte sapore" - "Spoletta è giunto"
O galantuomo, come andò la caccia?
Ov'è Angelotti? ... Ed or fra noi parliam
"Sciarrone: che dice il cavalier?"
"Orsù, Tosca, parlate." - "Mario, consenti ch'io parli?"
Quanto? Quanto? Il prezzo!
"Vissi d'arte, vissi d'amore"
"Io tenni la promessa..." - "E qual via scegliete?" - "Tosca, finalmente mia!"
Prelude - "Io de' sospiri"
"Mario Cavaradossi?" - "A voi"
"Franchigia a Floria Tosca"
O dolci mani! ... L'ora! Son pronto!
"Come è lunga l'attesta!"