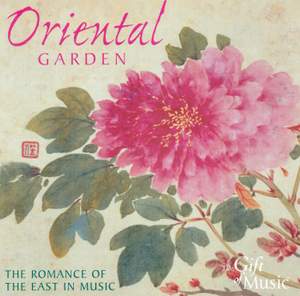 Oriental Garden
The Romance of the East in music
Ruggiero Ricci (violin), Bernhard Kontarsky (piano), Jussi Björling (tenor), Robert Merrill (baritone), Maria Spacagna (soprano), Peter Frankl (piano), John Oakman (tenor), Lily Pons (soprano), Katarina Kmetova (soprano), James Gregory (flute), Martin Souter (piano)
London Philharmonic Orchestra,...
Contents
Strauss, J, II: Egyptischer Marsch, Op. 335
London Philharmonic Orchestra
Christian Rainer
Kreisler: Tambourin Chinois, Op. 3
Ruggiero Ricci (violin), Bernhard Kontarsky (piano)
Excerpt, Tchaikovsky: The Nutcracker Suite, Op. 71a
London Festival Orchestra
Alberto Lizzio
The Nutcracker Suite, Op. 71a: VI. Chinese Dance - V. Arab Dance
Excerpt, Bizet: Les Pêcheurs de Perles
Jussi Björling (tenor), Robert Merrill (baritone)
Les pecheurs de perles (The Pearl Fishers), Act I: Au fond du temple saint
Puccini: Madama Butterfly, Act II
Maria Spacagna (soprano)
Studio choir, Hungarian State Opera
Charles Rosenkrans
Act II: Un bel di, vedremo
Excerpt, Debussy: Estampes (3)
Excerpt, Rimsky Korsakov: Scheherazade, Op. 35
Slovak Philharmonic Orchestra
Bystrik Rezucha
Scheherazade, Op. 35: III. The Young Prince and the Young Princess
Excerpt, Puccini: Turandot
John Oakman (tenor)
Czech Symphony Orchestra
Julian Bigg
Turandot, Act III: Nessun dorma!
Delibes: Sous le dôme épais (from Lakmé)
Lakme, Act II: Ou va la jeune indoue, "Bell Song"
Excerpt, Mozart: Die Zauberflöte, K620
Katarina Kmetova (soprano)
Bratislava Opera Orchestra
Oliver von Dohnányi
Die Zauberflote (The Magic Flute), K. 620, Act II: Aria: Der Holle Rache kocht in meinem Herzen
Nuremberg Symphony Orchestra
Hanspeter Gmur
Aida, Act II: Ballet Music
European Union Baroque Orchestra
Roy Goodman
Solomon, HWV 67, Act III: Sinfonia, "The arrival of the Queen of Sheba"
Beethoven: Incidental music to The Ruins of Athens
James Gregory (flute), Martin Souter (piano)
Die Ruinen von Athen (The Ruins of Athens), Op. 113: Turkish March (arr. for flute and piano)
Excerpt, Saint-Saëns: Samson et Dalila
Wiener Symphoniker
Jonel Perlea
Samson et Delilah: Bacchanale