US deliveries: Unfortunately we are receiving reports that some US orders are taking longer than usual to arrive. Find out more >>
Latest update: Changes to international postage charges. Find out more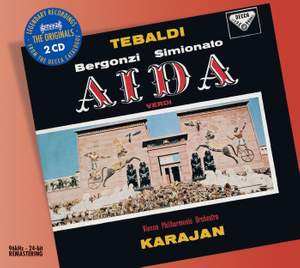 Verdi: Aida
Renata Tebaldi (Aida), Carlo Bergonzi (Radamès), Giulietta Simionato (Amneris), Cornell MacNeil (Amonasro), Arnold Van Mill (Ramfis), Fernando Corena (Il Re di Egitto), Eugenia Ratti (Una Sacerdotessa), Piero De Palma (Un Messaggero)
Wiener Philharmoniker & Singverein der Gesellschaft der...
...unrivalled for many years for its spectacle in this most stereophonic of operas...helped by having a Viennese orchestra and chorus, rather than an Italian one that was determinded to do things...

— More…
Contents
Arnold van Mill (bass), Giulietta Simionato (mezzo-soprano), Fernando Corena (bass), Eugenia Ratti (soprano), Carlo Bergonzi (tenor), Renata Tebaldi (soprano), Cornell MacNeil (baritone), Piero de Palma (tenor)
Wiener Philharmoniker, Singverein Der Gesellschaft Der Musikfreunde
Herbert von Karajan
Recorded: 1959-09-02
Recording Venue: Sofiensaal, Vienna
Sì: corre voce che l'Etiope ardisca
1:39
"Se quel guerrier io fossi!..Celeste Aida"
5:02
Chi mai fra gl'inni e i plausi
6:14
Fu la sorte dell'armi a'tuoi funesta
7:04
Su! del Nilo al sacro lido
2:45
Gloria all'Egitto, ad Iside
3:39
Vieni, o guerriero vindice
2:30
Salvator della patria, io ti saluto
2:13
Che veggo!...Egli?...Mio padre!
0:56
Quest'assisa ch'io vesto vi dica
1:04
Ma tu, Re, tu signore possente
4:24
Gloria all'Egitto, ad Iside
3:06
Qui Radames verrà!...O Patria mia
7:14
Pur ti riveggo, mia dolce Aida
3:05
Fuggiam gli ardori inospiti
7:07
Tu...Amonasro!...tu!...il Re?
2:49
L'aborrita rivale a me sfuggia
2:59
Ohimè!...morir mi sento! Oh! chi lo salva?
4:23
Radamès! Radamès! Radamès!
7:04
"La fatal pietra sovra me si chiuse"
2:17
"Presago il core della tua condonna"
4:02
"O terra, addio; addio valle di pianti"
5:13