US Airmail Charges: As a knock-on effect of COVID-19 airfreight prices around the world have soared. Reluctantly, we have had to pass on some of this increase in our standard airmail prices. We'll bring them down again as soon as we can!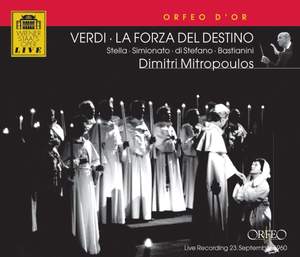 Offer

,

 Verdi: La forza del destino
Ludwig Welter (Marchese di Calatrava), Antonietta Stella (Leonora), Ettore Bastianini (Don Carlo), Giuseppe di Stefano (Alvaro), Giulietta Simionato (Preziosilla), Walter Kreppel (Padre Guardiano), Karl Dönch (Fra Melitone), Annemarie Ludwig (Curra)
Choir & Orchestra of the Vienna State...
Mitropoulos, who had only weeks to live, directs the work with that combination of sensitivity and drive that marked all his performances.
With the Vienna State Opera Orchestra in glowing form,... — More…
Contents
Verdi: La forza del destino
2:30:59
Ettore Bastianini (bass-baritone), Franz Bierbach (bass), Giulietta Simionato (mezzo-soprano), Ludwig Welter (vocals), Harald Proglhof (baritone), Antonietta Stella (vocals), Hugo Meyer-Welfing (tenor), Walter Kreppel (bass), Anne-Marie Ludwig (mezzo-soprano), Giuseppe di Stefano (tenor), Karl Donch (baritone)
Wiener Staatsoper
Dimitri Mitropoulos
Recorded: 23 September 1960
Recording Venue: Live recording, Osterreichischen Rundfunks, Austria
Act I: Buona notte, mia figlia (Marchese, Leonora)
2:20
Act I: Temea restasse qui fino a domani! (Curra, Leonora)
0:51
Act I: Io non amarlo? - Me pellegrina ed orfana (Leonora)
4:22
Act I: M'aiuti, Signorina, più presto andrem (Curra, Leonora)
0:24
Act I: Ah, per sempre, o mio bell'angiol (Alvaro, Leonora)
6:57
Act I: Vil seduttor! Infame figlia! (Marchese, Leonora, Alvaro)
2:34
Act II: Hola, hola, hola! Ben giungi, o mulattier (Chorus, Alcalde, Carlo, Leonora, Trabuco, Preziosilla)
3:20
Act II: Al suon del tamburo (Preziosilla, Carlo, Alcalde, Chorus)
3:25
Act II: Padre Eterno Signor (Chorus, Carlo, Alcalde, Leonora, Preziosilla, Trabuco)
3:25
Act II: Viva la buona compagnia! (Carlo, Chorus, Preziosilla, Alcalde, Trabuco)
2:26
Act II: Son Pereda, son ricco d'onore (Carlo, Chorus)
2:38
Act II: Sta bene (Alcalde, Preziosilla, Carlo, Chorus)
2:03
Act II: Sono giunta! Grazie, O Dio! (Leonora, Chorus)
6:21
Act II: Chi siete (Melitone, Leonora, Guardiano)
2:46
Act II: Or siam soli (Leonora, Guardiano)
11:56
Act II: Il santo nome di Dio Signore - La Vergine degli angeli (Guardiano, Melitone, Chorus, Leonora)
11:25
Act III: La vita e inferno all'infelice - Oh, tu che in seno ogli angeli (Alvaro)
6:34
Act III: Al tradimento! (Carlo, Chorus, Alvaro)
2:07
Act III: All'armi! (Chorus, Alvaro, Carlo, Surgeon)
2:16
Act III: Piano … qui posi - Solenne in quest'ora (Carlo, Surgeon, Alvaro)
5:32
Act III: Morir! Tremenda cosa! - Urna fatale del mio destino (Carlo)
5:07
Act III: E s'altra prova rivenir potessi (Carlo, Surgeon)
2:52
Act III: Lorche pifferi e tamburi - Venite all'indovona (Chorus, Preziosilla)
2:37
Act III: Nella guerra e la follia (Chorus)
2:10
Act III: Toh! Toh! Poffare il mondo! - Ratapian (Melitone, Chorus, Preziosilla)
7:27
Act IV: Fate, la carita - Che? Siete all'osteria? (Chorus, Melitone, Guardiano)
7:10
Act IV: Auf! … Pazienza non v'ha che basti! - Del mondo i disinganni (Melitone, Guardiano)
4:27
Act IV: Giunge qualcuno, aprite - Invno Alvano (Guardiano, Carlo, Melitone)
2:07
Act IV: Fratello … Riconoscimi! (Alvaro, Carlo)
8:29
Act IV: Pace, pace, mio Dio! (Leonora)
5:36
Act IV: Io muoio! Confessione! (Carlo, Alvaro, Leonora)
2:58
Act IV: Non imprecare; umiliati (Guardiano, Leonora, Alvaro)
5:40