US deliveries: Unfortunately we are receiving reports that some US orders are taking longer than usual to arrive. Find out more >>
Latest update: Changes to international postage charges. Find out more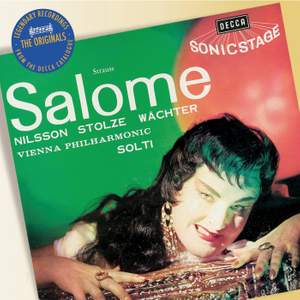 Strauss, R: Salome
Birgit Nilsson (Salome), Eberhard Wächter (Jokanaan), Gerhard Stolze (Herod), Grace Hoffman (Herodias)
Wiener Philharmoniker, Sir Georg Solti
[Solti's] overwhelming account of Strauss's Salome ... Nilsson 's account of the title role remains another towering monument to her tireless singing

— More…
Contents
Birgit Nilsson (soprano), Grace Hoffman (mezzo-soprano), Josephine Veasey (mezzo-soprano), Max Proebstl (bass), Heinz Holecek (baritone), Theodor Kirschbichler (bass), Zenon Kosnowski (bass), Nigel Douglas (tenor), Gerhard Stolze (tenor), Waldemar Kmentt (tenor), Tom Krause (baritone), Stefan Schwer (tenor), Eberhard Wächter (baritone), Paul Kuentz (tenor), Liselotte Maickl (soprano), Aron Gestner (tenor), Kurt Equiluz (tenor)
Wiener Philharmoniker
Sir Georg Solti
Recorded: 1961-10-16
Recording Venue: Sofiensaal, Vienna
"Wie schön ist die Prinzessin Salome heute Nacht!"
2:50
"Nach mir wird Einer kommen"
2:36
"Siehe, der Herr ist gekommen"
1:34
"Jauchze nicht, du Land Palästina"
2:21
"Du wirst das für mich tun"
3:14
"Wo ist er, dessen Sündenbecher jetzt voll ist?"
9:42
"Jochanaan! Ich bin verliebt in deinen Leib"
8:33
"Wird dir nicht bange, Tochter der Herodias?"
7:43
"Salome, komm, trink Wein mit mir"
2:35
"Siehe, die Zeit ist gekommen"
0:48
"Wahrhaftig, Herr, es wäre besser, ihn in unsre Hände zu geben!"
2:50
"Siehe, der Tah ist nahe"
3:18
"Eine Menge Menschen wird sich gegen sie sammeln"
2:04
Salome's Dance of the Seven Veils
8:49
"Ah! Herrlich! Wundervoll, wundervoll!"
3:36
"Still, sprich nicht zu mir!"
2:54
"Salome, bedenk, was du tun willst"
2:45
"Man soll ihr geben, was sie verlangt!"
1:51
"Es ist kein Laut zu vernehmen"
2:05
"Ah! Du wolltest mich nicht deinen Mund"
11:43
"Sie ist ein Ungeheuer, deine Tochter"
0:58
"Ah! Ich habe deinen Mund geküsst, Jochanaan"
4:37