US deliveries: Unfortunately we are receiving reports that some US orders are taking longer than usual to arrive. Find out more >>
Latest update: Changes to international postage charges. Find out more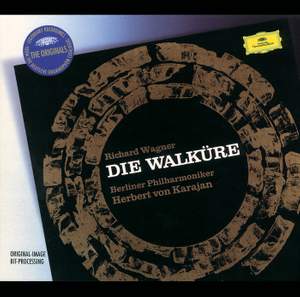 Offer

,

 Wagner: Die Walküre
Jon Vickers (Siegmund), Martti Talvela (Hunding), Thomas Stewart (Wotan), Gundula Janowitz (Sieglinde), Régine Crespin (Brünnhilde), Josephine Veasey (Fricka), Liselotte Rebmann (Gerhilde), Carlotta Ordassy (Ortlinde), Ingrid Steger (Waltraute), Lilo Brockhaus (Schwertleite), Daniza Mastilovic (Helmwige),...
The great merits of Karajan's version are the refinement of the orchestral playing and the heroic strength of Jon Vickers as Siegmund...Veasey as Fricka conveys the biting intensity of the part...The...

— More…
Contents
Gundula Janowitz (soprano), Thomas Stewart (baritone), Régine Crespin (soprano), Josephine Veasey (mezzo-soprano), Cvetka Ahlin (mezzo-soprano), Liselotte Rebmann (soprano), Jon Vickers (tenor), Martti Talvela (bass), Barbro Ericson (mezzo-soprano), Helga Jenckel (mezzo-soprano), Carlotta Ordassy (mezzo-soprano), Danica Mastilovic (soprano), Ingrid Steger (soprano), Lilo Brockhaus (soprano)
Berliner Philharmoniker
Herbert von Karajan
Recorded: 1966-12-10
Recording Venue: Jesus-Christus-Kirche, Berlin
"Wes Herd dies auch sei, hier muss ich rasten"
8:25
"Einen Unseligen labtest du"
3:49
"Müd am Herd fand ich den Mann"
5:11
"Friedmund darf ich nicht heißen"
6:16
"Die so leidig Los dir beschied"
4:41
"Ich weiss ein wildes Geschlecht"
5:53
"Ein Schwert verhiess mir der Vater"
6:16
"Winterstürme wichen dem Wonnemond"
3:08
"O süsseste Wonne! Seligstes Weib!"
6:23
"War Wälse dein Vater, und bist du ein Wälsung"
2:00
"Siegmund, den Wälsung, siehst du, Weib!"
2:37
Vorspiel - "Nun zäume dein Roß"
2:37
"Der alte Sturm, die alte Müh'!"
4:56
"So ist es denn aus mit den ewigen Göttern"
9:18
"Deiner ew'gen Gattin heilige Ehre"
3:44
"Schlimm, fürcht ich, schloss der Streit"
10:38
"Ein andres ist's: achte es wohl"
6:34
"So nimmst du von Siegmund den Sieg?"
4:07
"So nimm meinen Segen, Niblungen-Sohn"
4:53
"So sah ich Siegvater nie"
3:11
"Raste nun hier; gönne dir Ruh!"
12:11
"Siegmund! Sieh auf mich!"
10:42
"Du sahest der Walküre sehrenden Blick"
4:39
"So jung und schön erschimmerst du mir"
4:18
"Zauberfest bezähmt ein Schlaf der Holden Schmerz und Harm"
3:04
"Der dort mich ruft, rüste sich nun"
3:32
"Zu Ross, dass ich dich rette!"
3:34
"Schützt mich und helft in höchster Not!"
3:10
"Nicht sehre dich Sorge um mich"
6:48
"Wo ist Brünnhild', wo die Verbrecherin?"
3:55
"Hier bin ich, Vater: gebiete die Strafe!"
8:54
"War es so schmählich, was ich verbrach"
9:17
"So tatest du, was so gern zu tun ich begehrt"
9:06
"Nicht streb, o Maid, den Mut mir zu stören"
4:35
"Leb wohl, du kühnes, herrliches Kind!"
5:04
"Der Augen leuchtendes Paar"
6:56
"Loge, hör! Lausche hieher!"
1:21