UPDATE: Royal Mail have now resumed shipments on their TRACKED & SIGNED and SIGNED services but delays should be expected, please choose these services if available to you or FEDEX if your order is urgent.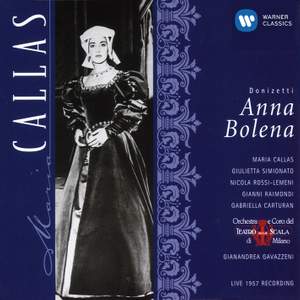 Donizetti: Anna Bolena
Maria Callas, Giulietta Simionato, Nicola Rossi-Lemeni, Gianni Raimondi, Gabriella Carturan
La Scala Milan Chorus & Orchestra, Gianandrea Gavazzeni
One of Callas's unique qualities was to inspire an audience with the sense of a great occasion, and to key-up a sympathetic conductor into the production of something to match her own intensity...

— More…
Contents
Donizetti: Anna Bolena (1997 - Remaster)
Gianni Raimondi (vocals), Nicola Rossi-Lemeni (bass), Plinio Clabassi (bass), Luigi Rumbo (vocals), Maria Callas (soprano), Giulietta Simionato (mezzo-soprano), Gabriella Carturan (mezzo-soprano)
Noberto Mola, Teatro alla Scala
Gianandrea Gavazzeni
Recorded: 1957-04-14
Recording Venue: 14 April 1957 / 'live' at the Teatro allla Scala, Milano
Si taciturna e mesta mai non vidi assembles
Deh! non volar costringere
Come, innocente giovane...
Non v'ha sguardo cui sia dato
O! qual parlar fu il suo!
La mia fama è a piè dell'ara
Ah! qual sia cercar non oso
Chi veggo?...In Inghilterra
Da quel di che, lei perduta
Ah! così nei di ridenti del premier
Voi, Regina!...E fia pur vero
Io sentil sulla mia mano (Anna / Enrico / Hervey / Percy / Rochefort / Coro)
Or che reso ai patrili ldid
Questo di per noi spuntato
Bada...bada...tropp'oltre vai...
S'ei t'aborre, io t'amo ancora
Trace ognuno, è ognum tremante!
In quegli squardi impresso
In separato carcere tutti costor sien tratti
Ah! segnata è la mia sorte
Oh! dove mai ne andarono le turbe adulatrici
Regina!....Duolmi I'amaro incarco
Sul guanciale del regio letto
Dal mio cor punita io sono
Va, infelice, e tecto reca (Anna / Giovanna)
Ebben? dinanzi ei giudici
Scostatevi..il Re giunge...
Salirà d'Inghilterra sul trono
Anna vid'io ....I'intesi...
Per questra fiamma indomita
Chi può vederla a ciglio asciutto
Piangete voi? D'onde tal pianto?
Al dolce guidami castel natio
Cielo, a'miei lunghi spasimi
Coppia iniqua, I'estremo vendetta