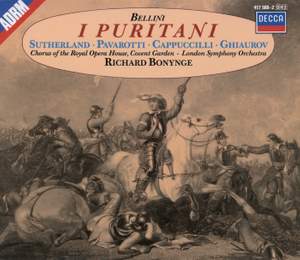 Bellini: I Puritani
Joan Sutherland (Elvira), Luciano Pavarotti (Arturo Talbot), Piero Cappuccilli (Riccardo Forth), Nicolai Ghiaurov (Giorgio Walton), Anita Caminada (Enrichetta de France), Gian Carlo Luccardi (Gualtiero Walton), Renato Cazzaniga (Bruno Robertson)
Chorus of Royal Opera House Covent Garden, London...
Sutherland's singing here is brighter and fresher than her earlier recording, with the lovely aria 'Qui la voce' no longer a wordless melisma...The recording is vivid and atmospheric and one...

— More…
Contents
Renato Cazzaniga (tenor), Nicolai Ghiaurov (bass), Dame Joan Sutherland (soprano), Anita Caminada (mezzo-soprano), Luciano Pavarotti (tenor), Gian Carlo Luccardi (bass), Piero Cappuccilli (baritone)
London Symphony Orchestra, Chorus of the Royal Opera House, Covent Garden
Richard Bonynge
Recorded: 1973-05-15
Recording Venue: Kingsway Hall, London
All'erta! All'erta! L'alba appari
Ah! per sempre io ti perdei
O amato zio, o mio secondo padre!
Sai com'arde in petto mio
I rito augusto si compia senza me
Ferma! Invan, invan rapir pretendi!
E di morte lo stral non sarà lento
Vien, diletto, è in ciel la luna
Son salvo, alfin son salvo
A una fonte afflitto e solo
Vieni, vieni fra questa braccia
Ancor s'ascolta questa suon molesto