UPDATE: Royal Mail have now resumed shipments on ALL International services but delays should be expected, please choose FEDEX if your order is urgent.
29th October 2021
Recording of the Week

,

Baroque fireworks from Bojan Čičić and the Illyria Consort
Bojan Čičić and his Illyria Consort present a truly spellbinding collection of virtuosic violin concertos in today's Recording of the Week, with Vivaldi's self-confident grandstanding as both composer and performer giving rise to the technical fireworks from which the album draws its name - Pyrotechnia was the title of one of the first Western treatises on the uses and manufacture of fireworks, and it quickly comes clear how apt the comparison is.
The opening concerto, written for Vivaldi's pupil Pisendel, opens with remarkably tonally static material, with the basic harmony sometimes planting itself firmly in place for four bars at a stretch – providing a solid and unadorned platform on which Čičić can commence his acrobatics with a minimum of other musical material to distract from the show. And "acrobatics" they truly are – the violin had by this point moved well beyond its origins as an instrument of street entertainers, but the sheer spectacle of tumblers and circus acts is never far away.
Vivaldi was among the first to realise that the violin, by virtue of its piercing sonority, could hold its own alone against an orchestra; these concertos see him explore that combative idea's potential, combining it with the agility that the instrument offered, and it's impossible to describe the results as anything other than showy and flamboyant. Vivaldi's reported ability to bewitch crowds with a heady mix of raw virtuosity and well-judged flexible expressiveness recalls stories about the later Liszt, and Bojan Čičić shows himself to be more than equal to the music's technical and interpretative demands.
Nowhere is this more apparent than in the capriccio movements which close each of these concertos – adaptations of Vivaldi's often extensive, improvised cadenzas into a more structured form. Here, as his contemporaries remarked (and not always approvingly), the dial of virtuosity is turned all the way up, and Vivaldi's full portfolio of technical mastery is on show. Not for nothing did these dramatic works, with the soloist a larger-than-life protagonist, make their way into the theatre as entr'acte showpieces. The music is at times exhausting merely to listen to, never mind to perform, but Čičić shrugs off the challenge of the writing and makes light work of these relentless finales – in effect, lengthy accompanied cadenzas.
The superstar Vivaldi inspired plenty of imitators eager to reproduce his success; among these were Locatelli and Tartini, who both produced their own versions of his winning concerto formula, of which examples are featured here. Tartini (whose southwest Slovenian hometown of Piran Čičić and his consort pass on their recently-released Adriatic Voyage) seems to have shifted the soloist's role away from acrobatic showboating and towards meditative soliloquising. It may thus be the concerto with the fewest obvious displays of "fireworks", but his E major concerto D48 is, for me, the highlight of the album. Its first two movements bear short, sentimental poetic subtitles that Čičić clearly takes to heart as inspiration, and even the inevitable capriccio conclusion has a less frenetic mood than those of the other concertos, with its technical demands subtly veiled by being woven into the music. There are also moments that, for me at least, allude tantalisingly to the beautiful pastorale from Corelli's justly famous Christmas Concerto - Corelli certainly influenced the sonatas of Giovanni Carbonelli, with which Čičić and the Illyrians made their award-winning recorded debut, and would likely have been a similar inspiration for Tartini. It's the musical equivalent of finding mince pies on sale in October, perhaps, but none the worse for that.
Locatelli, conversely, seems to have developed the virtuoso capriccio almost at the expense of the main body of the concerto – the outer movements of his D major concerto both contain several minutes' worth of unaccompanied capricci. In both their style and their number (his set of twelve concertos generate 24 capricci in total) these passages clearly set the stage for Paganini to develop the format even further, and themselves arguably represent the pinnacle of Baroque violin writing in technical complexity. Locatelli was not afraid to ascend to frightening heights above the stave, and Čičić shows no qualms about following in his footsteps.
Music based so heavily around a soloist screaming "hey, look at me!" is inevitably not to everyone's taste; it is not always what one might call subtle, and it attracted a measure of disapproval even at the time. But Bojan Čičić's approach – sensitive and fluid, while never less than technically immaculate – shows these unashamedly swaggering pieces in all their ostentatious magnificence.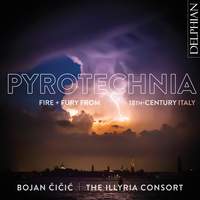 Bojan Čičić (violin), The Illyria Consort
Available Formats: CD, MP3, FLAC, Hi-Res FLAC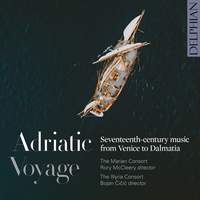 The Illyria Consort, Rory McCleery, Bojan Čičić (violin), Marian Consort, Gawain Glenton
Available Formats: CD, MP3, FLAC, Hi-Res FLAC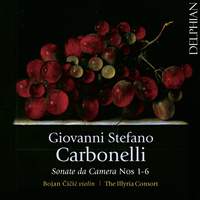 Bojan Čičić (violin), The Illyria Consort
Available Formats: CD, MP3, FLAC, Hi-Res FLAC