22nd October 2021
 Recording of the Week

,

  Philippe Jaroussky & Thibaut Garcia: À sa guitare
With a new Mitridate from Marc Minkowski and recital-albums from Marianne Crebassa, Sabine Devieilhe and Jakub Józef Orliński all landing on my doorstep this week, Warner Classics and Erato are enjoying a rather glorious autumn - but my personal favourite from this month's embarrassment of riches has to be Á sa guitare, which sees French countertenor Philippe Jaroussky joining forces with guitarist Thibaut Garcia for a beguiling, eclectic recital that ranges across centuries and countries with gay abandon, taking in Dowland, Purcell, Rossini, Fauré and Barbara along the way.
It was around this time last year that Jaroussky's countrymen Laurent Naouri and Frédéric Loiseau alerted me to the special magic that can ensue when guitar stands in for piano in song recitals, and if anything Á sa guitare makes an even stronger case for such transcriptions - firstly because the intimacy of the format is so ideally suited to Jaroussky's plangent, ethereal timbre, and secondly because he and Garcia cast their net far more widely in terms of repertoire.
It's no surprise that songs like Dowland's In darkness let me dwell and Purcell's If music be the food of love translate so naturally from lute to modern guitar (as indeed was amply demonstrated at Presto's anniversary party last week by our guests of honour Roderick Williams and Sean Shibe), but who knew that Schubert's Erlkönig could sound still more unsettling when the piano's percussive ostinato is replaced by a whispering tremolo that evokes the 'streaks of mist' and 'rustling leaves' in all their eerie glory? Garcia's virtuosity here is quietly breathtaking - and though Jaroussky doesn't quite have the tonal resources to differentiate the four voices as clearly as the very finest interpreters, his trademark crystalline sweetness plays up the uncanny connection between the predatory Fairy-King and his terrified prey.
Although Jaroussky and Garcia both excel in the many introspective numbers on the programme (I doubt you'll hear more affecting, gently sensual accounts of the Dowland and Purcell songs on record), they also have a whale of a time with the more extrovert pieces, with Garcia laying into Caccini's Chi desia di saper with the same sort of brio which made Elizabeth Kenny's contributions to Ed Lyon's 17th-Century Playlist such a treat in 2019 and Jaroussky camping it up with glee in Paisiello's Nel cor più non mi sento. And although the track-listing may look a little eccentric on paper, there's a real organic logic to the programming which means that none of the unorthodox juxtapositions jar: French singer-songwriter Barbara's Septembre (where Jaroussky captures the mood of louche nostalgia to perfection) really does flow quite naturally into the Purcell which follows, and the segue from Dowland's In darkness to Luiz Bonfá's Manhã de Carnaval (from the film Orfeu Negro) feels equally seamless.
In a witty, relaxed booklet-interview Jaroussky (who emerges as a vivid but unmannered word-painter on the recording) mentions having 'sung my fair share of 'Ah!'s in my life!' thanks to the centrality of what he calls 'acrobatic elements' in much traditional countertenor repertoire, and his younger colleague Jakub Józef Orliński (an acrobat in more senses than one) certainly despatches his fair share of them on his upcoming Anima Aeterna, featuring bravura motets and oratorio arias by composers including Fux, Zelenka, Manna and Handel. (In fact the final track sets the single word 'Alleluia'!).
Despite sharing a voice-type, record-label and strong physical resemblance, the two singers could scarcely be more different in terms of timbre: if Jaroussky's USP is airy purity, Orliński is all earth and fire, launching into Zelenka's roulades with athletic vigour, dipping down into his strong lower register to great dramatic effect when required, and having a blast in the brassy sparring with solo trumpet in an aria from Bartolomeo Nucci's Il David trionfante towards the end of the disc. There's also a delectable cameo from the lovely Egyptian soprano Fatma Said who supplies silver to Orliński's bronze in Zelenka's Laetatus sum, a work which deserves to be as popular as Pergolesi's Stabat mater for the same forces.
A grand month for lovers of the countertenor voice, then - though I'll wager that Jaroussky's unusual album may well also appeal to those who aren't yet fully-paid-up fans...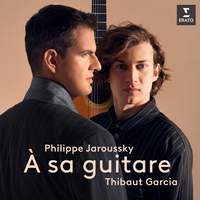 Philippe Jaroussky (countertenor), Thibaut Garcia (guitar)
Available Formats: CD, MP3, FLAC, Hi-Res FLAC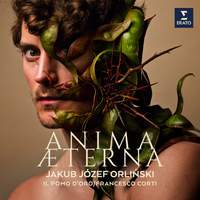 Jakub Józef Orliński (countertenor), Fatma Said (soprano), Il Pomo d'Oro, Francesco Corti
Available Formats: CD, MP3, FLAC, Hi-Res FLAC, Hi-Res+ FLAC