11th August 2021
 Interview

,

  Jan Lisiecki on Chopin
Although he's still only in his twenties, the Canadian pianist Jan Lisiecki has been widely regarded as one of today's great Chopin interpreters for almost a decade now, having made his first live recordings of the composer's music in his early teens; he made his debut at the Chopin and his Europe Festival back in 2008, and his account of the Études five years later prompted Gramophone to declare that 'from Jan Lisiecki, Chopin's poetic essence, hidden beneath every thorny, relentlessly focused problem, emerges with an inimitable subtlety and elegance'.
In the lead-up to the release of his new recording of the Nocturnes (out this Friday on Deutsche Grammophon), I spoke to Jan over Zoom about the affinity which he felt with Chopin's music from childhood, the importance of questioning (and sometimes stripping away) accumulated performance-traditions, his feelings about performing Chopin on historical instruments, and the composer's special relationship with the Nocturne as a genre.
You were already receiving critical acclaim as a Chopin interpreter in your early teens - do you remember the first time you were presented with a piece of his music?
I don't remember a single defining moment, but there are lots of snippets: playing his Étude Op. 10 No. 3 and the Nocturne Op. 9 No. 1 (which was probably one of the first pieces that I ever played), and listening to Krystian Zimerman's recording of the two concertos with the Polish Festival Orchestra. That was one of the classical recordings that my parents were particularly fond of, and they listened to it a lot at home. But to me Chopin's music was always present – it's difficult to rationalise, but from the very beginning I somehow had a feeling of how I wanted to play it and what I wanted to say. Somehow, it was different than with Bach, Mozart, or Beethoven. I had two teachers in Calgary, where I was born and grew up, who were always there for me, but with Chopin I think I always followed my own path.
Did playing his music competitively never appeal to you?
The Chopin Competition was certainly something that was present in my mind when I was very young, but then things happened so quickly for me: I made my first concerto recordings at 13 and 14 and had my contract with DG when I was 15, which eliminated that possibility. On the one hand it's a shame that I never had the chance to play in the competition, but on the other I feel very fortunate to have surpassed that stage so early in my life.
My first recordings were made during live performances from the Chopin and His Europe Festival, which the Chopin Institute organises each summer – it's the same institution that holds the competition, and the Festival is very prestigious. That was my first performance in Poland, and also the first time that any of my family beyond my parents had heard me play. I played the Second Concerto there when I was 13, and the Institute invited me back to play the First (the one I hadn't learned!) the following year.
Then the organisers came to me and said 'We have these great archival recordings from the radio broadcast, and we'd like to issue them on CD' – at that age, I didn't really know how to react. I spoke with the conductor Howard Shelley (who was really the reason I was there), and he said 'You played very well – you have nothing to be ashamed of, so I think you should go ahead!'. The album was the first the Institute released on their "white label", with performances on contemporary instruments, and that's how a lasting relationship with the Chopin Institute started.
How do you feel about the chamber versions of these works for piano and string quintet?
The concertos become more like piano sonatas with a quintet. Of course you miss some of the colours: I love what Chopin does with the bassoon and French horn in particular, he had some unique ideas for using those instruments. As long as you approach the concertos as piano solo repertoire with some additional orchestral colour and texture, it works quite well — the piano part is so strong that it doesn't lose as much as a Beethoven concerto, for example.
...and do you enjoy directing them from the keyboard?
Oh, certainly. I've done them plenty in concert without a conductor, and as long as you have musicians who know the pieces and are great listeners it works very well – the concertos are not very complex from an orchestral perspective. Essentially it's about having a good ear, and being able to stay flexible while communicating with the ensemble; I believe and feel that my Chopin interpretations are clear, and they do not border on the unnatural. That means that there are very few instances where you need a conductor to catch something.
Did lockdown restrictions have an impact on your preparation-process and recording-sessions for this project?
It's been a long-term project, because I always like to play things in concert before I record them, and it took many seasons to slowly incorporate the Nocturnes into my concert-repertoire. This wasn't a recording that I came up with last-minute or because of the pandemic: it's been in my mind for many years.
The recording took place at the Meistersaal in Berlin, in late October 2020. At that point Germany wasn't yet in complete lockdown – I was playing concerts in Dresden with Dresden Philharmonic immediately prior, and then went on tour with Manfred Honeck and the SWR Sinfonieorchester after. It was a busy period in its way, but I'd had enough time since the beginning of lockdown to mentally prepare myself for recording the Nocturnes – it was a very relaxed session, and we had a very compact team. That was one of the main benefits of recording during this time, the fact that there weren't lots of people milling around the hall: I had my wonderful sound-engineer/producer Stephan Flock and my fantastic piano technician Daniel Brech, and that's all I needed.
The Nocturnes were composed over a period of two decades – do you feel that Chopin's approach to the genre shifted significantly during this time?
Yes and no: there are certainly some surprises in there. The later Nocturnes are so complex, not necessarily in the writing-style, but I find them very much like Schumann in that they're harder to understand emotionally. There's not really a common thread running through them, or even a sense of evolution from a technical point of view, but the Nocturne was one of the forms that Chopin kept close to his heart throughout his life; he would keep coming back to compose within this comfortable format for him, and I think you can sense that in the music.
John Field was a great starting-point for Chopin, but after that he appropriated the form like nobody before and nobody since. I don't think there's any other composer who had the same exclusive relationship with any other genre, and the interesting thing is that it's not about nationality - it's not a national dance-form, like the Mazurka. It's something completely new and unique, because Chopin was such a genius at writing these sort of poems on a level that nobody else could attain.
How do you like to programme these pieces in concert?
I was actually thinking about this soon after the recording. At first I thought the obvious approach was to craft a programme consisting entirely of nocturnes – I thought 'let's perform Field, let's include Debussy, and maybe look around for other composers'…then I realised that that was going to be a very tough concert, from an emotional standpoint, both for me and for the audience! After thinking about the best way to present the Nocturnes, I settled upon the idea to combine the Chopin Études with the Nocturnes, so that they're intertwined – not necessarily just alternating, but coming up with a sequence which has a key-progression running through it. I haven't actually performed the programme yet, but from what I've played for myself it seems to flow very well and I'm really looking forward to seeing how it works out in the concert-hall.
You mentioned that Zimerman recording of the Piano Concertos as an early source of inspiration – do you tend to avoid listening to other artists' recordings when you're preparing to set down your own interpretations, or can they be a useful tool?
As far as possible I like to have a blank slate and come to the music without having a preconceived notion of what to do with it: I love finding my own way, having my own ideas and taking my own risks. But of course it's impossible for the slate to be completely blank, especially with repertoire that's as well-known as Chopin. My approach is to sit with the score and make my decisions about what Andante means or what piano means in a certain context; often you go back to recordings and find that nobody's ever really played it that way. You ask yourself 'Why is that? Did I misread or misinterpret something? Or is this just a tradition that's been ingrained by years of taking the same approach? And if that's the case, shall we simply throw it out and try something new?'. Often it's the latter, and I'm very happy to be the one to take it upon myself to reset and do only what's written in the score.
Speaking of performance-traditions, how do you feel about playing Chopin on historical instruments?
I've tried Chopin on Erards and Pleyels, and in my limited experience I've preferred the sound of Erards. From a technical point of view it's much easier to play a lot of the things he wrote on an Erard, because the keys are so shallow: some of the Études (Op. 10 No. 2, for instance) are really so much more comfortable, whereas on a modern instrument there's a lot of difficult twisting involved. That's one aspect, but looking at the evolution of the instrument I am firmly of the belief that it has improved, offering more possibilities and more flexibility in what you can do. And in that sense I'm not looking to go back: it's important to me to be aware of the development of the piano, but I'm not planning to start playing concerts on historical instruments. I am happy there are some artists who play on historical instruments very successfully, but I personally feel most comfortable on a modern instrument – why would I take away those additional possibilities?
Your previous recording-project was that wonderful recital of Beethoven lieder with Matthias Goerne – might you be tempted to delve into Chopin's songs for a future album?
Absolutely, why not? His songs are beautiful, and have the typical pure elegance and simplicity. I actually sang some of them when I had a voice-teacher as a child, so I do have a little bit of experience from the other side…
Jan Lisiecki (piano)
Available Formats: 2 CDs, MP3, FLAC, Hi-Res FLAC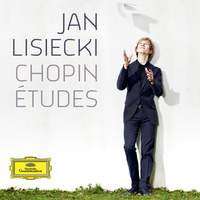 Jan Lisiecki (piano)
Available Formats: CD, MP3, FLAC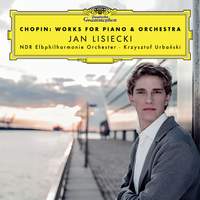 Jan Lisiecki (piano), NDR Elbphilharmonie Orchester, Krzysztof Urbański
Available Formats: CD, MP3, FLAC, Hi-Res FLAC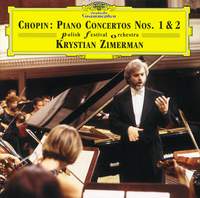 Krystian Zimerman (piano/conductor), Polish Festival Orchestra
Available Formats: 2 CDs, MP3, FLAC