30th April 2021
 New Release Round-up

,

  New Release Round-Up - 30th April 2021
Today's new releases include Zemlinsky and Schreker from Vasily Petrenko and the Royal Liverpool Philharmonic Orchestra, Strauss, Schumann, Brahms and more from Onyx Brass and John Wilson, Ysaÿe's sonatas for solo violin from James Ehnes, and Miloš Karadaglić in new guitar concertos by Joby Talbot and Howard Shore.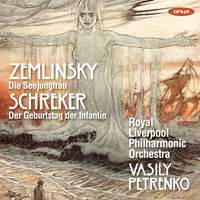 Royal Liverpool Philharmonic Orchestra, Vasily Petrenko
As the Russian conductor nears the end of his time in Liverpool, he and the RLPO present two works from early twentieth-century Vienna, both inspired by great writers; Zemlinsky's Die Seejungfrau (premiered in 1905 alongside his brother-in-law Schoenberg's Pelleas und Melisande) is based on Hans Christian Anderson's fairy-tale The Little Mermaid, whilst Schreker's 'dance-pantomime' takes its cue from a short story by Oscar Wilde which also inspired Zemlinsky's opera Der Zwerg.
Available Formats: CD, MP3, FLAC, Hi-Res FLAC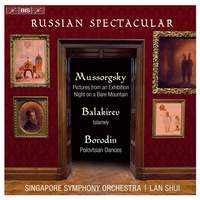 Singapore Symphony Orchestra, Lan Shui
Featuring four of the five members of the Mighty Handful, this disc of orchestral showpieces comprises Mussorgsky's Night on the Bare Mountain and Pictures at an Exhibition (in orchestrations by Rimsky-Korsakov and Ravel respectively), Lyapunov's orchestration of Balakirev's Islamey, and Borodin's Polovtsian Dances, orchestrated by Rimsky-Korsakov and Glazunov.
Available Formats: SACD, MP3, FLAC, Hi-Res FLAC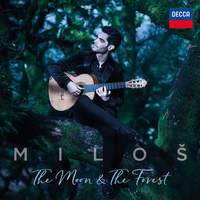 Miloš Karadaglić (guitar)
The Montenegrin guitarist premieres two new concertos which he commissioned: Joby Talbot's Ink Dark Moon (first performed at the BBC Proms in 2018, marking the soloist's return to the concert-platform following a hand injury) and Howard Shore's The Forest, inspired in part by the landscapes and folk-songs of Miloš's homeland. Look out for our interview with Miloš next week, in which he discusses his mission to expand the guitar concerto repertoire in emulation of his heroes Julian Bream and John Williams.
Available Formats: CD, MP3, FLAC, Hi-Res FLAC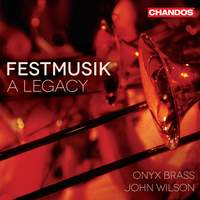 Three years on from their disc of Fanfares, Wilson and 'the classiest brass ensemble in Britain' (BBC Music Magazine) team up again for a programme of music by the German Romantics, with Richard Strauss's Festmusik der Stadt Wien opening proceedings in fine style. The rest of the programme consists of transcriptions by members of Onyx, with works including Robert Schumann's Impromptus on a Theme of Clara Wieck, Strauss's Der Abend, and music by Brahms, Mendelssohn, Rubinstein, and Robert Franz.
Available Formats: SACD, MP3, FLAC, Hi-Res FLAC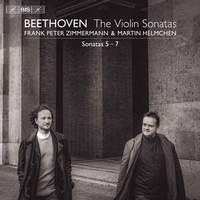 Frank Peter Zimmermann (violin), Martin Helmchen (piano)
The first instalment of Zimmermann and Helmchen's Beethoven series (released last October) was praised in BBC Music Magazine for the violinist's 'effortless virtuosity' and pianist's 'light, flexible, and finely shaded sound', whilst Gramophone observed that 'these performances wed classical verve to a profoundly Romantic spirit'; this second volume features Sonatas Nos. 5-7.
Available Formats: SACD, MP3, FLAC, Hi-Res FLAC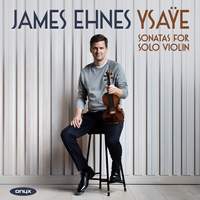 Like Alina Ibragimova's Paganini Caprices (also released today, on Hyperion), Ehnes's Ysaÿe sonatas were born out of lockdown - but whilst Ibragimova had access to a conventional recording-venue, the Canadian violinist made this recording at home, during the early hours of the morning when background-noise was at a minimum. Written in 1923, the six sonatas were dedicated to Joseph Szigeti, Jacques Thibaud, George Enescu, Fritz Kreisler, Mathieu Crickboom, and Manuel Quiroga respectively.
Available Formats: CD, MP3, FLAC, Hi-Res FLAC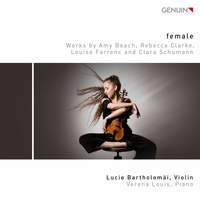 Lucie Bartholomäi (violin), Verena Louis (piano)
The eighteen-year-old violinist makes her recording debut with a recital of music by female composers, featuring Louise Farrenc's Violin Sonata No. 2, Rebecca Clarke's Chinese Puzzle, Midsummer Moon and Lullaby, Clara Schumann's Three Romances, and Amy Beach's Romance for violin and piano Op. 23.
Available Formats: CD, MP3, FLAC, Hi-Res FLAC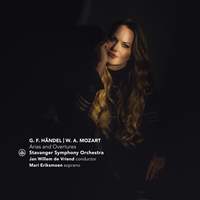 Mari Eriksmoen (soprano), Stavanger Symphony Orchestra, Jan Willem de Vriend
The Norwegian soprano (who appears as Zerlina, Fiordiligi and Susanna in Nikolaus Harnoncourt's recently-released cycle of the Mozart/Da Ponte operas) sings arias from Idomeneo, Don Giovanni, Die Zauberflöte, Mitridate and Mozart's arrangements of Messiah and Acis and Galatea, plus excerpts from Handel's Silla, Joshua, Teseo, and Giulio Cesare; her singing here was described as 'top-drawer' in this month's edition of Gramophone.
Available Formats: CD, MP3, FLAC, Hi-Res FLAC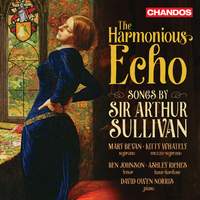 Mary Bevan (soprano), Kitty Whately (mezzo), Ben Johnson (tenor), Ashley Riches (bass-baritone), David Owen-Norris (piano)
This two-disc recital of songs by the British composer (best known for his collaboration with WS Gilbert on the Savoy operas) includes excerpts from his incidental music for Henry VIII, The Sapphire Necklace, Thespis and The Masque at Kenilworth, plus 'Oh Fair Dove! Oh Fond Dove!', 'The Snow Lies White', 'The Maiden's Story', 'The Sailor's Grave', and 'Living Poems'. 'The Lost Chord', perhaps Sullivan's best-known stand-alone song, is sung here by Kitty Whateley.
Available Formats: 2 CDs, MP3, FLAC, Hi-Res FLAC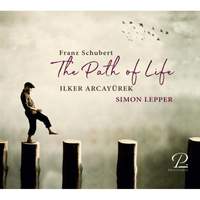 Ilker Arcayürek (tenor), Simon Lepper (piano)
Following the success of Der Einsame (an Editor's Choice for Gramophone in 2017), the Austro-Turkish tenor and his regular recital-partner present a second all-Schubert recital, including 'An Sylvia', 'Fischerweise', 'Willkommen und Abschied', 'Der Wanderer', 'Auf dem Wasser zu singen', and 'Du bist die Ruh'. Reviewing their previous album, The Guardian observed that 'Arcayürek has the kind of airy, easily ringing tenor that puts across words beautifully, with power in reserve yet a hint of vulnerability too'.
Available Formats: CD, MP3, FLAC, Hi-Res FLAC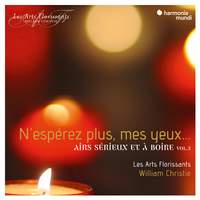 Les Arts Florissants, William Christie
This third volume of 'Airs sérieux et à boire' features music by Étienne Moulinié, Pierre Guédron, Claude le Jeune, Antoine Boesset, and Pierre Verdier; previous instalments have been praised for their 'impeccable ensemble' (BBC Music Magazine on Bien que l'amour…) and 'freedom and fluency' (Gramophone on Si vous vouliez un jour…).
Available Formats: CD, MP3, FLAC, Hi-Res FLAC